Portable Franzis LUT Video #1 professional 1.14.03607 (x64)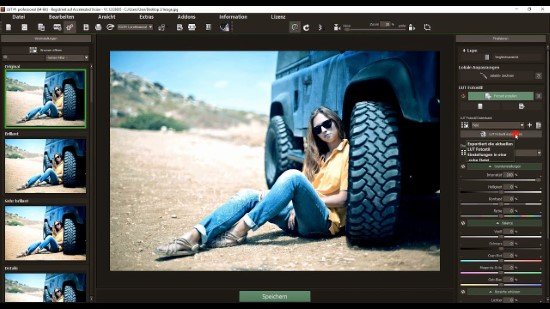 LUT Video # 1 Portable creates a "look-up table" quickly and easily from each image, with which you can apply your favorite style of a photo to your video immediately with just a few clicks. With LUT Video # 1 professional you can transfer the selected image look to another video with just a few clicks. With the real-time preview, you immediately have an overview of the effect the loaded photo style has on the video. Put together a whole collection of photo styles!
This is how LUT works
In the age of drone videos and YouTube, video editing has become indispensable and there is usually no getting around post-editing the video clips. But you don't have to familiarize yourself with expensive video editing programs, because this is exactly where LUT Video # 1 professional comes into play.
The manual adaptation of a photo style to a video can be very time-consuming, which is why so-called LUTs are used. A LUT (or look-up table) is a table that contains certain image parameters such as hue, saturation, contrast, etc. For example, with the "Color" parameter, each color of an original video is assigned a new color – with the help of the color scheme of a reference image. Reference images can be any photos you choose, cell phone photos are also suitable.
The LUT Video # 1 professional features at a glance:
– PRO: Additional modules balance / area protection
– PRO: Accuracy of LUT generation adjustable
– PRO: LUT level accounting methods
– 25 image templates (presets)
– Export to Adobe® Premiere / After Effects and Apple® Final Cut X Pro possible
– LUT color mode: full color / exclusive
– Create LUT photo style from image
– User database with LUT photo styles
– Video artifact reduction
– Video mirroring / flip function
– Comparison view with magnifying glass tool
User interface from LUT Video # 1 professional
The user interface is optimized for use with HD and ultra HD (4K). All main areas can be moved individually and all buttons are provided with interactive explanations (tooltips).
LUT – The self-created filter database
With a filter database that you have created yourself, you always have the right look at hand without having to click through memory-consuming filter collections. And you can create your own looks that no one else has!
What are LUTs?
With look-up tables (LUTs) or look-up tables, the color moods in recordings can be quickly adjusted and the image given a completely new look. LUTs are small files that contain a certain color, brightness and contrast scheme in tabular form and therefore take up almost no storage space. With LUT Video # 1 professional you can easily create these LUTs by loading an image with the desired photo style and adding it to your database with a click of the mouse.
LUT Video # 1Portable:
For everyone who wants to give their videos an even more professional look.
– Invite video formats: mpeg4 (h.264 / h.265), wmv, webm, avi, flv, asf, mov, mkv, mxf, mp2
– Save video formats: mpeg4 (h.264), avi (uncompressed)
– LUT level offsetting methods
– Additional modules balance / area protection
– Create LUT photo style from image
– 25 image templates (presets)
– LUT photo style user database
– LUT generation accuracy adjustable
– Video artifact reduction
– Video mirroring / flip
– LUT color mode: full color / exclusive
– Comparison view with magnifying glass
Download Franzis LUT Video Portable