Portable Axialis IconWorkshop PRO 6.9.2.0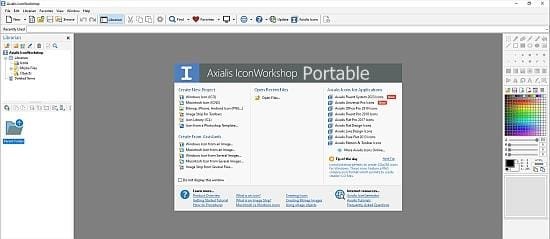 Axialis IconWorkshop Portable is a professional icon authoring tool which runs under Windows and lets you easily create hi-quality icons for all available platforms & devices.
Axialis IconWorkshop Portable is a cutting-edge software solution that revolutionizes the creation, editing, and management of icons. Designed for both professional designers and enthusiasts alike, this comprehensive toolset offers an extensive range of features and capabilities to create visually stunning icons for various platforms and applications. With its intuitive interface and powerful functionalities, Axialis IconWorkshop Portable has become a go-to software for anyone seeking to elevate their icon design game.
User-Friendly Interface:
One of the standout strengths of Axialis IconWorkshop is its intuitive and user-friendly interface. With its clean layout and well-organized menus, navigating through the software becomes effortless, allowing users to focus on their creativity rather than struggling with complicated workflows. Whether you're a beginner or an experienced designer, IconWorkshop's interface ensures a seamless and enjoyable experience throughout the icon creation process.
Extensive Icon Library and Templates:
IconWorkshop comes equipped with an extensive library of professionally designed icons and templates, providing users with a rich pool of resources to kickstart their projects. These pre-designed icons cover a wide range of categories, including web icons, application icons, toolbar icons, and more. Users can easily customize these templates to match their unique requirements, saving valuable time and effort while maintaining a high level of visual quality.
Icon Creation and Editing Tools:
The heart of Axialis IconWorkshop lies in its robust icon creation and editing tools. Users can create icons from scratch using a variety of drawing and painting tools, enabling them to unleash their creativity and bring their unique ideas to life. The software supports various color depths and icon formats, including ICO, PNG, and BMP, ensuring compatibility with different platforms and applications.
Advanced Icon Editing Features:
IconWorkshop Portable offers a range of advanced editing features that enable users to fine-tune their icons with precision and detail. Users can easily adjust icon sizes, modify transparency levels, and apply various effects and filters to achieve the desired visual impact. The software also supports the creation of multi-image icons, allowing users to design icons for different resolutions and sizes in a single project.
Icon Library Management:
Axialis IconWorkshop takes icon management to a whole new level. The software provides a comprehensive library management system that allows users to organize and categorize their icons efficiently. With the ability to create icon sets, users can easily manage large collections of icons and quickly locate the icons they need for specific projects. The library management system also enables users to import and export icons seamlessly, facilitating collaboration and sharing across different platforms.
Icon Conversion and Batch Processing:
IconWorkshop simplifies the process of icon conversion and batch processing. Users can easily convert icons between different formats, resize icons to specific dimensions, and generate icon variations for different platforms and devices. The software's batch processing capabilities allow users to apply changes to multiple icons simultaneously, saving valuable time and effort when working on large-scale icon projects.
Icon Distribution and Export:
Axialis IconWorkshop provides various options for distributing and exporting icons. Users can export icons in multiple formats, including ICO, PNG, and BMP, ensuring compatibility across different platforms and applications. The software also allows users to create icon libraries that can be shared or distributed to other designers or clients, making it easy to collaborate and showcase their work.
Conclusion:
Axialis IconWorkshop Portable is a game-changing software that empowers designers and enthusiasts to create, edit, and manage icons with unparalleled ease and precision. With its intuitive interface, extensive icon library, and powerful editing tools, IconWorkshop offers a seamless workflow and limitless possibilities for creating visually captivating icons. Whether you're designing icons for web applications, mobile apps, or desktop software, Axialis IconWorkshop equips you with the necessary tools and resources to elevate your icon design to new heights. Embrace the power of Axialis IconWorkshop and unlock your full potential in the world of icon creation and management.
One Tool for All your Icon Authoring Needs
As a developer you'll be able to easily create professional icons for your applications on all major operating systems, including
– Windows Icons – ICO file format for all version up to 768×768 for Windows 10
– MacOS Icons – ICNS, RSC, BIN file formats for all version up to 1024×1024 for OSX 10.11 El Capitan
– Unix/Linux – PNG file format with alpha channel for all versions
– Android OS – PNG file format with alpha channel for all UI elements (different sizes)
– iPhone OS – PNG file format with alpha channel for all UI elements (different sizes)
– Windows Phone – PNG, BMP file formats with alpha channel for all UI elements (different sizes)
Highly-Productive Interface
The whole IconWorkshop interface was designed to increase your productivity
– Fully Integrated Workspace – All the tools are easily accessible on screen. The application fully supports mouse drag & drop allowing intuitive operations.
– Built-in Librarian – A powerful Librarian was included in the interface to let you manage your icon collections with ease. Always visible on screen, it fully supports drag & drop operations and more.
– Powerful File Explorer – A built-in file explorer permits browsing your disks and find files including images and all files containing icons.
– Batch Operations – Sometimes you have a large number of icons to process. IconWorkshop includes several batch processing features to create icons from images, convert image formats, normalize image sizes and more.
Professional Icon Creation for Everyone
IconWorkshop was designed with one idea in mind: "Allow everyone to create hi-quality icons, even without drawing skills". In addition to a classic multi-resolution image editor that you find in all icon authoring applications, several tools have been added to IconWorkshop to help you creating professional icons in a snap
– Icon Creation from Images: This feature permits creating an icon with its various image formats in just one click!
– Image Objects – This exclusive feature permits creating professional-looking icons in minutes using a few mouse drag & drops. A large quantity of basic image objects are provided in a library. By associating them together you create your own custom icons. That's easy, fun and powerful!
Compatibility with Development Industry Standards
If you work with Adobe products, you'll enjoy IconWorkshop plug-ins for Illustrator® and Photoshop®. Once installed, the plug-ins will let you transfer images directly from your Adobe application to IconWorkshop without saving a temporary file.
Many Photoshop Templates are also provided to create your icons in several resolutions in Photoshop and export them all in IconWorkshop in one simple operation. With templates your icons are created in one click.
Axialis IconWorkshop includes a handy feature which permits working faster with Microsoft Visual Studio®. The principle of this add-in is to create a bridge between the VS IDE and IconWorkshop. The add-in permits to easily edit in IconWorkshop an icon included in a solution. This add-in greatly increase your productivity with Visual Studio.
Download IconWorkshop Portable