Portable jv16 PowerTools 7.7.0.1532 Multilingual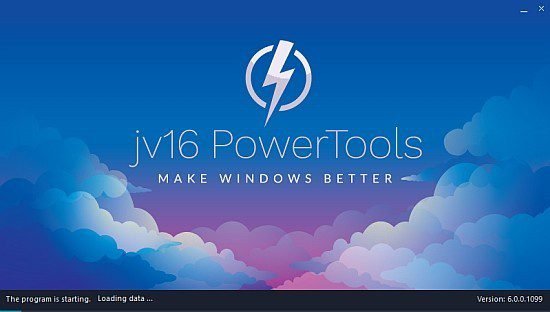 jv16 PowerTools Portable is the ultimate Windows Optimization, System Cleaning and Error Fixing Utility Suite. The program allows users to remove hidden traces of previously uninstalled software, to clean the Windows registry for optimal performance and stability, and to fix many registry-based problems with a single mouse click. jv16 PowerTools optimizes, repairs, and maintains Windows based PCs making them running fast, safe, and free of problems.
This suite containing 33 different tools. Each of these tools is carefully crafted with the experience of over 15 years of Windows utility and registry cleaning experience to form a solid foundation to give you a smoother and faster computer. The highly improved multilingual user interface allows the software to be used in all major languages, while automatic backup and safety features make the program very safe to use.
jv16 PowerTools Portable contains awesome performance and user interface improvements to offer its ever expanding user base an elevated level of Windows performance, security and control. The benchmark test covers 133 different software products claimed to make Windows PCs work faster.
The Best Tools for Windows included in jv16 PowerTools:
Clean and Fix my Computer. Finds and takes care of registry errors, unneeded registry junk, unneeded files, left-over temporary files, unneeded log files and much more. Everything in one go!
Fully Uninstall Software and Leftovers. Lists and helps you to remove any software installed to the system, including left-over traces of old software you cannot uninstall by normal means.
Control which Programs Start Automatically. See exactly which programs and DLL files start automatically with Windows and disable the ones you don't really need. Makes it very easy to speed up the startup time of your computer.
Speed up Computer's Startup. Allows you to easily apply tweaks to Windows in order to improve its performance.
Immunize My Computer. Easily block access from your computer to known malicious websites in order to improve your safety and privacy. Allows you to block adware and spyware by automatically modifying the Windows hosts file.
Decrap my Computer. Allows you to easily mass uninstall software from your computer. This is especially handy for un-bloating new computers by removing the pre-installed software bloat that come with almost every new computer.
Other Awesome System Utilities for Windows included in jv16 PowerTools:
Find and replace data inside files
Find and replace data from Windows Registry
Merge files
Split files
Remove files on reboot
Wipe file
and many others
What's NEW:
Startup Timer 
Startup Timer is a new standalone tool which allows you to measure exactly how long it takes for Windows to start and also to see which apps are slowing the system startup the most.
The new System Fixer tool
System Fixer is a tool that looks for Windows and system-related errors such as:
Broken file references in the registry,
Invalid or corrupted app uninstallation data,
Invalid Desktop and Start Menu shortcuts,
Invalid automatically starting apps,
Left-over files and registry keys from previously removed apps.
Not only does the tool look for errors, it can also automatically fix the errors as the name suggested. An example of a common issue that System Fixer can fix is an error that pops up when you try to uninstall a program.
Feature Improvements:
Added Startup Timer to the main tools menu.
Improved File Deleter's ability to delete locked files.
Added an option to File Deleter to also delete any folders that become empty during the removal of data.
Moving between the different tools now works faster and smoother.
Bug Fixes
Running System Cleaner multiple times in one session could cause it to find the same files to clean each time.
Known bug fixed: Using some tools such as Duplicate Finder or File Wiper could show a blank screen during the operation instead of the progress screen. This is a cosmetic issue as the tools are actually working correctly, there is just no progress screen.
Running System Cleaner multiple times in one session could make it never complete the scan.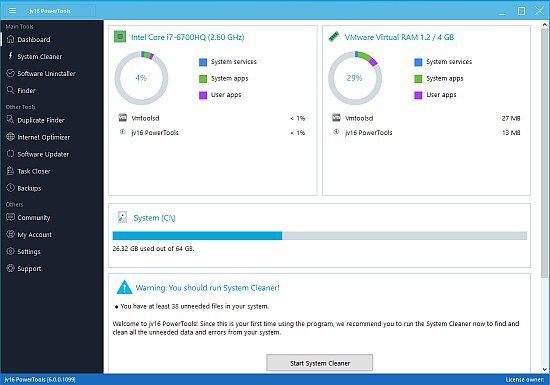 Download jv16 PowerTools Portable