Portable LosslessCut 3.54.0 (x64)
LosslessCut Portable aims to be the ultimate cross platform ffmpeg GUI for extremely fast and lossless operations on video, audio, subtitle and other related files. The main feature is lossless trimming/cutting of video and audio files. Great for saving space by rough cutting your large video files taken from a video camera, GoPro, drone, etc. It lets you quickly extract the good parts from your videos and discard many gigabytes of data without doing a slow re-encode and thereby losing quality. Or you can add a music or subtitle track to your video without needing to encode. Everything is extremely fast because it does an almost direct data copy, fueled by the awesome ffmpeg for doing the grunt work
LosslessCut is a popular open source video editing software that allows users to cut, trim and extract segments from video files without any loss of quality. Developed by Mikael Finstad, this software has gained a reputation for its ease of use, fast processing speed and powerful features, making it a tool for professionals and enthusiasts alike.
LosslessCut's user interface is simple and straightforward, with all essential functions easily accessible. Users can drag and drop video files into the program or use the built-in file browser to select files. Once the files are loaded, users can preview them in the built-in media player, which supports popular video formats and codecs. One of the most outstanding features of LosslessCut is its ability to quickly edit videos without re-encoding them. This means that the original quality of the video is preserved, with no loss of quality. This feature makes the software ideal for those who want to edit videos quickly but don't want to sacrifice video quality.
Another great feature of LosslessCut is its ability to handle large video files without lag or stutter. This software is optimized to work with high resolution videos, making it perfect for professional video editors working with 4K and 8K videos. Furthermore, LosslessCut supports many video formats, including MP4, MOV, MKV, AVI and WebM, among others. This means users can import virtually any video format into the software and start editing right away.
One of the most useful features of LosslessCut is its ability to quickly and accurately cut videos. Users can drag the timeline slider to the desired start and end point of the video they want to remove, and then click the "Cut" button. The software will immediately cut the segment without losing quality. Besides cutting videos, LosslessCut also integrates other useful editing features such as video merging, extracting audio clips and adjusting video playback speed. The software also includes a range of advanced editing tools such as frame accuracy and keyframe correction, which can be useful for more complex video editing tasks.
LosslessCut is also designed to work seamlessly with other video editing software, making it a great addition to any video editing workflow. This software can easily export edited videos to other video editing software or platforms like Adobe Premiere Pro or YouTube.
Overall, LosslessCut is a great choice for anyone looking for a powerful yet easy-to-use video editing tool. Fast processing speed, large format support, precise cropping and lossless editing features make it the ideal choice for professional videographers, vloggers and hobbyists. prefer. With an intuitive interface and powerful editing features, LosslessCut is the perfect choice for anyone who wants to edit videos quickly and easily without losing video quality.
Features:
Lossless cutting of most video and audio formats
Losslessly cut out parts of video/audio (for cutting away commercials etc.)
Lossless merge/concatenation of arbitrary files (with identical codecs parameters, e.g. from same camera)
Lossless stream editing: Combine arbitrary tracks from multiple files (ex. add music or subtitle track to a video file)
Losslessly extract all tracks from a file (extract video, audio, subtitle and other tracks from one file into separate files)
Remux into different output format
Take full-resolution snapshots from videos in JPEG/PNG format
Manual input range of cutpoints
Apply a timecode offset
Change rotation/orientation metadata in videos
View technical data about all streams
Example lossless use cases
Remove audio tracks from a file
Add music to a video (or replace existing audio track)
Include a subtitle into a video
Extract music track from a video and cut it to your needs
Cut out commercials from a recorded TV show
Without having to re-encode. You can also change format from TS to MP4 at the same time.
Fix rotation of a video that has the wrong orientation flag set
Great for rotating phone videos that come out the wrong way without actually re-encoding the video.
Change a H264 MKV video to MOV or MP4
Advanced multi-step workflows
Tip: you can use LosslessCut in multiple passes in order to achieve separate trimming of individual tracks:
Open a file an export all tracks
Open the exported track files independently and cut them as desired
Add the track back to the video and combine them to one output video
Since LosslessCut Portable is based on Chromium and uses the HTML5 video player, not all ffmpeg supported formats will be supported directly. The following formats/codecs should generally work: MP4, MOV, WebM, MKV, OGG, WAV, MP3, AAC, H264, Theora, VP8, VP9.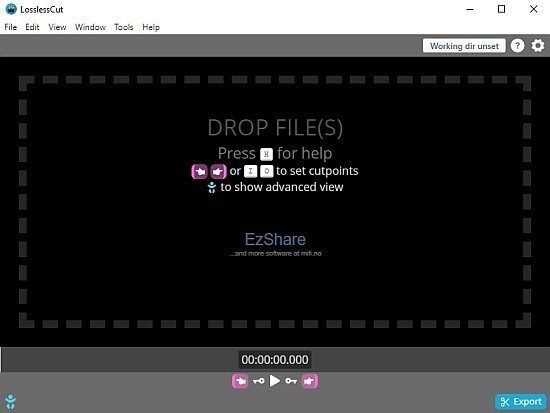 Download LosslessCut Portable