Portable MAGIX Video Pro X14 v20.0.3.176 (x64) Multilingual
Video Pro X Portable is the only video editing software that makes professional video production accessible for everyone. With intuitive editing tools and workflows, getting started with Video Pro Portable is easier than with any other professional video editor. The new video engine allows for seamless, uninterrupted editing of high-resolution 4K Ultra HD material on any PC.
Highlights in Video Pro X:
– 8K Ultra HD support & HDR color space handling
– New! INFUSION Engine 2 – Smooth playback of Ultra HD projects
– New! Real-time image stabilization with proDAD Mercalli V5 Suite
– Professional editing tools including 3 & 4-point edits
– More than 1,500 templates & creative effects such as chroma keying
– Multi-track & multi-format timeline, including nested sequences
– Professional color correction & lookup table handling
– Multicam for up to 9 cameras including additional source monitor
Intuitive video production
No matter how complex your film project, you can accomplish it fast. Enjoy an efficient workflow and innovative functions such as flexible track handling on a multi-format timeline. Access 3- & 4-point editing, multicam editing or 1-click tools such as "split & trim". A real-time audio mixer and audio cleaning tool are included for optimizing video sound.
Precise optimization
Comprehensive color grading with gradation curves or fast application of lookup tables – discover optimal color matching at the level of detail you need. proDAD Mercalli V5 Suite is now included for stabilizing choppy or distorted footage – in realtime and at a high level of precision.
High image quality in 8K Ultra HD
Video Pro X Portable has always stood for technological innovation above and beyond industry standard. Discover resolutions in up to 8K UltraHD, HDR color space and latest film studio effects, and achieve professional results. The powerful video engine means that video editing is absolutely smooth, even for complex multi-track projects.
New in Video Pro X
INFUSION Engine 3: Give your videos the ultimate boost The brand-new INFUSION Engine 3 enables you to edit even complex projects in up to 8K with super smooth playback, and it harnesses the full speed of your GPU to export your videos.
Easily design your own animations Adjusting both the position and scale of video objects directly in the program monitor is now flexible and simple. Just use the mouse and the rotation point to easily control the center of each rotation.
Large preview pictures for an enhanced overview Discover a timeline that's clearer than ever before thanks to the new panorama storyboard. Large thumbnails make the subject of your video appear in the center of the screen and help you keep a clear overview even of more complex projects.
Sophisticated effects for impressive results FXhome Ignite Keying & Flares includes all the essential effects for compositing work. With integrated lens reflection effects and tools for green screen recording, you can truly unleash your creativity.
This Release:
Improved: Arrangement visualization .
Fixed: Low level graphic cards can now export rotated objects.
Fixed: Correct visualization of fades using drag and drop in basic mode
Fixed: Settings dialog during screen capture.
Fixed: Recording time displayed during screen recording.
Fixed: several errors with track curves.
Fixed: Volume curve not accessible.
Fixed: Error during thumbnail creation in the Explorer.
Fixed: Localization error.
Fixed: Import of files from Hubsan Zino Mini Pro with RTH enabled.
It comes with:
FXhome Ignite Particles & Post FX
wizardFX Suite
NewBlue TotalFX – MAGIX Edition*
NB TotalFX includes:
Play around with 5 packs with a total of 100 plug-ins and over 1,000 presets.
Color correction: NewBlue Filters 5 Ultimate
Title templates: NewBlue Titler Pro 7
Image optimization: NewBlue Essentials 5 Ultimate
Green screen editing: NewBlue Elements 3 Ultimate
Light effects: NewBlue Stylizers 5 Ultimate
* without stabilizer and transitions
What's New?
High-speed timeline Even with large projects, the timeline responds immediately and lets users navigate through their film project faster than ever before. Up to 20x smoother than before!
MAGIX Content: Get a library that's full with music, stock footage, and animations! The MAGIX Content library provides all subscribers with royalty-free content from the areas of stock video, animation, music and sound effects. Every month, users can gain access to 20 files that they can easily download for unlimited use.
Intel® Hyper Encode Both graphics cards are simultaneously enabled on Intel desktop and laptop systems equipped with an onboard GPU and an additional Intel GPU, such as the new Intel® Arc™. Hyper Encode accelerates rendering, so you can export your finished movie twice as fast* as with just one GPU.
New creative options in MAGIX Travel Maps The travel route animations with MAGIX Travel Maps have been enhanced with various features and design elements such as fly-in animations, import and export of GPX data, custom view angles/map skew and MP4 export. Additionally, MAGIX Travel Maps can now be edited in fullscreen mode and using the optimized menu. Improved access to video effects, templates and transitions Even if users mistype or can't remember the exact name of an effect, template or transition, the new search algorithm will provide the right suggestions.
The overview for effects, templates, transitions and in-app store content can be customized with a single click. Want to make all content visible at the same time? Or would you prefer to have an overview of the categories? Save your favorites for easy access: The favorites filter means no more long searches for transitions and templates.
NewBlue TotalFX – MAGIX Edition** NewBlue TotalFX – MAGIX Edition* includes five plug-in packages with a total of 100 plug-ins and over 1,000 presets from all areas of post-production: Color correction: NewBlue Filters 5 Ultimate Title templates: NewBlue Titler Pro 7 Image optimization: NewBlue Essentials 5 Ultimate Green screen editing: NewBlue Elements 3 Ultimate Light effects: NewBlue Stylizers 5 Ultimate * NewBlue TotalFX –
MAGIX Edition is included upon purchase of new software, or when you upgrade Video Pro X. This Edition is supplied without stabilizer and transitions.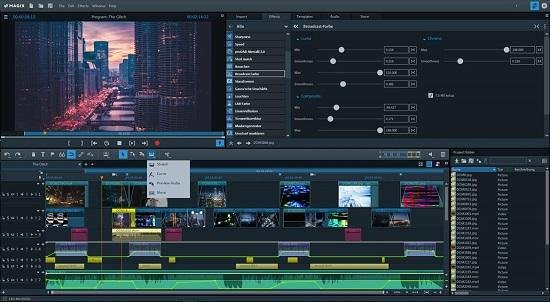 Download Magix Video Pro X Portable