Portable Movavi Picverse 1.9.1 (x64) Multilingual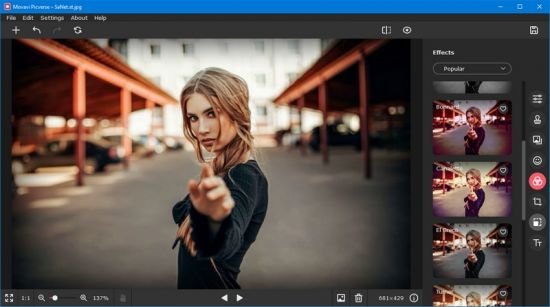 Movavi Picverse Portable, Photo Editor for PCs is designed for photographers of any skill level. This desktop picture-editing software gives you smart tools that will let you edit images in no time and get amazing results. Thanks to the intuitive user interface, you can start working in the program right away.
No matter how good a photographer you might be, you still need to enhance your pics digitally before presenting them to your audience.
Movavi Picverse is one of the apps you can turn to, no matter the type of adjustment you want to perform.
Straightforward looks
To help you get started with the app, you can experiment with the sample image, thus getting the chance to discover all the functions included within Movavi Picverse.
Once you are confident in your skills, you can load a custom image of your own (multiple types of source formats are supported, even raw ones). You first need to decide if you want to process the entire photo or only a region of it (you can easily mark the area of interest using the brush, magic wand, lasso, or rectangular marquee tool).
Erase image objects
A nifty function of Movavi Picverse is removing some of the elements within the image. You can either mark the item, then erase it, or you can clone one part of the picture onto another.
Alternatively, you can change the background altogether, if you are looking to create a completely different design. First, you need to select the foreground, refine the edges of the background, then set a new background from another image.
Retouch portraits
Another highly useful function of Movavi Picverse is making the people look much better: you can remove blemishes or shines, alter the foundation or blush, enhance the mouth, eyes, hair color and so on.
You can also add a wide range of effects or quickly do some editing on your pic (crop, rotate, resize, enlarge). Overlaying a text watermark can also be done with great ease.
To sum things up
All in all, Movavi Picverse can help you simplify a lot of tasks that go into obtaining a perfect photo, so you can focus on the creative side more.
AI Auto Enhance
Optimize the colors and contrast in a photo in seconds with artificial intelligence technology.
Quick Image Background Removal
Remove or change photo backgrounds in just a few simple steps.
• View the original image
• Automatically select a silhouette
• Make a transparent background
• Set a new background
AI Restoration of Old Photos
Bring old photographs back to life easily. Hide crease lines, scratches, and stains. Reduce image noise in scans. Add color to black-and-white photos.
100+ Effects and Filters
Choose from a variety of effects and create eye-catching images, regardless of the original.
Custom Sharpness Adjustment
Take full control of the level of detail in your photos. Emphasize texture and get rid of blur. Just a few seconds with our photo-editing software and your photo will pop.
Precise Object Removal
Clear out unwanted objects so nothing distracts from the focus of the scene. Get natural-looking results with no signs of editing.
Impeccable Photo Retouching
Effortlessly bring out the best in your portraits. Smooth skin, reshape bodies, whiten teeth, and apply makeup. The final image will have a perfectly-balanced, realistic look.
More Features to Explore Your Creativity
• Light and Color Correction
Add the desired hue to your photos: apply HDR Lighting, adjust white balance, and more.
• Noise Reduction
Remove distracting digital noise from low-light images and photos with the wrong ISO setting.
• Text Insertion
Customize a font, size, and color. Adjust the background. Twist the words into different shapes.
• RAW Image Support
Open and edit RAW files: the program will automatically convert them to JPEG after uploading.
• Basic Editing Tools
Crop, resize, flip, and rotate images.
• Export Settings
Choose the desired format and size when saving an image. Remove the metadata and add comments to photos.
What's NEW:
Refined AI-based tool to erase objects : create flawless images. Artificial intelligence precisely detects the borders of unwanted objects and accurately removes them from photos without leaving a trace
Bug fixes
Download Movavi Picverse Portable