Portable Movavi Screen Recorder 22.5.0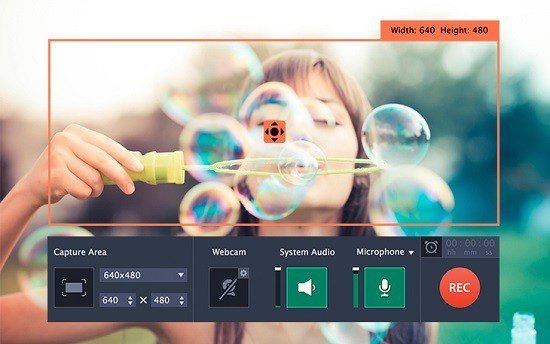 Movavi Screen Recorder Portable: the Ultimate Screen Recorder for Windows. Movavi Screen Recorder is lightweight yet powerful video recording software that helps you capture streaming video and music from websites, save Skype calls and program activity, and much more.
With the help of Movavi Screen Recorder Portable you can seamlessly record monitor activity and save it to video files, as well as share the clips on social networking websites. This is an intuitive and fun-to-work-with tool that doesn't require heavy experience in video processing utilities.
Clear-cut installer and GUI
The setup operation is swift and uncomplicated, thanks to the fact that it includes only familiar options. Movavi Screen Recorder is wrapped in a clean interface with a comfortable look, consisting of a rectangular frame which for capturing screen activity, along with a control panel.
You can resort to drag-and-drop support for repositioning the capturing screen, as well as change its resolution into anything you want. Audio recording is optional and can be activated or deactivated with one click. The same rule applies to the microphone.
Extensive file type support, online sharing, and video effects
Once a video is recorded, all you have to do is specify the output profile to save it to the disk. Movavi Screen Recorder offers support for numerous formats in this regard, whether we're talking about general video files (e.g. AVI, FLV, MP4, WMV) or HD video. It can also prepare the clips for playback compatibility on external devices powered by Apple, Android, BlackBerry, HTC and other makers.
Furthermore, the app can automatically import the new video into the iTunes library or upload it to Facebook, YouTube, VKontakte, Vimeo, FTP or Amazon S3. It lets you take snapshots and save them as image files, record keystrokes, include or exclude the mouse cursor from the video footage, highlight the cursor and clicks, as well as use mouse click sound.
The tool ran on a decent amount of CPU and RAM during our tests, delivered quality video clips, and didn't hang, crash or display error dialogs. It offers support for keyboard shortcuts and can be easily handled by anyone with minimal skills. Taking everything into account, Movavi Screen Recorder comes equipped with a surprisingly rich and intuitive set of features for screen recording, so you can definitely give it a shot.
Learning
– Record webinars, online tutorials, and other educational videos
– Cut out unwanted parts from any video
– Save recordings to watch on a computer or mobile device
– Replay captured videos at any time
Fun
– Capture short clips from websites
– Save movies and TV series
– Record video chats with your friends and family
– Extract music from video, record online radio
– Cut out ads and other unwanted content
Work
– Show screen activities to colleagues: take screenshots in a single click and illustrate them with arrows, frames, and captions
– Use screenshots and screen videos to demonstrate bugs and errors
– Save Skype conversations with colleagues and business partners
– Record online job interviews
What's NEW:
Scheduled recording
You asked for it and we brought it back! By popular request, we've returned the necessary settings to the Scheduler tab. Now you can schedule recordings again.
Other
Minor improvements and bug fixes.
Download Movavi Screen Recorder Portable