Portable Paragon Hard Disk Manager 25th Anniversary Limited Edition (x64) + WinPE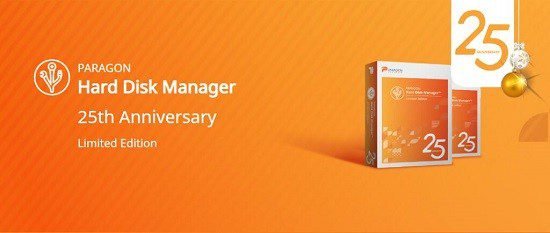 The simple and powerful PARAGON Hard Disk Manager 25th Anniversary Limited Edition Portable is designed to securely back up and restore Windows 64-bit PCs and laptops.
It will quickly restore your files and folders, operating system or even external hard drive to any media you choose. The program will protect your system and important data, and will be able to recover them in the event of any accident. Highlights include a separate 64-bit distribution, support for Windows 10, Disk Spaces, and UEFI.
The Hard Disk Manager version includes additional tools for core hard and SSD drives: creating/deleting sections and formatting them into the required file system, as well as a tool for irretrievably deleting data.
Three tools
one user interface
Partition manager
Optimize your hard disk capacity use. It allows you to quickly adjust the hard disk into easily manageable partitions and ensure an optimized hard disk structure.
Disk wiper
To decrease the possibility of other people getting their hands on your data by erasing the data disposing of a hard disk. Several industry–standard wipe algorithms offer versatility and help find the balance between speed and sanitation level.
Backup & Recovery
Restore data from backups, including an entire hard disk or its partitions, individual files or folders. Add password protection to backups. Import and restore any backup within WinPE
Download  Paragon Hard Disk Manager 25th Anniversary