Portable PDF Pro 10.10.20.3851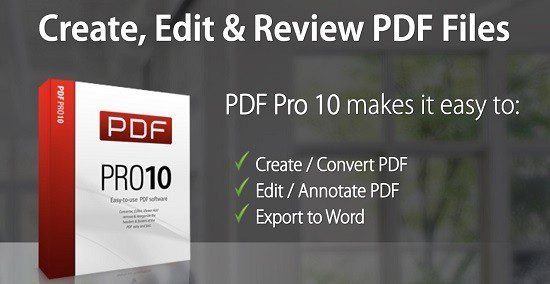 PDF Pro  Portable is the easy to use alternative to Adobe Acrobat, allowing you to view, create, edit, secure, revise, or collaborate on a PDF document. PDF Pro's intuitive interface makes it easy to take advantage of the full versatility of any Portable Document Format file! PDF Pro is a software program which comes bundled with many options, so that you can create, edit and protect your PDF files, as well as convert them to other formats.
You can open or create several documents at a time, a useful feature, as it enables you to multi-task. There are a few selection tools you can take advantage of, it is possible to zoom in and out of projects, add custom sticky notes, stamps, a highlighter, text box and pencil drawings, attach documents, and crop, rotate and delete elements.
Hyperlinks can be inserted, along with watermarks, JPF, PNG, BMP, GIF and TIF images, several geometrical shapes, check boxes, radio buttons and blank pages. The view can be changed from single page to full screen, and continuing.
Moreover, this software utility enables you to convert your projects to image formats (JPG, PNG, BMP, TIF) and text files (DOC, RTF), as well as protect them with an AES or RC4 encryption, and allow limited access to other individuals. You can create a digital ID by inputting details such as name, e-mail, organization name, country and type of key algorithm, or by importing it from PFX or P12 certificates.
Taking all of this into consideration, we can safely say PDF Pro is a useful piece of software when it comes to creating, editing and converting PDFs, with a good response time, intuitive environment and a wide range of options to adjust. Our tests have revealed it does not hinder the computer's performance, and no errors or crashes were registered.
Create, Edit & Review PDF files With the All-New PDF Pro 10
– Create PDF
– Edit PDF
– Secure PDF
– Review PDF
– Export to Word
Create & Convert:
– Create PDF from Word, Excel, PowerPoint
– Create PDF from any application that prints
– Convert/Export PDF to Word
– Always 100% industry standard PDF files
Edit & Secure:
– Modify images: Insert, delete, move, resize and rotate graphics
– Edit text: Fix typos, change font size, style and color
– Enhance: Add watermarks, hyperlinks, attachments etc.
– Protect your content: Apply passwords & restrictions
Read & Review:
– Open & scroll any PDF file, e-book, or presentation
– Zoom and rotate pages within your PDF for optimal viewing
– Highlight, use sticky notes & stamps
– Attach any supporting file to your PDF
Loaded with features, use PDF Pro 10's intuitive interface to grasp all of the flexibility and power of PDF.
The all-new PDF Pro 10 will revolutionize the way you work with PDF files. PDF Pro 10 makes it easier than ever before to create and edit PDF files, enabling you to distribute high-impact and engaging communications. Its refined collaborative tools will streamline the document review process and help you collect feedback efficiently. PDF Pro 10 includes advanced features that allow you to create and edit interactive PDF forms, accurately convert PDF to Word, and share all your documents more securely.
Of course, PDF Pro 10 still contains all the most common PDF functions you depend on:
– Create PDF files straight from the toolbar of all your favourite MS Office applications like Word, Excel, PowerPoint and Outlook.
– Create PDF files from any application that prints with one click
– Add, remove, and edit text and graphics within all your PDF files
– Apply passwords to prevent unwanted viewers and permissions to restrict functions like editing and printing
– Adjust the file size of your PDF for easy email distribution
All PDF documents created with PDF Pro 10 will be 100% industry standard. That means they will open with any PDF viewer and on any operating system.
Download PDF Pro  Portable