Portable eM Client Pro 9.2.2093 Multilingual
eM Client Portable is a powerful and user-friendly software application that offers a comprehensive solution for managing email, calendars, contacts, and tasks. This all-in-one communication tool enables you to streamline your workflow and increase productivity by organizing all your email accounts in one interface.
The user interface of eM Client Portable is simple and elegant, making it easy to navigate and use. The program supports all major email providers, including Gmail, Yahoo, Outlook, and more. Additionally, it has built-in support for various protocols such as IMAP, SMTP, and Exchange, which ensures that you can seamlessly connect to your email servers without any hassle.
One of the most useful features of eM Client Portable is its ability to manage multiple email accounts simultaneously. You can easily switch between different email accounts or view them side-by-side, allowing you to efficiently manage your inbox and keep track of important messages.
Another key feature of eM Client Portable is its calendar management system. The program offers a fully integrated calendar with support for multiple calendars, shared calendars, and reminders. The calendar supports various views such as day, week, month, and agenda, allowing you to quickly schedule events and appointments.
eM Client also provides a task management system that allows you to create, assign, and track tasks. You can easily add tasks to your to-do list, set priorities, due dates, and reminders, and track their progress. This feature is particularly useful for individuals who need to stay on top of their daily tasks and deadlines.
Moreover, eM Client offers smart tools that make composing emails faster and easier. For instance, the program includes predictive text, which suggests words and phrases as you type, based on commonly used responses. It also offers templates, which enable you to save time by creating pre-written emails that you can send with a single click.
Another great feature of eM Client is its ability to integrate with other applications. The program offers native integration with popular services such as Dropbox, Google Drive, and iCloud, making it easy to share files and collaborate with others. Additionally, it supports chat integration with services such as Skype and Facebook Messenger, enabling you to communicate with your contacts directly from within the program.
eM Client also prioritizes security and privacy, providing features such as encryption, digital signatures, and two-factor authentication. These features ensure that your data and communications remain secure and protected from prying eyes.
In terms of customization, eM Client offers a wide range of options to personalize the application to suit your preferences. You can customize the user interface, change the theme, modify the layout, and much more.
Finally, the customer support offered by EM Client is exceptional. The company provides extensive documentation and video tutorials to help users get started quickly. Moreover, they offer fast and responsive support via email or phone, ensuring that any issues or questions are promptly addressed.
In conclusion, eM Client is an excellent email client that offers a comprehensive set of features to manage your email, calendar, tasks, and contacts. The program is user-friendly, customizable, and integrates with other applications seamlessly. Its robust security features make it a safe option for those who prioritize data protection. Overall, EM Client is a great choice for individuals and businesses looking for a reliable and versatile communication tool.
Explore outstanding mix of features
eM Client is a productivity tool with features far beyond email.
– Email
– Calendar and Tasks
– Contacts
– Notes
– Chat
All-compatible productivity tool
eM Client's compatibility is unmatched. Connect to any email service – it will work.
– eM Client with Google Workspace
– eM Client with Office 365
– eM Client with Outlook
– eM Client with Exchange
Super simple import
eM Client will set up everything automatically for most email services, and quickly import your data from all major email clients. This includes Microsoft Outlook, Outlook Express, Windows Mail, Thunderbird, Incredimail, and more.
Unique Sidebar
Quickly access contextual information that will boost your productivity even more. The sidebar with communication history, attachment history, calendar, agenda, and chat will save you a lot of time.
Make eM Client your own
eM Client is customizable in the most comprehensive way on the market. Adjust eM Client's behaviour to fit your routine and enhance your workspace with beautiful themes, including a Dark theme, or custom themes created by our users. You can also build your own theme with our unique theme editor.
More useful features
Superfast Search
Quickly find messages or information you are looking for and stay more productive.
Touch Support
Use eM Client on your touch screen devices, now with added swipe gesture support.
Localization
eM Client is currently localized to 20 languages.
Automatic back-up tool
We can automatically back up your data even while the app is running.
Instant translation for all messages
There are no language barriers with our built-in translation tools and spell-checker.
Watch for replies and Snooze function
Never miss important emails, and control your communication flow to enforce Inbox zero policy.
Search within attached documents
Full text search in attached documents such as Word, Excel, PDF etc.
Templates, Signatures and QuickTexts
Customize your emails with Signatures and Templates, and use Quick Texts for faster writing.
eM Client Portable Release Note:
Option to force spell-check when sending a message
Sync signatures with SmarterMail servers
Allow read-only calendars in sidebar calendar
Allow export of multiple snippets/templates/certificates via QR code
Show Google contacts birthdays when only year is provided
Improved behavior of Undo popup window when messages are sorted in ascending order
Resolved some hangs and other bugs
Improved contact autocomplete speed when composing a message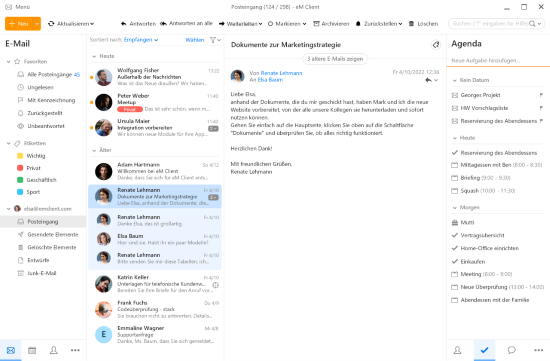 Download eM Client Portable