Portable PhotoScape X Pro 4.2.1 (x64) Multilingual
Everything you need to edit photos. PhotoScape Portable is an all-in-one photo editing software which provides photo-related features such as Photo Viewer, Editor, Cut Out, Batch, Collage, Combine, Create GIF, Color Picker, Screen Capture, RAW images and More.
Structured and simple-to-handle GUI
The main window is minimal and encloses a circle with animated icons which stand for different modules. Clicking on one of these brings you to some pretty familiar windows, regardless of the operation selected. This paired with some comprehensive Help contents ensure that all user categories can handle PhotoScape without facing any kind of difficulties.
View pictures and edit them, in a single or batch mode
This program comprises quite a large number of options so that you can easily manage and edit your images. First and foremost, you should know it is possible to use a viewer, packed with a folder structure to help you select images faster.
In addition to that, take advantage of a pretty basic editor. It lets you resize, crop, rotate and flip items, as well as adjust the brightness, sharpness, backlight and contrast, and apply some of the many effects integrated. This tool also has a counterpart which enables you process multiple files in the same time.
Create animated GIFs, take snapshots and convert raw formats
You can also create composites of several images, animated GIFs with custom change time, effect and size, while it is also possible to capture the entire screen, a selected area of it or a specified window.
Last but not least, you can make use of a color picker, rename multiple pictures in one single session, search for look-alikes on the Internet, and convert raw photos from formats such as DNG, CRW, RAF, NEF, ORF and DCR to one of the most common extensions, namely JPG, PNG, JPEG, GIF, BMP and TIF.
Color & Filters
Try a variety of effects, filters and adjustments to make your own distinct style.
Film Effect & Light Leak
– Apply film effect to get your own analogue feelings.
– Apply light leak effect to turn out a boring and featureless photo into an astonishing photo.
Features:
– Viewer: Photo | Video | Audio Browser, Loupe View, Full Screen, Flag, Star Rating, Lossless Rotate, Share (Email,Twitter,Facebook), Metadata (Exif,IPTC,GPS) Viewer.
– Editor: 1,000+ Filters & Effects, Frames, Objects, Brushes & Tools, Rotate, Straighten, Flip, Resize, Crop, Circular Crop, Perspective Crop, Mask (Local Adjustments), Redo+, Project.
– Cut Out: Remove the background from an image. (Magic Eraser, Lasso tool, Brush tool)
– Batch: Batch edit multiple photos.
– Collage: Merge multiple photos on the collage frame to create one final photo.
– Combine: Attach multiple photos vertically or horizontally to create one final photo.
– GIF Creator: Create Animated GIF.
– Print: Print photos.
– Screen Capture: Capture your screenshot and save it.
– Color Picker: Zoom in on images, search and pick a color.
– Split: Slice a photo into several pieces.
– Batch Format Change: Convert multiple images to another format at once.
– Batch Resize: Resize multiple images at the same time.
– Batch Rename: Change photo file names in batch mode.
– Filters & Effects: Magic Color, Miniature, Bloom, HDR, Surrealistic, Grayscale, Sepia, Badicoot, Black & White, Negative, Auto Levels, Auto Contrast, Sharpen, Blur, 80+ Films, 80+ Duotones, 100+ Light Leaks, 120+ Overlays, 40+ Old Photos, 40+ Dirt & Scratches, 40+ Textures, 20+ Lens Flares, and more. [Expand]
– Frames: 290+ Frames, 240+ Shapes, Borders
– Objects: 1,000+ Stickers, 240+ Figures, Image, Text, Text Warp, Magnifier, Arrow, Line, Rectangle, Rounded Rectangle, Circle, Object Transform, Object Mask
– Brushes & Tools: Draw | Scatter | Paint Brush, Paint Bucket, Mosaic Brush, Fix Red Eye, Mixer Brush, Spot Healing Brush, Liquify, Clone Stamp
– Photo Merge: Merge to HDR, Focus Stacking
– Macro: Record multiple actions and then play them back all at once.
– Photos Extension: Extension for Photos app (macOS 10.11+)
– Languages: English, Español, Português, Deutsch, Français, Italiano, 日本語, 简体中文, 繁體中文, 한국어
What's NEW:
– New Object Effects: Inner Glow, Inner Shadow, Emboss
– New Image Effects: Outline
– Added Background, Fill, Color, Masks options to Image and Sticker Objects
– Added Mask option to Color and Film Effects
– Added Close menu to Collage tab
– Added 'Merge Selected Layers' to Editor tab
– Added 'Font Favorites'
– Added 'WEBP Quality option'
– Added 32 Camouflage Patterns
– Added 180 Flower Stickers
– Added 469 more Pixel Stickers
– Selecting and Editing Multiple Objects
– Improved Object Effects: Long Shadow, Overlays & Masks
– Improved Shadows/Highlights Filter
– Improved UI
– Fixed bugs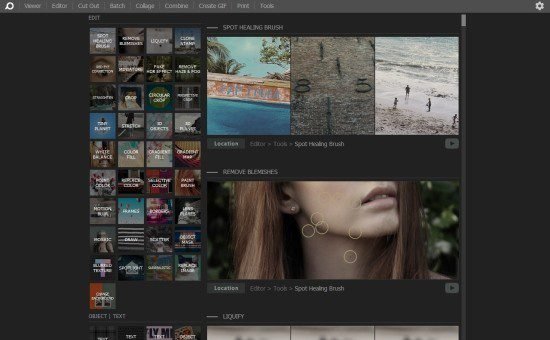 Download PhotoScape Portable