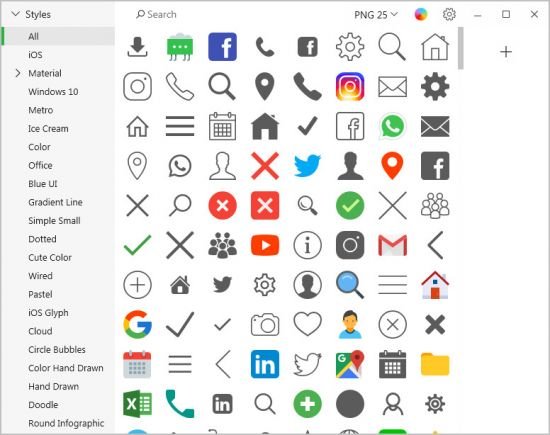 Pichon Portable – All our Icons Offline on Your Computer that works with Photoshop, Adobe XD, Visual Studio, or anything. The app stores all the Icons8 icons on your hard drive and these are available in any format, size, or color. No doubt, we have social media icons like Facebook, Twitter, Youtube, and all kinds of arrows.
Surely, we have basic ones like phone, home, and settings. However, if you are up for something more unorthodox, simply request it. No charge. Guaranteed. We tweet, message, and conduct structured interviews to determine which features the community needs, not to mention that the community invented many of them We have been creating 3-20 new line and filled icons every working day since 2012.
Find the icons you need and add them into any graphics design project thanks to this application, which bundles a generous icon collection and searching capabilities
Graphic designers and pretty much all users who need to personalize the looks of a software product or of a website will need, among many other things, a fresh set of icons that are suited for that application or webpage.
In case creating a whole iconset from scratch may seem time-consuming and you are not willing to spend hours learning and exercising a new craft, a utility like Pichon could be the solution you are looking for.
Tray application with a clean layout
Setting up Pichon is a rather simple task, but it may take a few minutes until it is complete because of the impressive number of icons it has to copy onto disk. Nonetheless, in a short while you will be able to deploy it and from the system tray area bring up its GUI by clicking its icon.
The interface, as you will notice immediately, is quite nice to look upon and highly practical as it keeps all its functions in plain sight, for easier access. Also, there is a generous space allocated to the icon preview, so you can look at a great number of items in the same time.
Instant search and advanced icon handling options
Pichon is very well organized and all the icons it comes with are placed under relevant categories to make them easier to retrieve. The built-in search function is extremely fast and as you type you will see the results starting to appear.
A great thing about the entries indexed by this program is that they bear relevant tags, so it is possible to perform a query using a term that is not necessarily a category or file name and still get accurate results.
What's more, Icons8 will enable you to find similar icons, copy the icon image or its file shortcut, all these from the menu that appears when right-clicking any item from the list.
A blazing fast icon finder with an impressive database
To sum things up, this software solution seems to be one of the best users can hope for, first of all thanks to the great speed in finding the icons. The huge number of items it brings is also a big plus, as is the utmost ease of use which makes this tool well suited for all types of users.
Features:
Single Style
All icons are done by a single designer, so your user interface will look consistent.
Editable Vectors
Vector icons are not merged and have preserved shapes. Check it out
Fonts Generator
Goodbye monster fonts of 500 icons. Pick only the icons you need and build your own, small font. How-to
Icon Recoloring
Pick a color and we will generate recolored versions of your PNG or SVG.
Mac&Win Apps
Allows you to search icons quickly, and works well with Photoshop. Download
HTML Embedding
Get a code to paste an icon right into your HTML. Choose one of the 5 ways to insert an icon.
Pick your color, size, and format. Drag it to Photoshop. You're done.
– All icons have ~20 tags for effective search.
– Browse around 50 categories, with 50-200 icons each.
– Recolor PNG and SVG icons on the fly.
– Drag icon to Illustrator, Photoshop, Visual Studio, or anything else.
NOTE: If during the first run, no icons are shown, close (from Tray) it and run it again.
Download Pichon Portable Software