Portable Disk Storage Low Level Format Pro 7.0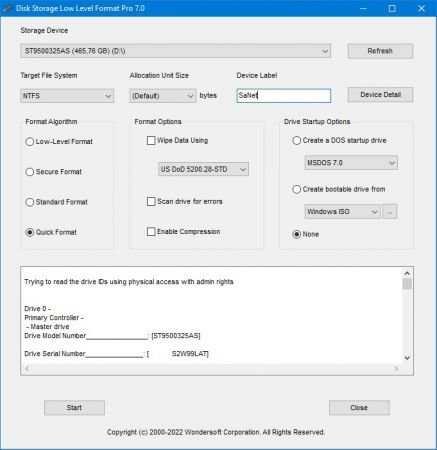 Disk Storage Low Level Format Portable is a software application that does Low Level Format like what is done in factory. The software not only performs zero-fills to the storage device, but also restore the storage device to full capacity. The software allows you to revitalize your infected or corrupted hard drive by hiding the bad sectors in order to create a clean and error-free surface for your data. All the visible and invisible data to the operating systems are fully and irreversibly erased from the storage devices.
The software supports all types of storage devices connected to the computer, regardless of their interface (SATA, IDE, SCSI and USB), and it provides details of the selected device such as device name, device model, firmware revision, serial number, device ID, bus type, LBA (logical block addressing) and total capacity.
You may have the program perform only a quick wipe, which only removes the partitions, erases the partition table, delete the active partition flag, MBR (Master Boot Record – the boot sector located at the very beginning of partitioned storage devices) and all other data on a storage device. In addition to LLF (Low Level Format), the software features Quick Format and Standard Format. The two Format features allow you to format storage devices not recognized by Windows, be it a corrupted one or a logically broken one. A fascinating feature is boot disk creation; the software helps you create bootable USB drive or bootable hard drive after the formatting operation. You can boot to MSDOS, FreeDOS, or Windows operating systems with your storage device after a few clicks. The software is portable and it can be stored on a flash drive or any other external storage devices.
The software works with a broad range of storage devices, including HDD (Hard Disk Drive), SSD (Solid State Drive), and USB drives (USB flash drive, USB thumb drive, and USB portable drive). It supports most hard disk manufacturers such as Western Digital, Seagate, Hitachi, IBM, Toshiba, Maxtor, Samsung, and Quantum. For USB storage devices, the software supports virtually all the controller brands, such as Intel, Samsung, Micron, Phison, SMI, Marvell, Toshiba, Silicon Motion, PMC, Sierra, OCZ, JMicron, Maxiotek, Goke, Greenliant, Fusion-io, Realtek, SanDisk, Western Digital, Hyperstone, Novachips, and Lenovo.
Features of Disk Storage Low Level Format software
• Low Level Format
• Secure Format with strong data wipe algorithms
• Quick Format in a split second
• Slow Format
• Adjust sector size from 512 bytes to 32MB
• Support NTFS, FAT16, FAT32, and ExFAT file systems
• Recognize UDF, HFS+, ReFS, NTFS, FAT16, FAT32, ExFAT file systems
• Scan storage device for common errors before formatting a drive
• Show serial number of storage device
• Create startup disk for MS-DOS, FreeDOS, and Windows
• Support FAT32 partition larger than 32GB
• Repair corrupted USB drives and fix common issues with hard disks
Features in Pro version
1. Support storage device up to 256 TB.
2. Low-Level format disk/drive not recognized by Windows.
3. Create a FAT32 volume larger than 32 GB in a split second.
4. Optimize storage device for read/write speed.
5. Restore disk/drive back to full capacity.
Whats New
• Low Level Format now supports external USB drives and HP portable drives.
• Show serial number of hard drives and USB flash drives
• Support corrupted USB drives with NTFS and EXFAT file systems
Support Microsoft Windows 11/10/8/7/Vista/XP/2003/2008/2012/2016/2019/2021 (32-bit and 64-bit)
Download Disk Storage Low Level Format Portable