Portable SimpleMind Pro 2.2.0 Build 6410 Multilingual
SimpleMind Portable is an intuitive and highly versatile mind mapping tool designed for professionals who need to visualize complex ideas and concepts in a clear and concise manner. Whether you're an entrepreneur, project manager, or creative professional, SimpleMind Pro provides a powerful platform to help you organize your thoughts, brainstorm new ideas, and communicate your vision with ease.
At its core, SimpleMind Portable is a digital canvas that allows you to create and customize mind maps using a variety of intuitive tools and features. With just a few clicks, you can add nodes, branches, images, and text to your map, as well as connect them via links and relationships. The interface is clean and user-friendly, making it easy to navigate and manipulate even the most complex mind maps.
One of the standout features of SimpleMind Portable is its versatility. This software works equally well on desktops, laptops, tablets, and smartphones, ensuring that you can access your mind maps no matter where you are or what device you're using. Whether you prefer working on a big screen or a small one, SimpleMind Pro has you covered.
Another key advantage of SimpleMind Pro is its flexibility. You can use this tool for a wide range of applications, from capturing and organizing your ideas to planning and executing projects. Some possible use cases include:
Brainstorming: Use SimpleMind Pro to generate new ideas and explore different concepts. With its ability to capture and connect ideas quickly and easily, this software is ideal for brainstorming sessions.
Project management: Use SimpleMind Pro to plan and execute complex projects. With features like task prioritization, time tracking, and progress visualization, this software can help you stay on top of your work and achieve your goals.
Knowledge management: Use SimpleMind Pro to store and organize information about a particular topic or subject. With its ability to capture and connect information in a visually intuitive way, this software is ideal for creating knowledge databases and sharing information with others.
Teaching and learning: Use SimpleMind Pro to create visual aids for teaching or learning. With its ability to condense complex ideas into simple, easy-to-understand diagrams, this software is ideal for explaining difficult concepts to students or colleagues.
Overall, SimpleMind Pro is an incredibly versatile and powerful tool that can help professionals in a wide range of fields organize their thoughts, brainstorm new ideas, and communicate their vision with ease. Whether you're a seasoned entrepreneur or just starting out in your career, this software has everything you need to succeed. So why wait? Try SimpleMind Pro today and see the difference it can make in your work and life.
SimpleMind Desktop Pro is a reliable and practical brainstorming utility geared towards users who need to create and edit mind maps with ease, regardless of their complexity.
These mind maps help you to visually outline the entire information by associating ideas, words and concepts. In this manner, you can easily organize all your data the way you want.
What's quite interesting at this application is that, in case you want to exchange mind maps with an iPad or iPhone device via the build-in WiFi based iPhoneLink, SimpleMind Desktop Pro helps you to transfer them to such devices. After that, you can format the diagrams, edit their properties, change the layout and view all the information in an easy manner.
When you open the application for the first time, a 'Central Theme' node is displayed from where you can easily customize the diagram the way you want. The right-click menu allows you to insert new topics, images and text. Additionally, you can change the visual style, link the current topic to a document and modify the style sheet.
In case you want to add a new folder, import mind maps or e-mail them as a PDF, PNG, HTML or plain text attachment, you can access the Explorer menu.
For those who need to change the palette color or edit the style sheet, they can access the 'Visual style' menu. From here, they can easily configure the style and the attributes for each mind map, set the alignment to left, right or center, use cross links and hierarchical relations. Moreover, you can modify the keyboard shortcuts and the directory location where all your diagrams will be saved.
Another important feature that SimpleMind Desktop Pro comes with is that it allows you to store all the mind maps to Dropbox so you can easily access them from any device, irrespective of your location. In this manner, you can synchronize all your projects with Dropbox and access them even from your smartphone or tablet.
Analyze & learn
Analyze your thoughts and structure them with SimpleMind. The unique free lay-out allows you to organize your ideas exactly how you want it.
Multiple Mind Maps on one page. Horizontal, Vertical, Top-down and List Auto layout, perfect for brainstorming.
Virtually unlimited page size and number of elements.
Add media
A picture is worth a thousand words, add images to your Mind Map!
Add images or photos. Add video recordings to topics (available on tablets and phones).
Add voice memos (available on tablets and phones).
New Features:
New Matrix auto layout
The matrix layout is ideal for compactly displaying your mind map.
As in all layouts you can add checkboxes, icons, links etc to the topics.
Create multiple matrices and connect the topics with crosslinks.
Add Labels in Topics to add additional information inside the topic.
Change the order by using drag and drop, or via the Label Toolbar.
Automatic Left/Right Text Alignment in auto-layouts. Optionally disable this via Preferences.
Easily create a New Mind Map from what's copied to your Clipboard. Available from the template picker in "New Mind Map".
Windows system spelling checker added. SimpleMind now uses the Windows system spellchecker in your Windows language to check text as you type. Optionally change back to the legacy spellchecker via Preferences.
Read only mode supported, redesigned commands for "View" – "Full screen" and "View" – "Read Only".
Turkish Language supported.
General improvements and minor bug fixes.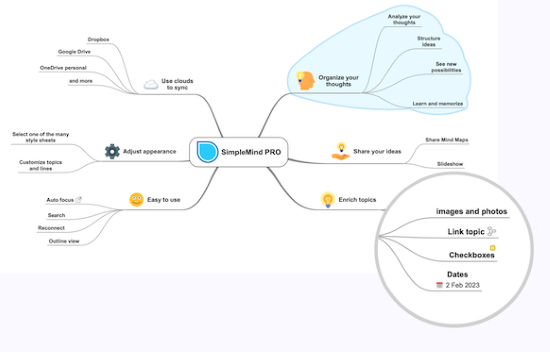 Download SimpleMind Pro Portable