Portable Calibre 6.27.0 Multilingual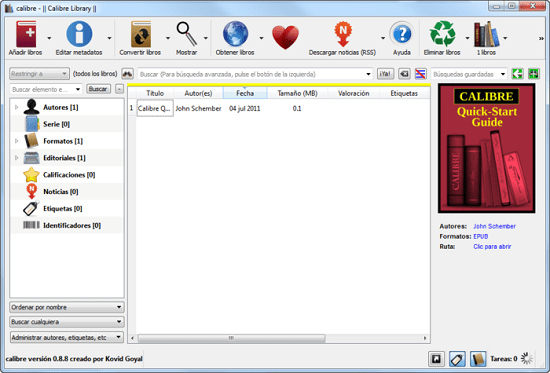 Calibre Portable is a powerful and versatile free software program that is designed to meet the needs of avid readers. This user-friendly application is essentially an e-book management tool that allows users to easily organize, convert, and transfer e-books between different devices.
Calibre Portable was first introduced in 2006 as a simple e-book reader, but it has since evolved into a comprehensive e-book management solution for both Windows, macOS, and Linux operating systems. The software supports a wide range of input and output formats, allowing users to convert e-books from one format to another with ease. Calibre can also be used to edit the metadata of e-books, such as author name, book cover, and publication date.
One of the most appealing features of Calibre Portable is its ability to manage large e-book libraries with ease. The software enables users to sort their e-books based on various categories, including title, author, genre, and rating. Users can also create custom tags to further organize their e-books based on their personal preferences.
In addition to organizing e-books, Calibre also allows users to sync their e-books across multiple devices. This means that you can read your favorite books on your smartphone, tablet, or e-reader without having to manually transfer them each time. The software supports a variety of e-reader devices, including Amazon Kindle, Kobo, Sony Reader, and Barnes & Noble Nook.
Another notable feature of Calibre is its built-in e-book viewer. The viewer supports a variety of file formats, including EPUB, MOBI, PDF, and AZW3. It also includes several customization options, such as font size, font style, and line spacing.
Calibre also offers a number of plugins that can enhance the functionality of the software. Some popular plugins include the EpubMerge plugin, which allows users to merge multiple e-books into a single file, and the Quality Check plugin, which checks e-books for errors and formatting issues.
Overall, Calibre Portable is an excellent choice for avid readers who want to manage their e-book collections with ease. Whether you have a small collection of e-books or a large library, this software offers all the tools you need to organize, convert, and transfer your e-books between different devices. With a user-friendly interface, comprehensive features, and frequent updates, Calibre is a must-have software for any serious e-book enthusiast.
Download Calibre Portable