Portable Aiseesoft Slideshow Creator 1.0.62 Multilingual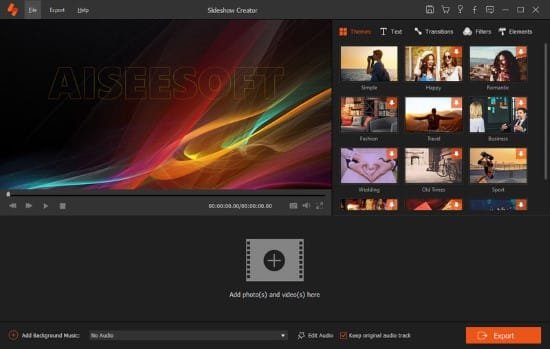 Slideshow Creator Portable is the best movie maker and video editor. It will add life to your photos by turning them into video and adding background music. Any photo formats are supported, including JPG, JPEG, PNG, BMP, TIF, TIFF, ICO, DIB, JFIF, EMF and GIF. This is a great way to share your stories and memories after your wedding, birthday party, or graduation. Also, if you have several video clips shot in your journey, you can use this movie maker to turn them into your own movie.
Turning your photos and videos into movie, and adding your own narration or music files as the background sound, these are basic and main functions of this Slideshow Creator.
Use your photos, videos, and favorite music to bring clips of your memorable events and memories to life, such as weddings, birthdays, graduations, business presentations, and more.
The program supports the use of many graphic file formats, such as JPEG, GIF, PNG, BMP, TIFF, etc. For the video series, you can use both your own commemorative videos shot during various events, travels, business meetings, or use files downloaded from third-party video hosting sites to create an additional visual background.
Audio accompaniment is possible with the help of recorded audio messages, songs, music and other compositions. If a slide show is created for your needs in your family library and for personal use, then in this case there are no barriers to your creative manifestations.
Aiseesoft Slideshow Creator Portable has a large number of functions for editing and processing video clips, images and audio tracks. With this application, you can easily combine all the components into a perfect slideshow.
You can also apply various visual effects, adjust contrast, saturation, color temperature and hue, brightness and exposure, and many other settings. Among other things, you can rotate frames, split videos into separate clips, merge them into a single whole, crop a frame, adjust the playback speed.
For ease of use, Aiseesoft Slideshow Creator offers a variety of ready-made thematic templates that will help you quickly and efficiently prepare your own slideshow project. And of course, any topics can be edited to your liking. At each stage of working with a video clip, you can preview it in full screen mode.
Powerful Editing Functions
It is designed with various video/photo/music editing functions. It will combine your raw materials into a perfect slideshow video.
For videos and photos, you can adjust the visual effect like contrast, saturation, brightness, hue, temperature, tint, exposure and 3D LUT. If your photos or videos are not in the right angel, correct it with the rotate function. For large videos, the clip function will help you cut the video into clips. It is possible to merge them together.
Pick up your movie style
Slideshow Creator offers you the ready-made themes for making video slideshow automatically. You are able to choose different styles themes like simple, happy, romantic, fashion, travel, wedding, old times, etc. to create the horrible, classic or fashionable video easily.
Or create your own theme
Give your slideshow the perfect look by your creative ideas. DIY the materials to make your own theme styles.
Download Slideshow Creator Portable