Portable Aiseesoft Video Enhancer 9.2.36 Multilanguage
Aiseesoft Video Enhancer Portable is the first and best video enhancement software. It enables you to enhance video quality, upscale video resolution, remove background noise from video. It is also an excellent video editor that can rotate or flip video, adjust video effect, make video clips, crop video area and add watermark for your video.
Enhance your videos in a couple of simple steps
The best thing about this application is that it makes the task of processing clips as straightforward as can be. Once you have imported them, you need only click the Video Enhance button and specify which operations should be performed.
Aiseesoft Video Enhancer Portable can increase the resolution of your videos, optimize the brightness and contrast, remove video noise and even reduce the shaking motion in your recordings. Helpful explanations are provided, as well as detailed documentation.
Versatile batch conversion tool
This is a great app for those who need to process multiple videos at once, as you can assign separate encoder profiles to each item and convert them all in one quick operation.
The program includes an impressive number of presets suitable for various devices. You can also modify some basic encoder settings and create new profiles for future jobs.
Offers a basic collection if editing tools
While it is not a particularly powerful video editor, Aiseesoft Video Enhancer enables you to convert media files to 3D, rotate and crop clips, as well as apply image or text watermarks.
Moreover, it is possible to trim specific sections from each video, and then merge these segments in order to create a single file.
Upscale video resolution
This powerful software could upscale the video resolution, especially when you desire to get HD videos from SD videos, or convert 1080p to 4K movies with excellent image quality.
Optimize brightness and contrast with just one click
On the basis of the basic editing features, we now offer an easier and quicker way to optimize the video effect. With just one click, the software will help you to enhance dark videos or fix blurry videos.
Remove video noise
It could be disturbing when you find some old movies or DVD videos have suspicious color spots. Now you could get you video noise removed with this video noise reduction software.
The latest update brought you the brand-new function – video stabilization. When you shoot videos with handheld camera, it happens from time to time that you shake your camera and get a shaky video, especially when you meet some emergency. When you edit the video effects after recording the video, you can fix the shaky problem with this stabilizer software. The image will be stabilized and seems more comfortable.
Rotate & flip
Sometimes we get videos that are rotated. The software has provided convenient function to rotate videos. You don't need to be bothered by the video with strange angle any more. Furthermore, you can also flip your video. The function could be quite interesting, as can be seen in the following, all the characters has changed from one direction to another. Try this interesting function on some famous movie, viewing it from different way must make you laugh.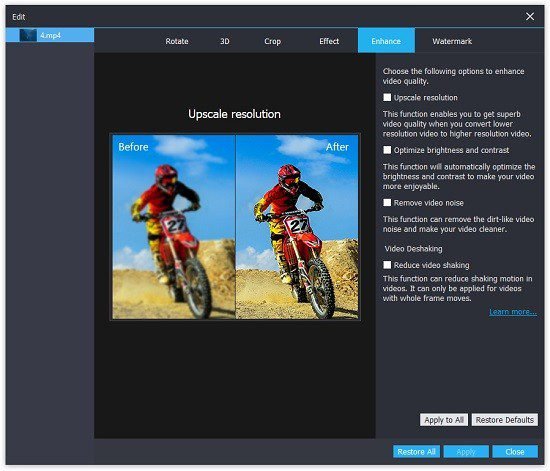 Download Video Enhancer Portable Software
Download – 53.0 MB
Mirror – 53.0 MB