Portable Nevercenter CameraBag Pro 2021.3 (x64)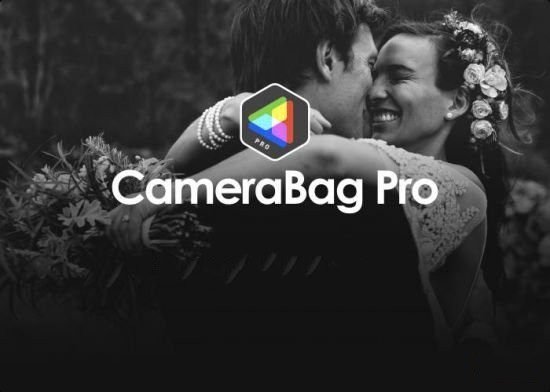 CameraBag Portable is the ultimate tool for bringing both advanced adjustments and over 200 one-click filters to your photos (and videos with CameraBag Pro). It's a dream come true for photographers and filmmakers – much more powerful than cheesy "one-click" filter apps, but also much lighter, quicker, and more intuitive than bloated, decades-old legacy software packages.
Adjustment Tiles
CameraBag's adjustments are all applied non-destructively in its unique and powerful tile-based interface. Layer on adjustments by adding each as a tile to the bottom tray. You can rearrange them, adjust them, or even do things like have more than one tone curve. It's way more powerful than the standard photo editor interface.
Preset Chooser
You can use the keyboard shortcut (the F key) or the button in the interface to instantly pull open the full-screen filter preset chooser, or easily browse through presets by simply pushing the up and down keys on your keyboard.
Intuitive Controls
One of the core innovations of CameraBag is controls for adjustments that hover over your image. This lets your curves and sliders be large and precise, and lets you look at the image and the adjustment controls simultaneously while you work.
Over 200 Adjustable Presets
Over 200 included fully-adjustable presets, including film emulation, vintage looks, and the most popular modern photographic styles.
Dozens of Intuitive Adjustments
Layer non-destructive adjustments to get just the look you want. We've crafted each tool to be incredibly easy to use while maintaining professional-level control.
Advanced Film and Lens Effects
Ultra-realistic modeled film grain, radial blurs, and more. Being able to layer multiple instances of each of these means you can accurately recreate any classic film camera.
Create Your Own Presets
Any set of adjustments you create can be saved as its own reusable preset. When you load any custom or included preset, you can then tweak any of the preset's adjustments to perfectly fit your image, and even save that as a new preset.
32-bits-per-channel Processing
CameraBag's filters look so good because it uses extremely high-fidelity math, an astounding 96 bits of data per pixel. Layer on as many adjustments as you like without degrading image quality, especially when using RAW photos.
Award-Winning Interface
There are tons of photo editing apps out there, but none can match CameraBag's innovative, ultra-intuitive interface. It's largely this revolutionary interface that has gotten CameraBag so much attention out of a sea of photo editors.
Same Toolset For Photos and Videos (Pro Only)
With CameraBag Pro you can use all of the exact same tools to filter, color-correct, and adjust video footage as you use on your photos. It's powerful to be able to save and use the same presets for both kinds of media.
Batch Filtering and Cropping/Resizing
Use CameraBag's batch tools to apply filters, aspect ratios, maximum dimensions, watermarks, and more across entire folders of files in one step.
Watermarking
Create a custom filter using your own personal or business watermark, which you can then easily apply to any photos (and videos with Pro), including layering on top of other adjustments and filters.
Dead Pixel Correction
If your camera has one or more "dead" pixels, you can set the pixel location and CameraBag will use the colors of surrounding pixels to fix the defect.
RAW Photo Support
RAW photos include more fine-grained color values in every pixel, and CameraBag's ultra-accurate 32-bits-per-pixel processing ensures this extra detail is retained regardless of how many adjustments you layer on.
3D LUT Import/Export (Pro Only)
With support for LUT import and export, you can use filters designed in CameraBag on-camera or in other video software, and import LUT filters you find anywhere else into CameraBag to use alongside other adjustments.
Complete Feature List
General Features
Photo and video* processing
32 bits-per-channel processing pipeline for unparalleled image quality
Non-destructive adjustments
Multi-threaded background render queue
RAW image editing support
Live image processing
Standalone (non-plugin)
Customizable interface with collapsible sections
Nest adjustment tiles
Pin adjustment tiles
Enable/disable adjustment tiles
Copy/paste adjustment tiles
Copy/paste adjustment tile curves
Full-screen quicklook filter previews
Hover previews for adjustments and filters
Quick video preview rendering*
Keyboard shortcut for toggling between filtered and original
Keyboard traversal of filters (arrow keys up and down)
Keyboard traversal of next and previous files (arrow keys left and right)
Streamlined, understandable video export settings*
Preset organization via files using Finder
Star favorite Presets in-app for easy access
Easy native filter import/export for sharing
250+ filter presets
Batch processing
Curve-based color correction
Custom filter preset creation
Single video frame saving*
Watermarking
Cropping
Video trimming*
Aspect ratio constraining
Rotation
Interactive zoom
Random preset function
Professional histograms and scopes
Luminance histogram
RGB histogram
Luminance waveform
RGB waveform
Chrominance chart
3D/1D LUT import (.cube format)*
3D LUT export (.cube format)*
Redcode RAW (R3D)
Supported file formats:

Image loading: Standard image files – jpeg, png, tiff; RAW files – crw, cr2, nef, nrw, dng, arw, sr2, raf, mrw, pef, rw2, orf, rwl (some may require additional OSX software from Apple or camera manufacturer)
Image saving: jpeg, png, tiff
Video Loading*: Any Quicktime-compatible mov, m4v, avi, mp4, or mpeg files
Video Saving*: h.264-encoded mov, mp4, or m4v; ProRes 422 mov; ProRes 4444 mov
Filter Preset Sets
B+W Essentials (9 filters)
B+W Films (14 filters)
Classic Photography (20 filters)
Color Correction (37 filters)
Color Essentials (12 filters)
Film Grain (33 filters)
Film Stock Motion (28 filters)
Film Stock Still (11 filters)
Film Techniques (9 filters)
Film Tone (10 filters)
Filtered B+W (7 filters)
Mattes (11 filters)
Monocolor (5 filters)
Pop Art (8 filters)
Vintage (10 filters)
Legacy Presets available for download
Border Adjustments
Basic Border
Fill Border
Image border
Basic Adjustments
Crop/Straighten
Spot Heal
Auto Exposure
Exposure
Contrast
Saturation
White Balance
Temperature
Multi Tool (combined exposure, contrast, and saturation)
Light Adjustments
Tone Curve

RGB-based
Luminance-based
Value-based
HSL Lightness-based

Gamma Curve
Advanced Contrast

RGB-based
Luminance-based
Value-based
HSL Lightness-based

Shadows/Midtones/Highlights

RGB-based
Luminance-based
Value-based
HSL Lightness-based

Dynamics (Overlay/Luminance)
Brightness
Color Adjustments
Coloring (Uniform) via 8 color methods
Coloring Curve via 8 color methods
8 color methods:

Colorize
Tint
Color Filter
Dye
Color Balance
Screen
Multiply
Hue

R,G,B (separated) Curves
Color Wheels via 8 color methods
Individual Component Curve

Red
Green
Blue
Red+Green
Green+Blue
Blue+Red

Hue Shift (curve-based)
Hue Exposure (curve-based)
Hue Saturation (curve-based)
Split Tone
Color Balance
Color Mixer
Filtered B+W
Photographic Adjustments
Vignette
Grain
Sharpen
Blur
Circular Blur
Light Leak
Masks
Hue Mask
HSV Mask (curve-based)
Luminance Mask (including load preset)
Spot Mask
Utility Adjustments
Watermark
Dead Pixel Correction
Cube LUT
Aspect Ratio
Exact Size constraint
Minimum Size constraint
Version 2021.3
New/Changed Features
Alpha transparency support – great for editing graphics for websites, video games, and more.
Fixed a bug causing some image files to not load on Windows.
Download Nevercenter CameraBag Portable