Portable CODIJY Colorizer Pro 4.1.0 (x64)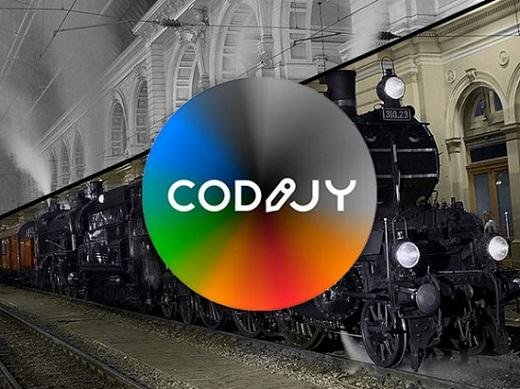 Turn black & white photos into colors masterpieces using state-of-art technology! Enliven old family photos, put together vintage illustrations, test color schemes and more! This easy to use photo editing software colorizes black and white photos, no graphic design talent required! Simply draw basic colored strokes over an area and the program automatically applies color to the selected area.
Colorize all your photos
– Colorize your black and white photos
– Colorize photos and bring your family history to life
– Test various color schemes for your car, house, or interior design projects
– 32 color libraries
– Advanced color picking
– Super easy user interface
– Learn everything you need to know about coloring your photos with a 50-page comprehensive user guide.
– NEW! 70 new color and gradient libraries
Colorization is a photo editing technique that allows to fill black and white images with natural, realistic colors. Colorization process involves picking the colors and sketching simple color strokes over photo objects. Than the program processes the image and automatically apply your color choices to the underneath areas with respect to their surface and boundaries.
Easily Add & Remove Photo Colors
Colorizer Pro Portable Software lets add, keep and remove colors using simple strokes. Similar operations in Photoshop and other editing tools require more effort, extra steps and using multiple commands.
Robust Auto-Colorization (Only in Pro Version)
The best-of-breed algorithms will apply your color choices to the underneath objects with respect to their borders and surface.
Instant Preview Mode (Only in Pro Version)
Preview result of you work in real time, as you keep adding strokes.
Easily color photo
The Advanced Color Picker offers a full array of colors. Simply select palette colors channel by channel, enter manually, or copy and paste HEX numbers. Thirty-two Color Libraries contain the most popular photo objects and materials, plus multi-color gradients and solid colors.
Project Capture Apple
Whether you're a seasoned professional or leisure photographer, the creative coloring possibilities are almost endless.
– Put the color of the actual moment back into your black and white photos.
– Recolor faces, items and other components in color photos.
– Revert color photos to black and white.
– Combine black and white elements with color elements to build new images.
Live Color Technologie (Only in Pro Version)
Convey diversity of live colors with gradients. Capture live gradients from color photos.
Easy process for photorealistic results
Anyone can get impressive photorealistic results; you don't have to be a graphic designer. Colorizer Pro innovative features make the photo coloring and touch up process easy. From start to finish, you'll be guided step by step through colorizing basics, color selection and a user-friendly productive workspace.
Highlights:
– Revolutionary colorization technology
– Intuitive process of adding colors by sketching simple color strokes
– The most complete set of color picking and colorization tools
– Instant preview mode that lets real-time result generation (Only in Pro Version)
– 32 color libraries
– Ability to build and share your own libraries (Only in Pro Version)
– Ability to capture multi-colors as gradients from color photos
– Advanced color picking
– Advanced Re-paint options
– Split view for previewing result side by side
– Customizable interface with floating toolbars and docking window
– Super easy user interface
– PNG, JPEG, TIFF and other popular files support
– Learn everything you need to know about coloring your photos with a 50-page comprehensive user guide.
What's NEW:
Meet CODIJY 4
CODIJY presents the 4th edition of CODIJY Colorizer Pro and CODIJY Recoloring.
New path for the pre-defined libraries on windows
To eliminate a frequent problem with access to libraries on Windows, they are now saved in the installation folder. In connection with this, if you plan to install CODIJY software on a fresh system, you will only be able to add colors to custom libraries. The Libraries you create, get saved to the Documents folder as before. Note that if you edited the pre-defined libraries in the older versions and want to keep adding colors to them in the future, we recommend exporting these libraries and then importing them as the custom libraries.
Repaint Multiple Strokes (New Tool)
Tired of repainting multiple masks of the same color one by one? The new Group Repaint Color Picker tool now allows selecting all strokes of the same tone by clicking over one of its instances and apply the new color to them at once!
Capture Solid Colors (New Tool in Pro)
If you frequently refer to the color images in search for the best matching colors, the new Color Capture tool will facilitate this process for you! You can call the Color Capture Dialog from the Color Picker any time and pick the color from the sample photograph directly into the Color Picker.
Alfa Channel (Supported)
Support for alfa channel now allows you to colorize images with transparences providing for more options to create spectacular work of arts with CODIJY Colorizer Pro and CODIJY Recoloring.
Akvis Coloriage Strokes import (Supported in Pro)
You can now select the file with Akvis Coloriage Strokes in the Import Masks dialog and import them into your CODIJY document.
Lock The angle (New Shortcut)
We keep adding new shortcuts that speed up the drawing process! When drawing the Line mask, you can now control and lock the angle of the stroke, by holding down the Shift button.
High DPI Support (Interface)
Enables the Windows version of Colorizer Pro and Recoloring look good on different DPIs.
Track Undo Actions (Interface)
The new Edit menu now lets track the undo/redo actions you are about to perform.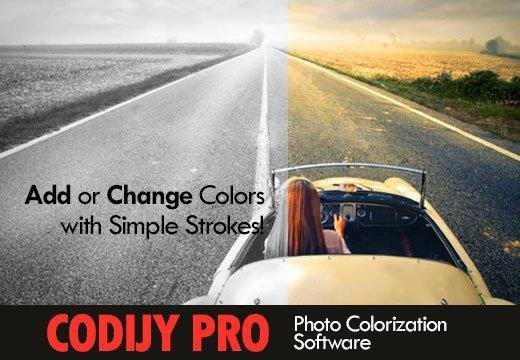 Download CODIJY Colorizer Portable