Portable S.O.S Security Suite 2.7.9.1 (x64)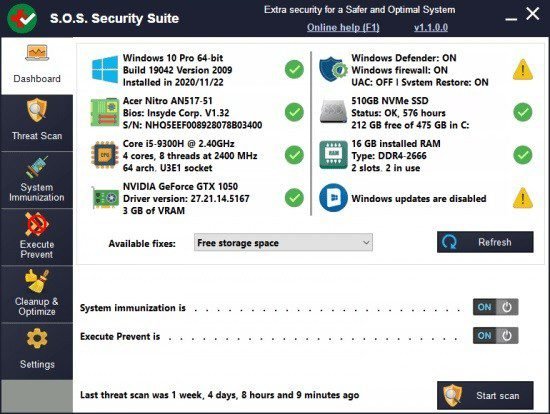 S.O.S. Security Suite Portable is a free, user friendly application that helps you to get rid of Malware, Adware and Spyware, and also prevent from being infected. There is also a hardware and security flaws detection element and a system optimization module. All these features together bring you what the application's initials stand for: A Safer and Optimal System.
S.O.S Security Suite is the successor to UVK and is designed to help you eliminate Malware, Adware, and Spyware and help prevent you from being infected.
Keeping the computer malware-free is by far the most important job for every PC user out there. And if you want to choose an alternative to all the popular security solutions out there you can try S.O.S. Security Suite.
It also includes a hardware and security flaw detection element and a system optimization module that, when combined with its other features, enables you to have a Safer and Optimal System – thus S.O.S.
S.O.S Security Suite should be used alongside your full-service antivirus app of choice like Malwarebytes and should be considered another layer of protection for your machine. As mentioned above, it includes a system flaw detection module that will notify you about any software or hardware-related issues and then help fix them.
The included System Optimization module will help keep you safe by ensuring that you have the best privacy, performance, and reliability for your system. S.O.S. Security Suite can either be installed as a portable tool or an installer; the option is given during install.
It also provides you with a threat scan. It has a System Immunization and Execute section that will prevent work by preventing threats from being executed instead of just blocking them when they are being executed. You can also whitelist apps easily.
SOS's interface is easy-to-navigate but packed with useful features and includes a link to an online help section if you get stuck. S.O.S Security Suite appears to be by all accounts a decent tool in the ongoing fight against malware, etc.

Shows system info
The main window displays a flurry of information about the current machine, such as the OS number and version currently installed, along with details about the CPU, the RAM or the graphics board.
You also get an overview on the security apps currently running on your PC, and the status of your HDD or SSD. At this point, you can apply several fixes, such as free storage space, enable the system restore, or update the OS.
In-depth analysis of the PC
When you want to assess the status of your computer, S.O.S. Security Suite can analyze it and display all the apps that are currently set to automatically launch when you start your PC, as well as multiple fixes that can boost the overall performance of your browsers.
To make sure malware cannot infect your machine, you can choose one or more of the available tweaks: empty temporary folders, run an SFC scan, repair Windows with DISM, reset the hosts file or the DNS settings.
Additional scan parameters can be adjusted as you see fit, for instance you can look for examine all detected PUPs (potentially unwanted programs) and autorun items.
Conclusion
To wrap it up, S.O.S. Security Suite might take a little bit getting used to, yet its plethora of functions make it worth your while.
Download S.O.S. Security Suite Portable