Portable SpyZooka Pro 5.3.0.24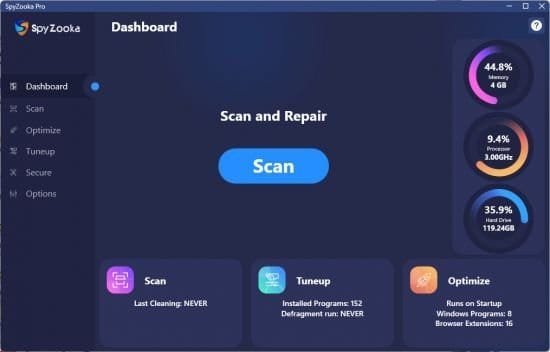 If you're one of those users who feel more and more threatened by the insecure virtual environment and fear a cyberattack or would simply like to be a bit more cautious, then the need for an anti-spyware and malware suite is obvious. One particular choice could be SpyZooka Portable, a suite of tools that go above and beyond to keep your computer safe and secure at all given times.
Modern interface, many functions
Right from the get-go, the user can't miss the modern look of the application, and pleasing aesthetics that are well combined with relevant information offered through all sorts of graphs and indicators. The right side of its main window displays RAM usage, the amount available, CPU load, and HDD available space.
Underneath these gauges, you'll find three of the most relevant options. You can scan your machine for threats and then issue a repair command for the found inconsistencies, use the Tuneup option to improve your machine's capabilities, and then have your machine constantly optimized by scheduling a simple action on startup.
Other helpful functions
Although a lot of options and elements have been detailed, this program includes even more perks. A duplicate file scanner will help those in need of more time, find and eliminate junk in their folder in a jiffy. An update system will also help keep your machine modernized and never late on any improvements to its software structures.
Lastly, driver issues will be easier to fix with the help of this program, which will provide a helpful database of possible driver matches for your hardware. All of these functions work together to create a complete solution for managing and maintaining your machine on a daily, weekly, or monthly basis. The frequency is up to you, as is the combination of used perks.
SpyZooka is a reliable and helpful partner in the fight against computer threats. It gives one a lot of tools to work with, each protecting or maintaining a particular sector within your machine. The only thing a user will have to worry about is what tool to use and in what particular combination.
Download SpyZooka Portable