Portable Strata 3D CX 4.0
With Strata 3D CX Portable you can start creating 3D models, images, animations and web content almost immediately. Strata's intuitive interface is the easiest and most recognizable of any 3D package, and you'll find it leads you naturally to rapid mastery of its more advanced features. Within minutes, you'll be creating 3D models, applying textures, adding lighting effects, and rendering stunning 3D scenes.
Of course we certainly hope you don't stop there. Once you begin to discover the power of 3D graphics, we expect you'll want to expand your horizons and consider the other products in the Strata 3D line:
Strata 3Dplus provides you more advanced modeling tools– such as Skinning and Boolean functions–and many additional features that allow more sophisticated creations. We also offer a range of modular plug-ins that extend the power of Strata 3Dplus. Strata 3Dplus is the world's most versatile and value-packed 3D graphics application.
Strata 3Dpro is the flagship of our 3D product line, and boasts the full range of professional modeling tools, texture management, real-world lighting, camera operations and special effects. Strata 3Dpro is renowned for bringing high-end capabilities–such as Raydiosity and Scanline rendering, AltiVec support, Velocity Graphs, and Inverse Kinematics–to the desktop market.
What is Strata Design 3D ?
3D modeling solution that helps design/create 3D projects using 3D/2D drawing and visualization tools, special effects and more.
Best For : Designed for businesses of all sizes, it is a 3D designing tool that helps manage professional 3D projects and models through texturing, scene composition, animation and more.
Easy to Learn 3D Modeling Software : Design 3D gives you all the tools you need to complete your professional 3D modeling projects. If you're familiar with Adobe Photoshop or Illustrator, you'll feel right at home with our UI. Our powerful 3D modeling software includes integrated modeling and scene composition so you can get to the final high quality images and animations that professional studios demand. Even though Design 3D is a stand-alone solution, it's still connected to the other tools and resources you need so your overall workflow efficiency is maximized.
Strata AR Platform – Augmented Reality that works for You and Your Clients
By listening to your feedback, we plan to continually building out this exciting and immersive tool.
Equally important, you are not just a "user" of Strata software but are now a member of a worldwide community of artists, designers, animators, multi-media authors, web developers, and creative individuals from all over the world. We invite you to participate fully in this community, and to begin exploring the Strata Open Creative Environment.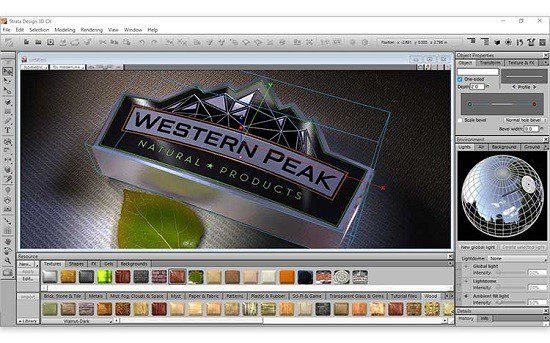 Download Strata 3D Portable