Portable TeraCopy Pro 3.6 Final (x64) Multilingual
TeraCopy Portable is a utility designed to copy/move files faster and more secure. Can resume broken file transfers. TeraCopy skips bad files during copy and even shows the skipped files at the end of files transfer. TeraCopy will calculate files CRC checksum on the fly to speed up source and target files comparsion. Seamless integration with Windows Explorer allows you to keep working with files as usual.
The highlight is that it lets you add multiple file operations to a pending queue to execute them sequentially without your intervention, while carefully weighing file integrity to make sure that any corrupt items will be skipped without any popup messages or other interruptions.
Installer and portable versions
The app has both an installer and portable edition, so you can pick the preferred one. The key difference is that the portable version can be placed anywhere on the disk to launch it, and even on a removable storage unit to run it on any PC directly, while the installer lets you create a desktop icon and associate the tool with MD5 and SFV files.
Minimal interface
The primary panel is very small and shows just few options to tinker with, by default. However, this shouldn't trick into thinking that TeraCopy is a rudimentary file copier. You can extend the panel to access and configure extra settings, as well as investigate file properties such as the source directory, size and status, along with the source and target CRC.
Copy or transfer files and set conditions
Files can be submitted for copy or transfer operations by dropping them into the main frame while navigating Explorer directories. In case they already exist in the destination folder, TeraCopy is able to overwrite all of them or the older ones only, skip or rename them, or prompt you for action.
Filenames can be limited to 255 characters, while ongoing tasks can be paused to temporarily allocate system resources to other program, and later resumed.
Verify files, set post-task actions, and configure app settings
What's more, you can remove files from the disk or send them to Recycle Bin, compare items in the source location with the ones in the output using their CRC values, and specify automatic post-task actions, such as PC shutdown, drive eject, test run, or program exit.
TeraCopy comes packed with a few adjustable parameters. For example, you can set it as your default copy handler to replace the Windows copy/move feature or implement it into Total Commander or Directory Opus, integrate into the Explorer context menu for quick file operations, disable free space checkups, set automatic file verification after copy, use the system write cache, or customize the progress bar colors.
TeraCopy Portable is a compact program designed to copy and move files at the maximum possible speed, providing the user a lot of features:
– Copy files faster. TeraCopy uses dynamically adjusted buffers to reduce seek times. Asynchronous copy speeds up file transfer between two physical hard drives.
– Pause and resume file transfers. Pause copy process at any time to free up system resources and continue with a single click.
– Error recovery. In case of copy error, TeraCopy will try several times and in the worse case just skips the file, not terminating the entire transfer.
– Interactive file list. TeraCopy shows failed file transfers and lets you fix the problem and recopy only problem files.
– Shell integration. TeraCopy can completely replace Explorer copy and move functions, allowing you work with files as usual.
– Full Unicode support.
TeraCopy Pro:
– You can also buy a Pro version of the program that lets you do the following:
– Copy/move to favorite folders.
– Select files with the same extension/same folder.
– Remove selected files from the copy queue.
– Get free updates and priority support.
– More features coming soon!
What's NEW:
Exclude specific files or folders.
Warn about FAT32 4GB file size limit.
Handle reparse points correctly.
Handle long paths (over 255 chars) correctly.
Warn when Explorer passes the cropped path to TeraCopy.
Context menu for menu items with long paths.
Check free space in the background.
A few UI fixes.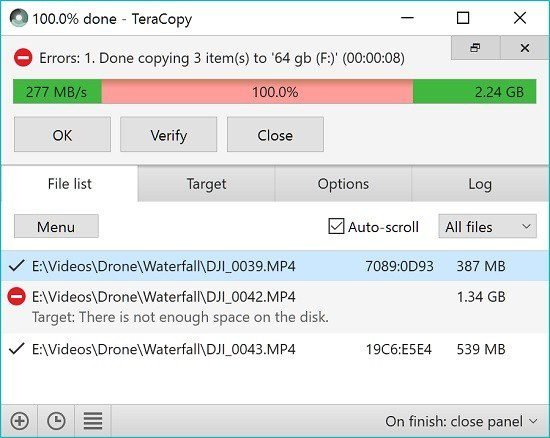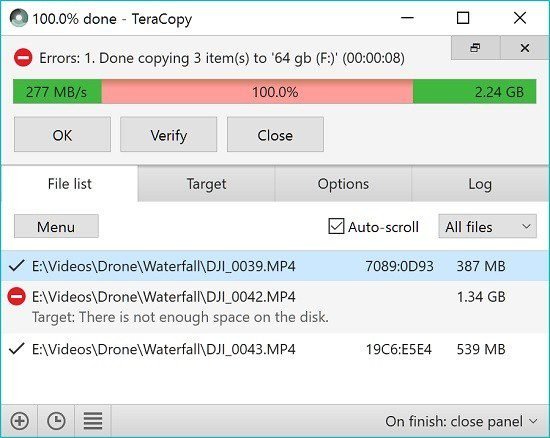 Download TeraCopy Portable