Portable The Bat! Professional 9.3.4 (x64)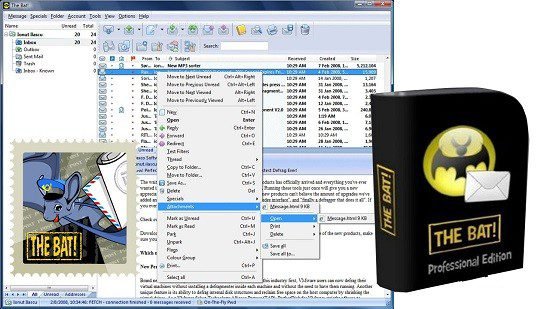 The Bat! Portable is a popular email client that allows to work with unlimited number of the mailboxes. Furthermore, it has powerful sorting filters, fully customizable message templates, Mail Dispatcher and many more other features. The main task of the program is to secure protection of the correspondence from data theft and monitoring by third parties. The Bat! is able to handle an unlimited number of e-mail accounts and to process and store an unlimited number of messages.
The program offers a system of automatic message filtering, easy system of templates, message editor with the spell checker. And many other useful features. The Bat! protects your information using different methods. It includes the encryption of the message base on the hard drive and e-mail traffic encryption. This email client protects your data through multiple encryption streams. It also ensures your correspondence stays private.
Finally, it protects confidential data by working without Web interfaces and without using global email providers that keep your messages in the cloud.The Bat! is perfect for work or at home. It has no restriction on the number of email accounts or messages you can have, high security and built-in features like automatic filters, templates, a spell-checker and more.
The Bat! Professional Edition is a full-featured e-mail client especially designed to meet the evolving requirements of the corporate user, bringing to the table advanced options for handling a growing volume of messages.
Seamless installation and simple-to-handle environment
The setup process does not pose any issues such as browser settings changes or offers from third-party products, and it is over in a few moments. Completing it brings you to a clear-cut interface which encloses a menu bar, several buttons and a few panes which display all folders created, included messages and the actual contents of a selected e-mail.
Paired with comprehensive Help contents, this tool is dedicated to all types of users, including those with little or no previous experience with computers.
Protect information on multiple accounts
In comparison with the Home Edition, this professional version comes with additional security-related features, such as biometric authentication, on-the-fly encryption and security token support. In order to protect your correspondence from prying eyes, it uses the OpenPGP protocol for message encryption.
The Bat! Professional Edition provides support for POP3, IMAP and MAPI protocols and can manage multiple e-mail accounts. It takes advantage of Windows' multitasking capabilities in order to process incoming and outgoing messages in the background, without overloading your computer.
The application brings users a plethora of features for efficient e-mail management. It comes with advanced filtering and searching capabilities, email scheduling, a built-in address book, e-mail notification options, message reminders, sending confirmations, duplicate detection, message splitting, color grouping and much more.
Support for a spell checker, e-mail signatures and QR code generator
The message editor includes a HTML viewer and multilingual spell checking capabilities, while the included collection of customizable templates makes routine email sending or mass mailing much easier.
An image download management tool, a QR code generator, email signature and encryption, S/MIME and PGP support are other advantages that this application comes with.
The multi-lingual interface enables you to read received emails in preview mode, manage all the accounts and easily organize your mailbox into different Explorer-like folders. What's more, the layout is fully-customizable, so you can modify it as you consider fit.
A last evaluation
All in all, combining ease of use with a set of powerful features, The Bat! Professional Edition can efficiently and securely manage large mailboxes. Due to its advanced encryption and protection capabilities, this email client is of particular interest to the business client. The system's performance is not going to be burdened, and the response time is good.

Features:
Strong Encryption
Backup and restore
PGP, GnuPG and S/MIME support
The own Address Book
Message Parking
Internal HTML Viewer
Image Download Manager for background retrieval of HTML images
Selective download
Antivirus interface
Safe handling of attached files
ASLR and DEP
64-bit version
Electronic discovery protection
Easily import .mbox and other file formats from a variety of third party email clients.
Sort email messages based on addressee or issue with Sorting Office.
Quick and powerful search features allow for easy retrieval of archived messages.
What's NEW:
New features:
New %Account* macros
(#0002099) New macro %CLIPBOARD="…" to change clipboard contents (works like the %SetCLIPBOARD="…" macro)
Improvements:
Exception logging is restored, the maximum size of the log file is set to 500 KB
MAPI protocol is removed from the New Account dialog
Fixes:
(#002107) The Delete key was not functional for message undelete when browsing deleted messages
The issue that caused possible crash when messages were containing empty/missing attachments is resolved
The "OK" button was not functional in the "No plug-ins with learning facilities installed" warning
Opening some malformed links from HTML viewer could cause Access Violation errors
Print messages was using light colors under a dark theme
Mail Ticker did not update when an account was deleted
(#002103) The problem that caused an empty favorites list of the "New message" command is resolved
Creating of a scheduled event in the Sorting Office caused an Access Violation error
"View messaging history" command from the Address Book did not focus on the address in the address history pane
Download The Bat Portable
Download – 119.5 MB
Mirror – 119.5 MB