Portable UniPDF Pro 1.3.4 Multilingual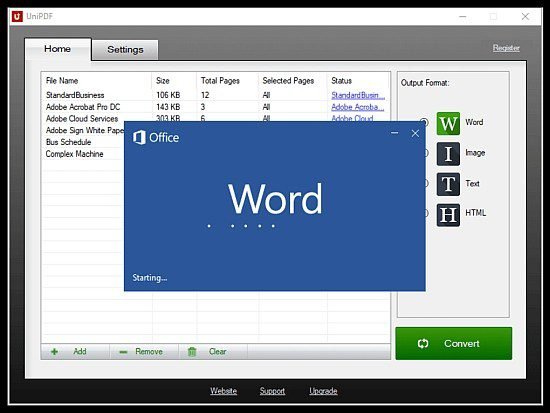 UniPDF Portable is developed based on the primary concept of re-producing a Word file from a PDF. It comes with a series of features which makes the task even more effective and efficient. In usage, it is versatile. It supports converting PDF files to Word, image, text and HTML. One of the most attractive features of this software is that it retains the original design and layout of the PDF. Conversion time is barely sensible. Time you can save on copying and pasting PDF content is not minutes, but HOURS.
UniPDF Portable is a very useful piece of software that helps you convert PDFs to word, image and HTML files.
The interface of the program has quite a minimal and modern-like design that is very easy to use. This means that any type of individual can work in it without encountering any issues, no matter their previous experience with the IT world.
This software utility supports export to file formats such as TXT, DOC, RTF, JPG, BMP, PNG, GIF and HTML.
The interface supports multiple languages such as English, Spanish, Italian, French and Chinese. If you want to have this program translated to more tongues, the developers welcome your help and provide everything you need in order to do this on their website.
The application integrates batch conversion and the "drag and drop" feature, which can be pretty useful, as it will make it easier for you to manage documents.
After adding files to the program, the main window displays a number of details regarding each and every one, such as size, number of pages and status.
The settings panel enables users to easily change the save path and exact file format they need at export. When it comes to images, the tool lets you control the resolution and color bits (24, 8 or 1).
All in all UniPDF is a handy piece of software that can be easily used by any type of person, in order to convert PDF documents to TXT, DOC, RTF, JPG, BMP, PNG, GIF and HTML files.
Unique Features include:
• Convert your PDF files into four file types to meet your specific needs: Microsoft Word, image, text and html files are all available
• Retain original design and formatting: Converted files will retain original layout and formatting of the original document to save you time having to re-edit your documents to get them the way you want them
• Convert PDF files in batch: Convert PDF files individually or convert multiple files in a single session
• Super-fast conversion: Lightning fast conversion speeds enable you to spend less time converting and more time getting work done.
• Convert selected page range: Convert entire documents or select only specific pages within a document for conversion
• User friendly interface that anyone can use with ease. Simple drag and drop interface allows you to easily select which files you'd like to convert
• 20 UI Languages
Download UniPDF Portable