Portable Vertexshare Photo Effects 2.0 (x64)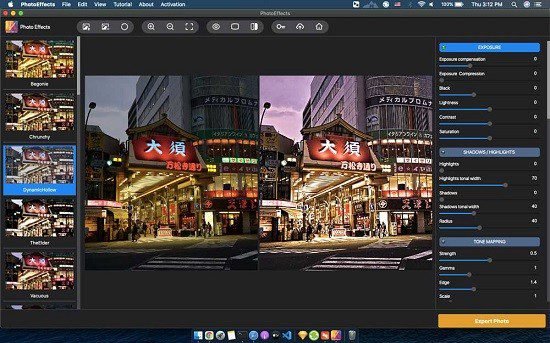 Vertexshare Photo Effects Portable creates stunning and cool photo effects easily. Make your photo like a Pro with inbuild presets. Provide advanced algorithms to enhance your photos. Easy to use and super fast for photo processing.
When talking about photo editing, there is a plethora of applications available for you to use. From complex tools down to the simplest software utility that can change a photo's parameters, the choice is yours. However, making fine adjustments to a photo to make it look good is a fast operation that should not be carried out with a lot of hassle. In other words, a simple photo enhancer is enough to help you out and one good option is Vertexshare's Photo Effects Portable.
Large preview area inside an intuitive GUI 
This particular application comes with a straightforward interface that enables you to apply effects to a photo in an instant. It aims for simplicity and, therefore, the GUI is user-friendly and easy to get around.
Most of the interface is taken up by the preview area, where you can see the result of applying any change. You can easily compare the original to the changed image if you want to see the differences. There are also options for zooming in and out and discarding all the changes with the click of a button.
Make fine adjustments to photos 
But what kind of adjustments and changes can you make with the Photo Effects application? Well, the application is quite generous in this area. First, it comes with a rich collection of predefined effects that you can apply with ease. They are all located on the left side panel, each with its own small preview thumbnail.
On the other hand, the right-side panel includes adjustment bars for various parameters. You can easily change the photo exposure level (compensation, compression, lightness, saturation and contrast), modify the shadows and the highlights, adjust the tone mapping and the dynamic range compression. Image sharpening can also be altered.
The local contrast, the white balance and the vibrance are other adjustable parameters. Furthermore, Photo Effects can be used to reduce the noise level in your photos.
Features of Photo Effects:
Never been so easy to add effects and filters to your photographs. Enhance your photo for crafting stunning imagery.
Exposure
Adjust the photo exposure including lightness, contrast and saturation.
Shadows and Highlights
Provide brilliant algorithm to change the highlights, shadows and their tonal width.
Tone Mapping
Change the tone mapping of your photo to make your flat HDR images more punchy and full of details.
Smart DRC
Use the smart DRC method for dynamic range compression and contrast enhancement of digital images.
Sharpness
Sharpen and enhance the edge to create incredible effects. Make the photo clear.
Local Contrast
Local contrast enhancement will increase "local" contrast in smaller regions while protecting large-scale s/h details.
Noise Reduction
Get rid of the noises from the photo that taken by digital camera. Enhance and improve photo quality.
White Balance
Adjust the color temperature and tink to correct color casts that result from certain lighting situations.
More Functionalities
Explore more capabilities of the best Photo effects like Vibrance, Channel Mixer, Soft light, Vignette and Presets.
Use amazing preset filters with one click.
You can create your own filters and effects manually. You can also use our more than 15 preset effects. See photo enhancing and effects in action.
Use sliders to get customized effects
You can just move the sliders to create natural tones and colours. See the results instantly.
Use inbuild preset effects to enhance photo automatically.
We have create more than 15 filters that you can apply. Including FortisEnhanced, Freya, Namaewa, StrongHold, VignetFairye and so on.
Download Vertexshare Photo Effects Portable