Portable WidsMob WebP 1.3.0.80 (x64)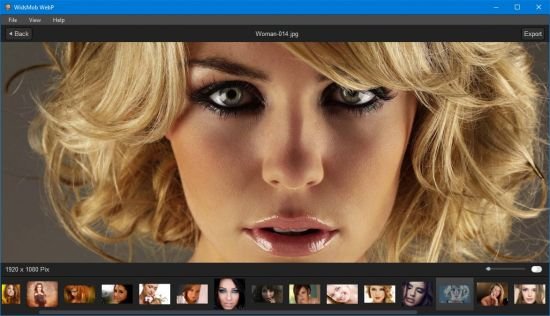 WidsMob WebP Portable browse and Convert WebP Images and Animated WebP Files. Rotate Image, Resize Photos and Add Watermark to WebP Files.
Best WebP Image Viewer and Converter for Windows
WidsMob WebP is an all-in-one WebP manager to view, resize, rotate WebP files, add watermark to photos, and convert HEIC images to GIF, JPEG, PNG, BMP and TIFF format.
Support Graphics and Animations WebP
Because WebP is small in dimension than JPEG and PNG codec, the file format is widely used on Microsoft Edge, Google Chrome, Firefox, and more. How to view and edit WebP graphics and animations? The program provides 2 methods to browse WebP files without conversion, thumbnail and full-screen. It also enables you to edit, convert, and manage the WebP files.
Convert Files to WebP and Vice Versa
Whether you need to convert WebP files to JPEG/PNG/BMP/GIF or transcode the other file formats to WebP, it should be the best choice. Moreover, it supports animated WebP files. You can convert the animated WebP files into GIF files. When you convert the photo files, you can also tweak the photo quality during the process.
Resize WebP Files in Batch Process
If you want to save the WebP files on your website, it also enables you to resize the photos. There are 4 different resizing modes, including By Width, By Height, Percentage, and Free. When you enter the desired parameters, you can resize the WebP files within a batch process. It also provides the Enlarge Small Images option to enlarge a photo.
Protect WebP Files Online with Watermarks
How about adding a watermark to WebP files? To protect the photos on your website or social media sites, such as Etsy, Pinterest, and more. You can add the text watermark, such as Font, Style, Color, Size, Angle, Position, and more other settings to the watermark. Preview the watermark before applying the watermark to the WebP files.
Batch Rotate and Rename WebP Files
It also enables you to rotate the WebP files when you need to use the photos from an Android phone or an iPhone. The rename feature can save the converted files in the same folder without replacing the original ones. You can also choose the desired files or select all the files you want to convert. It should be the ultimate toolkit to manage the WebP files.
Download WidsMob WebP Portable