Lazesoft Windows Recovery 4.5.1.1 Unlimited WinPE (x64)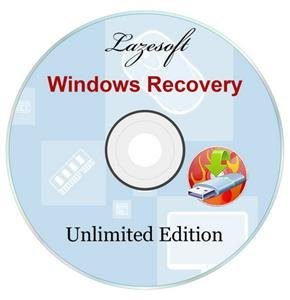 Fixing all Windows boot and crash problems including booting failure, virus affections,blue/black screen, and more. Lazesoft Windows Recovery WinPE offers home users and businesses complete solutions to fix boot problem, retrieve valuable files, Undelete Partition, etc. With easy to use interfaces, you can using Lazesoft Windows Recovery WinPE to correct boot problems by yourself avoided reinstall your Windows. No technical background is required. You can use Lazesoft Windows Recovery WinPE backuping your entire Windows system or disk before repair. The most fix operation just need one click and the operation is undoable. If you donot satisfied the fix result, you can just undo it.
The following are the new features in Lazesoft Windows Recovery:
Create a Windows 10 32bit or 64bit PE boot disk
Add Network Interface Card Drivers in the boot disk
Options to set screen resolution in the boot disk
Minor bug fixes
Create Recovery CD (bootable) or USB Disk to load
Lazesoft Recovery Suite is capable of loading completely from a Lazesoft Recovery Suite Live CD, When your operating system is not able to boot, you can boot from it to run recovery tools.
One Button Click to Repair the crashed Windows system
Rebuild/Repair the Boot Menu
Added Lazesoft BCD Doctor
Support various brands of desktops PC, laptops.
With WinPE-based and linux-base bootable disk builder, Lazesoft Recovery Suite has best hardware compatibility.
Support WinPE USB boot disk.
Create PE Recovery Disk on 32 and 64 bit of Windows XP, Vista, 7, 8, 8.1, 10
Fix boot problems with Lazesoft Recovery
Recover Windows from critical system errors when BSOD or it displayed a black screen.
Recover MBR even if when a boot virus has corrupted the MBR.
One Click Repair Windows System Partition Boot Sector
Recover missing or corrupted Windows system files such as 'ntldr is missing', 'bootmgr is missing', etc.
Recovery or edit corrupted registry, virus-infected registry key value.
Edit and Repair Windows boot file boot.ini or BCD
Rescue Windows XP, Vista, 7, 8, 8.1 32 and 64 bit.
Generate Report on Windows Recovery
Retrieve your critical data with Lazesoft File Manager
Access and copy files from computer even if Windows can't start.
Boot from Lazesoft Recovery Suite Recovery CD or USB Disk to copy files to another local disk.
Added Start Menu on boot disk
Registry Editor & Registry Recovery
View and modify settings of any Windows system registry in the offline mode.
Auto Recover corrupted registry to Previous Normal State
After Recovery, you even had an option to Undo the Registry Recovery Operation.
Undelete Partition
Recover partition after accidental deletion or partition table damage
Preview partition files before save it.
Support FAT, NTFS partition.
How to use a Lazesoft Windows Recovery CD or USB device to fix the boot problems if your Windows operating system does not start correctly
It is very common for PC users to be faced with a Windows crash. When this happens, the dreaded 'Blue Screen of Death' pops up, or your PC has a black screen and can not boot or start up.
If your computer is not starting up, do not worry. Our product provides an easy solution to fix the problem. It is called Lazesoft Windows Recovery, and it is contained as one component in the Lazesoft Recovery Suite.
This program, Lazesoft Windows Recovery, is specially designed to simplify your repair procedures.
In order to solve your computer problem, Lazesoft Windows Recovery must be burned onto a CD or USB device. You can use it to boot your computer and fix any boot problems.
When you boot your computer from a Lazesoft Windows Recovery CD, the Lazesoft Windows Recovery program will be automatic Launched.
When you boot your computer from an auto-booting Lazesoft Recovery Suite CD, click <Windows Recovery> on the welcome window of Lazesoft Recovery Suite.
At startup, Lazesoft Windows Recovery searches for and displays the Windows installation volumes that are found in your computer. Click on a Windows installation volume item to select it.
After selecting the Windows operating system which needs to be repaired, the main window of Lazesoft Windows Recovery will open. You can follow the guides on the screen to choose the right tools to fix the problems. The functions for repairing your computer are very easy to use, most situations you will need only one click to restore your PC to full working condition. And, in the unlikely event that you need to reverse the process, you will have an <Undo> button available.
What's NEW:
Added Find lost password of Windows user account (only for the paid versions)
Enhanced NTFS files recovery
Enhanced FAT32 files recovery
Added Windows Server 2019 Support (only for the paid versions)
Added Windows 10 version 20h2 Support
Minor GUI improvements
Minor bug fixes
Download Windows Recovery WinPE