Portable Zoner Photo Studio X v19.2303.2.450
Make every photo better with Zoner Photo Studio Portable! Alternative to Lightroom and Photoshop. ZPS X is the most universal photo software. RAW processing. layer support. preset. tools for retouching. video editing. Inventory creation. it's all there. Zoner Photo Studio Portable helps you manage your photos. Zoner Photo Studio is a complete toolbox for managing and editing your digital photos. Capturing images from your camera, organizing your archive, editing and sharing your photos has never been easier!
Zoner Photo Studio Portable is a one-stop-shop for all your photo editing needs. This intuitive software provides advanced features that will help you perfect your photos and unleash your creativity.
The user interface of Zoner Photo Studio X is well-organized and easy to navigate. It's not cluttered with a lot of options, but you're never too far away from any tool that you need. The left-hand side of the interface has a list of all the photo collections that you've imported into the software. You can easily create new collections, tag photos, and sort them by date, name, rating, and so on. This makes it easy to find the photos you're looking for quickly.
The center of the interface is where you'll find your work area. It's here that you'll edit your photos, apply filters and effects, and create collages, panoramas, and HDR images. The software supports a wide range of editing tools, from basic color correction and cropping to more advanced features like layers, masks, and retouching tools. There's also a selection of creative filters and effects that you can use to give your images a unique look.
One of the standout features of Zoner Photo Studio X is its batch processing capabilities. You can apply edits to multiple images at once, saving you time and effort. For example, if you have a large collection of photos that all need the same color correction, you can apply the correction to all of them in one go.
Zoner Photo Studio X also has a range of export options. You can export your photos to a range of formats, including JPEG, PNG, TIFF, and PSD. There's even a handy feature that allows you to export images to social media platforms like Facebook and Instagram in the correct format and size.
Another great feature of Zoner Photo Studio X is its RAW processing capabilities. If you shoot in RAW format, you'll know that these files can be tricky to work with. But with Zoner Photo Studio X, you can easily import and process your RAW files, giving you more flexibility in your editing.
The software also has excellent organization and management features. You can easily create and manage photo albums, add keywords and tags to your photos, and search for specific photos using a range of filters.
Zoner Photo Studio X also includes a range of creative extras. You can create calendars, greeting cards, and even 3D images. There's also a range of tutorials and tips available within the software, making it easy to learn new techniques and get the most out of your photos.
One of the things that really sets Zoner Photo Studio X apart from other photo editing software is its integration with other tools. For example, if you use Adobe Lightroom or Photoshop, you can easily import and export files between the two programs. This makes it easy to use Zoner Photo Studio X alongside your existing workflow.
Overall, Zoner Photo Studio X is an excellent photo editing software that offers a range of advanced features and tools while still being easy to use. Whether you're a professional photographer or just starting out, Zoner Photo Studio X has something to offer. With its powerful editing tools, efficient workflow, and creative extras, you can take your photos to the next level and get truly professional results.
Zoner Photo Studio is useful for beginner, intermediate and experienced photographers with four different variations to choose from. Zoner Photo Studio is made for all digital camera, scanner and mobile device users. Everything you need for quality digital photography from start to finish.
This software also provides effects from fun (e.g. oil painting and posterization) to highly professional (e.g. framing and text-in-image).
• Just connect your camera, and Zoner Photo Studio handles the rest. Your imported photos are automatically sorted, and you can also rename them and back them up.
• Keep your photos organized, no matter whether you've got 100, 1,000, or 100,000. Add colored labels, rate photos, and give them map locations.
• Add color to your photos or brighten them effortlessly. The new Develop module lets you enhance photos non-destructively – your full-quality original is always at hand.
• Edit your photos, right to the last pixel. Zoner Photo Studio is your friend for collages, portrait retouching, adjusting objects' colors, and making beautiful panoramas. Its advanced photo editor will help with all this and more.
Bitmap formats: JPEG, GIF, TIFF, PNG, PSD, PSB, PCD, BMP, PCX, TGA, ICO, RLE, WPG, DIB, BMI, PSP, PSPIMAGE, THM, HDP, WDP, JP2, J2K, JPC, PNM, PPM, PAM, PBM, PGM, WBMP, BMS, JPS, PNS, DCM, KDC, MPO, JXR, HDR, ZPS
RAW formats: CRW, CR2, DNG, MRW, NEF, ORF, PEF, ARW, SRF, SR2, MEF, ERF, RAW, RAF, FFF, RWZ, RWL, 3FR, CS1, SRW
For viewing purposes only, you can expand the range of supported formats by installing extra WIC codecs (e.g. WebP)
Video formats: ASF, AVI, M1V, MOV, MP4, MPE, MPEG, MPG, MTS, OGV, QT, WMV
Install MPlayer to add support for these formats: 3GP, DIVX, DV, DVR­MS, FLV, M2T, M2TS, M2V, M4V, MKV, MPV, MQV, NSV, OGG, OGM, RAM, REC, RM, RMVB, TS, VCD, VFW, VOB
Zoner Photo Studio X Highlights:
• Optimized and faster RAW module
• Catalog, advanced picture management and archival
• Multi-exposures help you to do the "impossible"
• Transparency support
• Healing Brush and Selection Brush tool
• Direct upload to Facebook, Flickr, and Picassa Web Albums
• 64-bit program version
• A wide array of edits and effects for photo enthusiasts
• HDR, panoramas, 3D photo maker
• Convenient, time saving batch operations
• Support for GPS map data
• Easy and direct web publishing
• Templates for calendars, contact lists, and more
Take a look at everything we've already added to ZPS X:
– Faster Work with RAWs
– Transfer Edits Easily Between RAW and JPG
– Face Liquify
– New Distortion Tools
– New Video Clip Tools- Slow & Fast Motion plus Flipping
– A New Video Making Tool
– Importing and Exporting Presets
– Organizing presets into folders
– Linking Zoner Photo Cloud with the Catalog
– Zoner Photo Cloud
– Faster RAW reloading
– New presets
– New Auto-Enhancements
– Improved layer control
– Artificial intelligence
– Non-destructive Smoothing Brush
– Non-destructive Structure Cloning
– Polarizing filter
– Full support for HEIF
– Improved work with masks and layers
– Unlimited photo books layout editing
– Non-destructive retouching brush
– Adjustment Layers
– Tablet pressure support
– Major new video features
– Better contact sheet maker
– Clarity setting
– Batch edits in the Develop module
– Multi-selections
– Photo-print orders from inside of the program
– Filter Brush
– Refine Selection
– New Automatic Edits
– Radial Filter
– Smart Sharpen
– Smart Blur
– Dodge and Burn tools
– Advanced noise reduction in Develop
Automatic Import
ZPS X sees when you attach your camera, imports your photos, and sorts them into folders.
Your Photos, Organized
Sort photos by location, date, folders, or keywords in a flash.
Easy Sharing
ZPS X is the only program that lets you share photos to Instagram. And every other social network is a snap too.
Printing Straight from the Program
You don't have to go anywhere else to order prints, photo books, or calendars. You can do it all straight from ZPS X.
Video Editing – Reimagined
Enhance your video memories, or unify the style of your clips from different places. All in an environment you know and love.
Copying Between Clips
Save tons of time! When an edit for one clip looks great, just bring it on over to your next clip. Or even every clip on down the Filmstrip.
Razor-sharp Video Editing
You'll find yourself cutting and moving clips far faster than ever. The new shortcut keys and options make your work even easier.
Stylish Background Blurring
Need a square photo – maybe for Instagram? Avoid forced crops and create impressive blurred backdrops. And it takes less work than ever thanks to the batch filter and the feature for blurring the background during canvas resizing.
Now Supporting Apple iCloud
Upload and save your photos from Zoner Photo Studio X straight to Apple iCloud.
What's NEW:
Print – Print Photos – fixed problems with adding pictures in Portrait orientation
Print – Photo Books – fixed problem with photos' crop setting when adding further photos
Develop – Retouching Tools – fixed problem with brush settings when switching to another picture
Navigator – fixed problem with displaying files from Google Drive
RAW – added support for reading RAW files from the Fujifilm X-H2S, Fujifilm X-S10, Nikon D6, and Nikon Z fc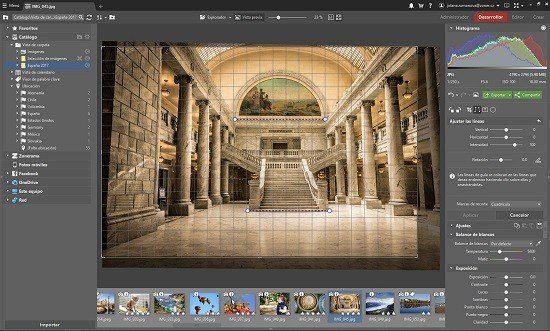 Download Zoner Photo Studio Portable