Portable 4K Tokkit 2.3.1.0770
4K Tokkit Portable is the ultimate application for mass TikTok content download. Save TikTok challenges, captions, whole accounts, hashtags, and single videos in high quality. Watch TikToks offline, browse your TikTok feed without ads, repost clips to other social networks.
TikTok has quickly become extremely popular among people around the world and most users just browse and watch entertaining videos.
Those who want to go further and download these clips can try 4K Tokkit Portable.
Basic GUI easy to understand
The app comes with an intuitive interface that allows you to easily type any hashtag or username you want to find. When you enter a keyword, a list of related results will be displayed and you can choose the video you like best.
After you identify clips that match your criteria, they are automatically downloaded as MP4 files to a folder of your choice. You can even mention whether you prefer to get the oldest or newest videos first.
Additionally, you can configure 4K Tokkit to run in the background whenever you close its main window, so that it continuously monitors content posted by your favorite accounts.
Doubles as a TikTok browser
While it automatically fetches all videos that match your keywords, you can also use 4K Tokkit to browse and watch clips on TikTok, as well as copy the link or caption of a certain item. .
Moreover, you can share the most interesting videos on Facebook or Twitter (corresponding credentials are required for each platform) so that all your online friends can enjoy too.
In other words, you no longer need to go to TikTok through your browser every time you want to check if your favorite users have posted new content or whether the trending hashtags are received. whether the new video is suitable or not. Conclusion
In summary, 4K Tokkit can be used not only by PC professionals but also computer novices as it does not require any specialized skills. All you have to do is enter your username or hashtag in the search field and then start browsing the results.
Download TikTok user videos
Bulk-download videos from TikTok accounts. Save all videos off profiles and grab avatars of TikTok users.
Download New TikTok Clips Automatically
Keep up with updates from your favorite TikTok creators and hashtags. Auto-check for new videos, grab fresh content every day without lifting a finger.
Download TikTok Videos by Date
Adjust the download date range at the in-app calendar. Download only the videos that were published during the specified time period.
Save TikTok Video Captions
Get TikTok videos downloaded with their original captions. Hover the cursor over the video icon to see the caption in-app & copy it to the clipboard.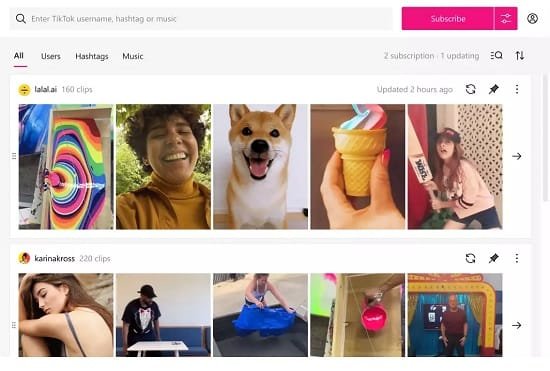 Download 4K Tokkit Portable