Portable Ant Download Manager 2.5.2 Multilingual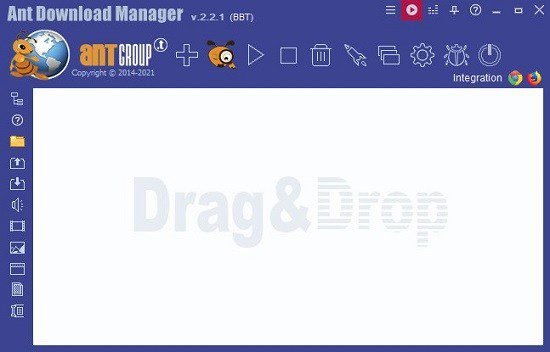 Ant Download Manager Portable (AntDM) is a quick download manager for any Internet file, that fully integrates with all popular browsers. AntDM allows to download free streaming video and audio from numerous web sites, supports P2P peer-to-peer protocol. AntDM supports downloading files from the most popular Premium Link Generators (Debrids).
Ant Download Manager (AntDM) – is a tool that allows you to repeatedly increase the speed of file downloads due to multiple download streams, resume, schedule downloads, capture and download audio and video streams.
Automatically processes download errors, recovers from temporary network errors, reconnects in case of server response delays, has the ability to resume interrupted downloads due to loss of connection, network problems, computer shutdown, or unexpected power outages.
The standard GUI for softwares of this class makes AntDM friendly and easy to use. It has two screens – the first is more common for regular downloads and the second is using video preview for easy tracking of video downloads.
Has download queues, which allows you to accumulate download links at a convenient or scheduled time for the user.
Supports proxy-servers, HTTP and FTP file protocols and their protected versions of HTTPS and FTPS, as well as the main streaming protocols for audio and video content M3U8, MPEG-DASH, VIMEO-STREAM, firewalls, redirects, cookies, authorization, processing of audio and video content.
Supports BitTottrent a P2P (peer-to-peer) file sharing protocol.
Can be easily integrated into the main popular browsers Microsoft EDGE (Chromium-based), Google Chrome, Mozilla Firefox and their numerous clones: 360Chrome, Brave, CCleaner, Chedot, CocCoc, Comodo Dragon, Comodo IceDragon, Maxthon6, Opera, Slimjet, SRWare Iron, Torch, UC Browser, Vivaldi, Yandex, Waterfox, etc. The integration of extension into browsers is used to automatically capture file or media links and download them. Also you can not integrate AntDM extensions into your browsers, but use AntDM autonomously. For example, drag and drop download links from a browser into AntDM, download any single links manually, in a list or in batch mode from a file.
Allows not only downloading audio files, but also extracting audio tracks from video files, converting them to the popular MP3 format and adding basic accompanying information to them.
Supports most popular Generators Premium Links (Debrids): alldebrid.com, cocoleech.com, debrid-link.fr, ffdownloader.com, linksnappy.com, mega-debrid.eu, real-debrid.com, premium.rpnet.biz, simply-debrid.com, premiumize.me, etc.
Other features include multilingual support, download categories, download log, priorities and changes of download speed, task scheduler, sounds of various events, CHM User Guide, virus protection when download completion and many more.
Minimalistic, user-friendly interface with several useful functions
This application comes with a plain, unsophisticated design that allows you to quickly familiarize yourself with its functions without great efforts. However, since it does not include any form of help documentation, if you are a novice, operating it might be based on trial and error.
On the bright side, you can access a standard configuration menu where you can adjust several parameters in order to further simplify your experience.
Generic download manager with added support for video content
You can rely on this program to grab online content and save it on your computer in a convenient way. Adding an item to the queue can be easily achieved by copying its download link to the clipboard. The application automatically detects it and allows you to specify the save path.
Additionally, you can access a tool that allows you to download videos from various websites, including YouTube, Vimeo, DailyMotion and Facebook. You just need to provide it with a valid address and hit the refresh button, so the utility can fetch additional data, such as name, thumbnail and playback details. It is possible that you choose your preferred format from various available options.
Handy configuration menu with numerous customizable parameters
This application allows you to adjust several settings by accessing the configuration menu. It is possible to customize startup behavior, define supported file types, adjust download speeds and set custom notification sounds.
Download Ant Download Manager Portable