Portable AmoyShare AnyVid 10.1.0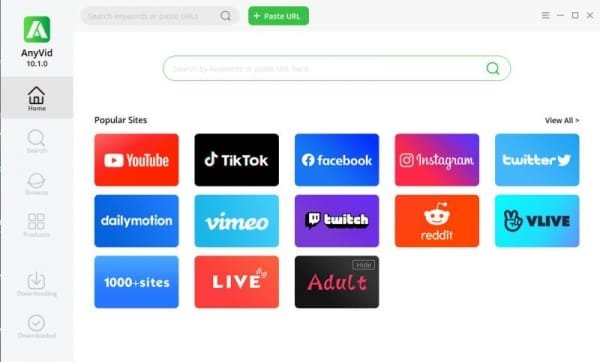 AnyVid Portable is a powerful and versatile software that allows users to easily download and convert videos from various online platforms. With its intuitive interface and extensive range of features, AnyVid Portable has become a go-to tool for video enthusiasts and content creators alike.
At its core, AnyVid is designed to make the process of downloading videos from popular streaming platforms a breeze. The software supports a wide range of websites, including YouTube, Vimeo, Dailymotion, Facebook, and more. Users can simply copy and paste the URL of the desired video into AnyVid, and the software will quickly analyze and fetch the video for download.
One of the standout features of AnyVid is its ability to download videos in various resolutions and formats. Whether you need a high-definition version for a presentation or a compressed file for mobile viewing, AnyVid offers a range of options to suit your needs. Users can select their preferred resolution, such as 720p, 1080p, or even 4K, and AnyVid will download the video in the chosen quality. Additionally, AnyVid supports multiple output formats, including MP4, FLV, and 3GP, providing compatibility across various devices and media players.
In addition to its video downloading capabilities, AnyVid also offers a powerful video conversion feature. Users can easily convert downloaded videos to different formats or extract audio tracks from videos. This functionality is particularly useful for content creators who need to repurpose or edit downloaded videos for their projects. AnyVid's conversion feature supports a wide range of formats, such as MP3, AAC, WAV, and more, ensuring compatibility with various devices and software applications.
AnyVid's user-friendly interface is designed to make video downloading and conversion a seamless experience. The software features a clean and intuitive layout, with a search bar at the top for users to directly search for videos on supported platforms. AnyVid also provides a built-in browser, allowing users to navigate to their preferred video websites within the software itself. This streamlined interface eliminates the need to switch between multiple applications or browser tabs, saving time and effort.
Furthermore, AnyVid includes a range of advanced features that enhance the user experience. Users can create video playlists, enabling them to organize and manage their downloaded videos efficiently. AnyVid also supports batch downloading, allowing users to queue multiple videos for download simultaneously. This feature is particularly useful when downloading entire playlists or video series. Additionally, AnyVid includes a built-in video player, allowing users to preview downloaded videos or play them directly within the software.
Security and privacy are top priorities for AnyVid. The software does not collect or store any personal information from users, ensuring their privacy is protected. AnyVid also employs advanced technology to ensure the safety of downloaded files, scanning them for any potential threats or malware. This commitment to security provides users with peace of mind when downloading and converting videos using AnyVid.
AnyVid is regularly updated to keep up with the evolving needs of its users. The software is compatible with both Windows and Mac operating systems, ensuring accessibility for a wide range of users. Regular updates ensure compatibility with the latest changes in video streaming platforms and maintain optimal performance.
In conclusion, AnyVid is a feature-rich and user-friendly software that simplifies the process of downloading and converting videos from various online platforms. Whether you need to download videos for offline viewing, convert them to different formats, or extract audio tracks, AnyVid provides a seamless and efficient solution. With its extensive range of features, intuitive interface, and commitment to security, AnyVid has become an essential tool for video enthusiasts and content creators.
The most powerful video downloader
• HD/4K video download with 3X faster speed
• 1000+ video sharing sites supported
• Fast download streaming videos, TV shows, animes, etc.
Download All The Tracks You Want
AnyVid provides HD video download of different categories, which cover streaming videos, TV episodes, dramas, and more. In addition to video format, you can directly convert video to MP4 or MP3 with the best video downloader.
Download Video in High Quality
Benefit from the wide selection of video resolutions, you can either download 4K videos, or choose any resolution range from HD to low resolution to save device storage on your mobile phone, such as 1080p, 720p, 480p, 360p and 240p.
1000+ Video-Sharing Sites Supported
Easy to download video from any website, such as TikTok, Facebook, Instagram, Reddit, Tumblr, Twitch, Niconico, V Live, Naver, Lynda, TED Talk.
Download Playlist in MP4/MP3
With only one click, you can get entire playlist download in MP4 or MP3. Simply copy the playlist URL of the site you want to download, and paste it to the search bar of AnyVid video downloader, then you can get the full playlist downloads.
Batch Download
All the videos can be downloaded at the same time. That is to say, you can batch download a list of videos easily and efficiently. Just add videos to the download queue, as many as you want.
Smart Download Mode
AnyVid has embedded 1000+ trending video sites with build-in browser, and there's a smart download button in the bottom right corner – so you can download the video just while you're watching it. It was designed to simplify the download experience and save time.
AnyVid Portable Release Note:
1. Fixed parsing empty issues for partial URLs.
2. Optimized response redirects in YouTube and Instagram.
3. Added Clear All button on search history.
Download AnyVid Portable