Portable Ashampoo Driver Updater 1.6.0.0 Multilingual
Ashampoo Driver Updater Portable is a powerful software that helps users keep their computer's drivers up-to-date. It is an essential tool for anyone who wants to ensure that their computer is running at its best. With this software, users can easily identify outdated drivers and update them with just a few clicks.
The software is designed to be user-friendly and intuitive. It has a simple interface that makes it easy for users to navigate and find what they need. The main screen displays a list of all installed drivers, along with their current status and update status. Users can easily see which drivers are outdated and need to be updated.
Ashampoo Driver Updater Portable uses a comprehensive database of more than 400,000 drivers to ensure that it can identify and update all drivers on a user's computer. The software automatically scans the computer for outdated drivers and displays a list of them. Users can then choose to update all drivers at once or select specific drivers to update.
The software also provides users with detailed information about each driver, including the manufacturer, version number, release date, and more. This information can help users make informed decisions about which drivers to update and why.
One of the standout features of Ashampoo Driver Updater is its backup and restore functionality. Before updating any drivers, the software automatically creates a backup of the current driver. This ensures that if something goes wrong during the update process, users can easily restore their previous driver and avoid any issues.
The software also includes a scheduler feature, which allows users to schedule automatic driver scans and updates. This is a great feature for users who want to ensure that their computer is always running at its best without having to manually check for updates.
Ashampoo Driver Updater is compatible with all versions of Windows, including Windows 11, 10, 8, 7, and XP. It is also available in multiple languages, making it accessible to users around the world.
Overall, Ashampoo Driver Updater Portable is an essential tool for anyone who wants to keep their computer running smoothly and efficiently. It is easy to use, comprehensive, and reliable, making it a must-have for anyone who wants to ensure that their computer is always up-to-date.
Optimal performance with fresh drivers!
Over 400,000 drivers available
Over 150,000 devices supported
Maximum system stability
Scanned – Installed – Done
You don't need to navigate through the menus in Ashampoo Driver Updater. A well-designed program does its job of keeping your computer up to date quickly and with a high level of convenience. It analyzes hardware and drivers, compares the results against a giant database, and then replaces obsolete drivers with the latest versions.
Always at your service
You decide when Ashampoo Driver Updater should take action. The built-in scheduler gives you complete control over when the program should scan your system for updates. Once configured, you don't need to remember about it, and your system will stay up to date, always!
Problems? Here is the solution!
Crashes, sound and graphics issues, and poor performance are often due to incorrect, corrupted, or outdated drivers. After switching to Windows 10, most systems now work "somewhat" and not optimally. Let Ashampoo Driver Updater fix what Windows can't fix itself.
Maximum gaming performance
Drivers are constantly being developed and updated to avoid crashes and support the latest hardware. Particularly high system performance benefits games. The latest graphics card drivers can give you the speed you need.
Safety first
You won't take any chances with Ashampoo Driver Updater. Its built-in backup feature allows you to save and restore any driver as needed. Leave only those that are really useful to you!
Good feeling when everything works
Even without visible failures, the components of your system may not work optimally. A dropping network, hissing audio, or a disappearing printer are the most common problems. Often these are Windows drivers that provide some basic functionality. Get rid of useless drivers!
The Perfect Windows System
Moving to Windows 10-11 comes with many challenges for many users. Will the hardware you use be supported, what is it called and where can I get the appropriate drivers? Ashampoo Driver Updater does the hard work and instantly finds the best driver for you and your Windows 10-11.
Short list of features:
Always the latest driver database
Convenient driver backup and restore functions
Fixes system defects with ease
Perfect choice for Windows 10 – finds all drivers
Finds and updates missing or outdated drivers
Significantly eases the transition to Windows 10
Fixes problems with Wi-Fi, sound and printers
For a faster and more stable system
Fully optimal use of the system
Installs all necessary drivers with one click
Reduces the risk of system crashes and slowdowns
Database of the latest drivers:
Printer drivers
USB drivers
USB hard drive drivers
Network controller drivers
Hard drive drivers
RAID Controller Drivers
Monitor drivers
Webcam drivers
Sound card drivers
Drivers for CD, DVD and Blu-ray drives
TV tuner drivers
Keyboard drivers
Motherboard drivers
Mouse drivers
SCSI drivers
Bluetooth adapter drivers
Mobile phone drivers
WiFi Device Drivers
Camera drivers
Scanner drivers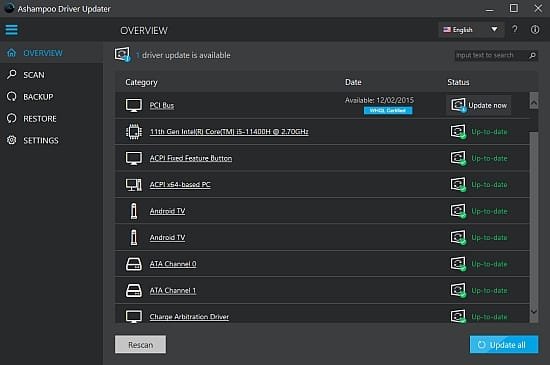 Download Ashampoo Driver Updater Portable