Ashampoo Video Filters and Exposure 1.0.1 (x64) Multilingual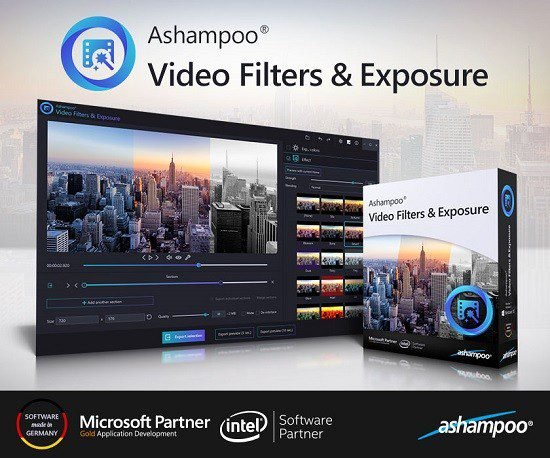 Most videos don't come out perfect straight away. For example, they can suffer from poor lighting, unnatural colors or simply lack a personal touch. Ashampoo Video Filters & Exposure Portable is intuitive video editing that adds style to any footage! From plain and simple to artful, the program offers users multiple functions to adjust exposure and colors to their needs.
Adjustments to white balance, exposure, shadows or lights are carried out with pixel-perfect precision, while an automatic tonal value correction helps users find ideal values. Things can even take a stylish and artistic turn, thanks to 23 built-in superimposable video effects – from fancy to flashy and from classic black-and-white to a modern color glow effect.
The integrated live preview provides instant visual feedback and helps avoid disappointment. Ashampoo Video Filters & Exposures not only enhances and applies effects to videos but also rotates and crops them. Rotation supports both fixed (90° / 180° / 270°) and custom angles.
Cropping can either be performed based on traditional video formats or custom resolutions. Ashampoo Video Filters & Exposure imports all common video formats at any resolution, including HD, 2K and 4K footage.
Feature highlights
Modify exposure, saturation and white balance settings
Color filter presets
Crop videos to any format
Rotate clips by custom angle
Rotate and mirrors videos comfortably
Optimize white balance, exposure and saturation
Plain and simple video editing
Download Ashampoo Video Filters & Exposure Portable