Portable Corel Painter 2022 v22.0.1.171 (x64) Multilanguage
Painting software custom-built for serious artists. Why not try the original, time-tested, digital painting software built by artists, for artists? Our virtual art studio has exceeded the creative expectations of illustrators, concept, fine, photo and manga artists for over 25 years! We know that Painter Portable will make you a passionate artist too.
Corel Painter Portable. Anything but ordinary. Create next-level results with trusted, professional digital art software. Sketch, paint, illustrate and produce unparalleled photo-art with hundreds of impeccably realistic artist-created brushes, superior blending, and an array of versatile art tools.
Professional digital art software for Windows
– World-class blank canvas painting and photo-art tools
– Acclaimed Natural-Media™ emulation & digital art brushes
– Infinite customization of brushes, textures, and other media
Create
Paint from a blank canvas and create amazing photo art.
Customize
Create your own brushes, textures, patterns, palettes and so much more.
Extend
Enhance your paintings with creative additional brush packs.
Experience brushes with greatness!
We've got your canvas covered with every brush and media type possible. Craft your masterpiece with stunning reality using renowned dry, wet, and blending media.
Your art. Your way.
Professional painting software built by artists for artists to create and develop their signature style.
Brush controls
Modify brush size, shape, angle, flow and so much more with in-depth brush control panels.
Canvas control
Pan, zoom, rotate and apply lighting and surface texture with ease.
Color mixing
Use the Color Wheel, Mixer, Color Sets and Harmonies to craft the perfect color palette.
Composition tools
Establish appealing compositions using Divine Proportion, Layout Grid, Perspective Guides and Mirror Painting tools.
Unparalleled Photo Art
Stylize any image or photo using artificial intelligence and easily transform photos into paintings with powerful auto-painting and cloning tools.
Customization
Create custom brushes, palettes and workspace layouts plus import custom content from others.
Performance
Run the enhanced Brush Accelerator, which makes the most of your computer's hardware and graphics card, to deliver the best possible painting experience with one click.
Wacom compatibility
Painter and Wacom are built to work together and take advantage of stylus pressure, tilt, bearing & rotation.
What's New in Painter 2022?
Stamp-type brush customization
These popular brushes have received a versatility overhaul. Change shape, edge effects, rotation, squeeze and anti-aliasing plus, create, add, import, export, organize and export dabs in record time!
Watercolor brushes and workflow
New Watercolor compatible brushes and workflow optimize the painting experience. Paint with dry media types on Watercolor layers to achieve new and exciting mixed-media looks.
Brush library experience
Reap the benefits of a refined brush library. Enjoy new categories, variants and brush previews plus, now you can easily find, filter and favorite beloved brushes for easy access from the Brush Selector.
Brush size selector
Choosing brush size has never been so speedy and visual. Just open up the Size Library and add, reorder, delete and change size preview to accommodate your workflow.
User requested enhancements
After reviewing your valuable feedback, we have made many layer workflow and other enhancements to boost your productivity.
FASTEST version yet!
Run the Brush Accelerator and enjoy huge GPU, Multicore & AVX2 speed gains of new and enhanced cover method brushes along with a boost in several other brush engines.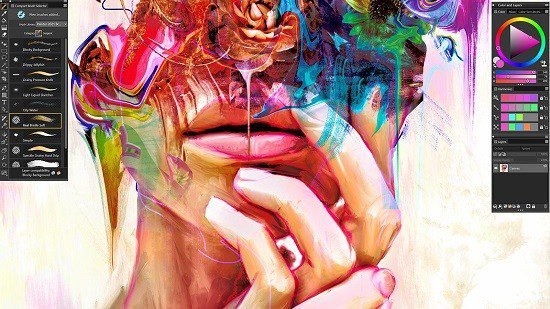 Download Corel Painter Portable