Portable Corel Painter 2023 v23.0.0.244 (x64) Multilingual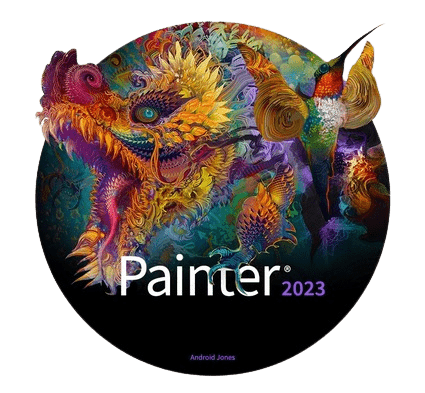 Painting software custom-built for serious artists. Why not try the original, time-tested, digital painting software built by artists, for artists? Our virtual art studio has exceeded the creative expectations of illustrators, concept, fine, photo and manga artists for over 25 years! We know that Painter Portable will make you a passionate artist too.
Corel Painter Portable. Anything but ordinary. Create next-level results with trusted, professional digital art software. Sketch, paint, illustrate and produce unparalleled photo-art with hundreds of impeccably realistic artist-created brushes, superior blending, and an array of versatile art tools.
Professional digital art software for Windows
– World-class blank canvas painting and photo-art tools
– Acclaimed Natural-Media™ emulation & digital art brushes
– Infinite customization of brushes, textures, and other media
Create
Paint from a blank canvas and create amazing photo art.
Customize
Create your own brushes, textures, patterns, palettes and so much more.
Extend
Enhance your paintings with creative additional brush packs.
Experience brushes with greatness!
We've got your canvas covered with every brush and media type possible. Craft your masterpiece with stunning reality using renowned dry, wet, and blending media.
Your art. Your way.
Professional painting software built by artists for artists to create and develop their signature style.
Brush controls
Modify brush size, shape, angle, flow and so much more with in-depth brush control panels.
Canvas control
Pan, zoom, rotate and apply lighting and surface texture with ease.
Color mixing
Use the Color Wheel, Mixer, Color Sets and Harmonies to craft the perfect color palette.
Composition tools
Establish appealing compositions using Divine Proportion, Layout Grid, Perspective Guides and Mirror Painting tools.
Unparalleled Photo Art
Stylize any image or photo using artificial intelligence and easily transform photos into paintings with powerful auto-painting and cloning tools.
Customization
Create custom brushes, palettes and workspace layouts plus import custom content from others.
Performance
Run the enhanced Brush Accelerator, which makes the most of your computer's hardware and graphics card, to deliver the best possible painting experience with one click.
Wacom compatibility
Painter and Wacom are built to work together and take advantage of stylus pressure, tilt, bearing & rotation.
What's New in Painter 2023?
NEW! Build up the smoothest strokes with Fluid Paint
Gently build up paint, blend, sculpt, glaze, add texture and reflective light easily with the new Fluid brushes. Built to take advantage of layer transparency, these versatile brushes give you unmatched opacity control and smoothness in your brush strokes.
NEW! Visualize better with overlay option
Use the new color overlay option in selection tools for improved visibility of selected areas. Especially useful for selections with complex shapes and transparency, the overlay helps to speed up the creation, editing, and refinement of your selection.
Improved! Access to Selection controls
Accelerate your workflows with the new Selection Panel that gives you quick access to all controls while performing selection-intensive tasks. Quickly feather your selections with a handy slider in the property bar and adjust up to 2000px.
ENHANCED! Work faster with enhanced selections
Use improved keyboard shortcuts to switch from addition or subtractive selection modes. A selection is auto-applied when creating a mask and several other enhancements will make your interactions with Selections faster and more predictable.
Select areas based on color with brushes
Combine the power of a Magic Wand and the versatility of a Selection Brush to quickly select portions of an image based on color. Enable Color Selection for any Selection brush and select specific areas on your canvas based on a color. Then easily change colors, lighting, and textures in the selected areas.
Experience User Requested Enhancements
Users will benefit from easier image placements and center alignment, improved responsiveness while using square bracket keys to resize brushes, Magic Wand, Paint Bucket and Dropper tools, remembering last used settings, and precise gradient filling tools for an unforgettable painting experience.
Optimized painting experience!
The Brush Accelerator in Painter continues to boost performance! Most popular brush engines are now optimized to make the most of your machine. Work at lightning speed with Painter's newest Fluid Paint which runs up to 50X fast by taking advantage of both CPU and GPU!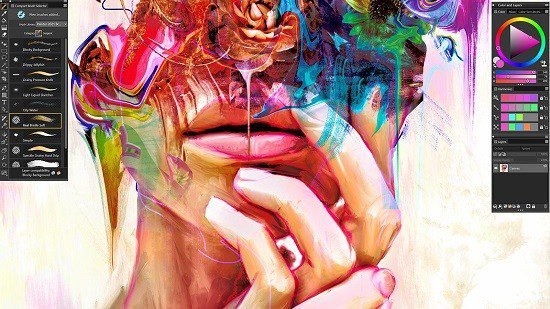 Download Corel Painter Portable