Portable EaseUS PDF Editor Pro v6.0.1.4 (x64)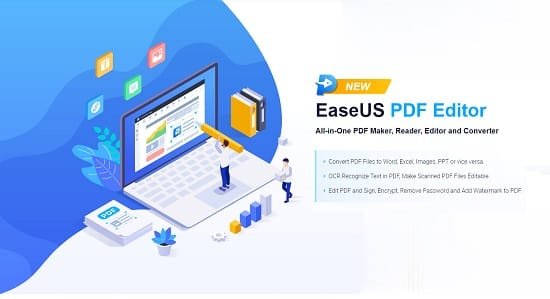 EaseUS PDF Editor Portable is an all-in-one PDF reader and creator, which enables you to modify the PDF files effortlessly. With the help of this program, you can create and edit a PDF from many common files including images and Microsoft Office documents. Speaking of the editing, it lets you insert, delete, reorder, extract, or crop a PDF as you want. In addition, you can insert footer and header, or add page numbers to PDF in no time.

One of the standout features of EaseUS PDF Editor Portable is its ability to convert various file formats into PDFs effortlessly. Whether you have Word documents, Excel spreadsheets, PowerPoint presentations, or image files, this software ensures a smooth conversion process while preserving the original format and layout. This feature is particularly beneficial for professionals who deal with multiple file formats and need to combine them into a single PDF document.
Once you have created or imported your PDF files, EaseUS PDF Editor Portable offers a plethora of editing options to enhance your documents. Its advanced editing tools allow you to modify text, images, and other elements within the PDF, making it easy to correct typos, update information, or add annotations. The software also supports OCR (Optical Character Recognition), enabling you to convert scanned documents or images into editable and searchable PDFs.
EaseUS PDF Editor provides a wide range of annotation tools to enhance collaboration and communication. You can highlight important text, underline or strike through specific content, and add comments or sticky notes to provide feedback or share insights. These annotation features are especially valuable for team projects, academic research, or document reviews, as they facilitate clear communication and streamline the editing process.
Moreover, the software allows you to protect your sensitive information by adding passwords and permissions to your PDF files. You can restrict access to certain features, such as printing, copying, or editing, ensuring that your documents are secure and only accessible to authorized individuals. This feature is particularly vital for businesses or organizations that handle confidential data and need to maintain strict control over their PDF documents.
Another impressive feature of EaseUS PDF Editor is its ability to create fillable forms. With its intuitive form creation tools, you can design professional-looking forms for various purposes, such as surveys, registration forms, or feedback forms. You can add text fields, checkboxes, radio buttons, drop-down lists, and more, making it easy for recipients to fill out the forms electronically. This feature eliminates the need for paper-based forms, streamlining data collection and enhancing efficiency.
In addition to its robust editing capabilities, EaseUS PDF Editor also offers convenient tools for document management. You can easily merge multiple PDFs into a single file, split a large PDF into smaller sections, or extract specific pages as needed. The software also allows you to rearrange the page order, rotate pages, and apply watermarks or page numbers for professional document presentation.
EaseUS PDF Editor supports seamless integration with cloud storage services, such as Dropbox and Google Drive. This integration enables you to access and edit your PDF files from anywhere, using any device with an internet connection. It also ensures that your documents are securely backed up and synchronized across multiple devices, providing peace of mind and flexibility.
In conclusion, EaseUS PDF Editor Portable is a comprehensive and user-friendly software that offers a wide range of features to create, edit, and manage PDF documents effortlessly. Its intuitive interface, advanced editing tools, annotation capabilities, and document management features make it a valuable tool for professionals, students, and anyone who deals with PDF files regularly. Whether you need to convert files into PDFs, edit existing PDFs, collaborate on documents, or protect sensitive information, EaseUS PDF Editor provides a reliable and efficient solution.
All-in-One PDF Maker, Reader, Editor and Converter
• Convert PDF files to Excel, Word, PowerPoint, images or vice versa
• Edit, OCR, merge, split, compress, create and annotate your PDFs
• Sign, encrypt, remove password and add watermark to PDF
Convert PDF to Word, Image and More, in No Time
• Create from Most Common File Formats
PDF is so reliable – whatever device you are using, the original fonts, pictures and other layout of the document will look the same everywhere. Now you can use EaseUS's PDF editing software to easily create a blank PDF or convert your images, Office files and other popular files to PDF, while keeping original content and format unchanged.
• Convert PDF File to 10+ File Formats
PDF is popular, but you may need different file formats for your daily use. EaseUS PDF Editor can quickly convert your PDF file to the most common formats, including doc, docx, xls, xlsx, ppt, pptx, png, bmp, tiff, jpg and jpeg, without losing original fonts, images and formatting.
• Make Scanned PDF Files Editable
Editing text in a scanned document is so easy! Featuring OCR (Optical Character Recognition) technology, this PDF converter can recognize and convert image-based PDF to editable format. It can accurately detect and convert as many as 29 languages, such as English, French, German, Italian, Korean, Japanese, etc.

Create or Edit PDF as You Like
• Edit PDF Confidently
PDFs are hard to edit, and that's by design. No worries. EaseUS makes PDF editing a piece of cake – add, modify or remove text, images and links in PDF as you want. You can also insert, delete, reorder, extract, crop, rotate pages or change pdf page size with ease. In addition, you can add headers, footers and page numbers to your PDF in no time.
• Collaborate Like Never Before
Team members now can easily collaborate on PDF. Simply add comments, boxes, arrows, lines and other highlights to point out and explain the important content of the document, create bookmarks for pages for quick navigation, even send PDF file to your team members via email in a snap.
• Customize PDF Forms Painlessly
Create a new fillable PDF form for questionnaire or any other needs without hassle. This PDF editor software provides 6 interactive form controls, including push button, check box, radio button, combo box, list box and text field, helping you easily custom fillable forms. You can also export and import data to fill out multiple PDF forms with one click.

Manage and Secure PDF Files with Ease
• Combine Multiple PDFs Effortlessly
Having trouble handling multiple files like PDFs and images? You can use EaseUS PDF Editor as a free PDF merger to quickly combine them into one PDF which is easy to organize, share, search, or send out for review.
• Reduce the Size of PDF with Zero Loss
It might be painful if your PDF file is too large to be sent via email or uploaded to the web. But it is a thing of the past, thanks to the Compress feature of EaseUS PDF maker. EaseUS can quickly reduce the size of PDF files while remaining original quality. It's just a click away.
• Split PDF as You Like
Only need part of pages from a large PDF file? Now, with this PDF editor for Windows, you can easily split a PDF file into individual files, or just extract some pages of it by your needs. It is also available for splitting PDF according to the file size and top-level bookmarks as well.
• Sign Your PDF Digitally
Add your e-signature to your documents, invoices and contracts by using the Add Image feature. In addition, you can also sign PDF with your digital ID which contains location, date, time and more. You can also remove signature from PDF if you don't want to keep it.
• Set a Password for Your PDF
Simply add a password to your PDF document, to protect your information from unauthorized viewing, copying, editing, signing, extracting and printing. If you need, you can also easily remove password from PDF.
• Add Watermark
You can add text or image to your PDF pages as watermark, and freely set its rotation, opacity, size, location and position. If you don't want to keep the watermark on your PDF, you can also remove it with ease.
Download EaseUS PDF Editor Portable