Portable EndNote 21.0.1 Build 17232
Focus on what matters most: your research. Did you know that researchers waste nearly 200,000 hours per year formatting citations? Imagine if you could have that time back to spend on your research. EndNote Portable accelerates your research process so you can focus on what truly matters – conducting and sharing groundbreaking research.
EndNote Portable is a highly efficient and user-friendly reference management software designed to streamline the research process for academics, students, and professionals. By organizing and managing references, citations, and bibliographies, EndNote Portable simplifies the often time-consuming task of collecting and formatting references. With its comprehensive set of features, reliable compatibility, and intuitive interface, EndNote has become an essential tool for researchers across various disciplines.
User Interface and Ease of Use: EndNote boasts a clean and intuitive user interface, making it accessible to users of all levels of expertise. The software's well-organized layout allows researchers to easily navigate through their reference libraries, add new references, and create formatted bibliographies. The user-friendly design, coupled with customizable settings, ensures that EndNote is both powerful and easy to use, saving valuable time and effort.
Reference Management Made Easy: EndNote's core functionality lies in its ability to effortlessly manage references. Users can import references from a wide range of databases, websites, and library catalogs directly into their EndNote library. Whether it's extracting metadata from PDFs or importing citation information from databases like PubMed or Web of Science, EndNote automates the process, eliminating manual data entry.
Powerful Search and Organization: EndNote allows users to search through their reference libraries with ease, helping them find specific references quickly. The software provides advanced search options, including keyword search, authors, titles, and more, significantly reducing the time spent looking for relevant references. Additionally, EndNote allows users to create custom groups, organize references based on projects or topics, and add tags for better categorization and retrieval.
Effortless Citation and Bibliography Creation: EndNote's integration with word processors such as Microsoft Word and Google Docs makes citing references and creating formatted bibliographies a breeze. Users can insert citations directly from their EndNote library into their documents, automatically formatting them according to various citation styles, including APA, MLA, Chicago, and more. With EndNote, researchers can focus on their content, confident that their citations and bibliographies will be accurately formatted.
Collaboration and Sharing: EndNote simplifies collaboration by allowing users to share their reference libraries with colleagues, research groups, or collaborators. The software enables seamless sharing and syncing of references, ensuring that everyone involved in a project has access to the same up-to-date references. This feature eliminates the need for manual sharing of reference lists and promotes efficient teamwork.
PDF Annotation and Note Taking: EndNote provides users with the ability to annotate PDF documents directly within the software. Researchers can highlight important sections, add comments, and attach notes to specific references, enhancing their research workflow and facilitating in-depth analysis. The ability to store and access annotations within EndNote saves researchers from having to switch between multiple applications during the research process.
Intelligent Organization and Duplicate Management: EndNote's intelligent organization features help users maintain clean and clutter-free reference libraries. The software automatically detects and highlights duplicate references, allowing users to easily merge or remove them. Moreover, EndNote offers tools to update and correct reference metadata, ensuring accuracy and consistency throughout the library.
Integration with Online Resources: EndNote seamlessly integrates with online resources, enabling users to access full-text articles, PDFs, and other research materials within the software. By connecting with library subscriptions and online databases, EndNote simplifies the process of retrieving and importing relevant research materials. This integration saves researchers valuable time and provides a comprehensive research experience within a single platform.
Conclusion: EndNote Portable revolutionizes the way researchers manage and organize references, citations, and bibliographies. With its user-friendly interface, powerful search capabilities, effortless citation and bibliography creation, collaboration features, and integration with online resources, EndNote simplifies the research process, allowing researchers to focus on the core aspects of their work. Whether you are a student, academic, or professional, EndNote is an indispensable tool that enhances productivity and ensures accurate and well-organized research output.
Accelerate your research.
– Search hundreds of online resources for references and PDFs.
– Access full text research articles with one click.
– Easily read, review, annotate and search PDFs in your library.
– Create rules to automatically organize references as you.
– Keep your data accurate with automatic reference and link updating.
– Quickly deduplicate the content in your library by searching on unique identifiers.
– Insert in-text citations from your library with the Cite While You Write feature in Microsoft® Word.
– Automatically build your bibliography using the library of 7,000+ reference types or your own customized style.
– Ensure your bibliography is accurate with refreshed journal and referencing styles.
– Access your research anytime, anywhere from the cloud. Move seamlessly between online and the desktop and iPad applications.
– Share some or all of your library with collaborators worldwide.
– Provide write or read-only access to your library.
– Use the new Tabs feature for easier multitasking.
– Track your teammates' changes and view their activity in your shared library.
– Match your paper with relevant, reputable journals using Manuscript Matcher.
– Conduct large-scale literature reviews with ease and speed using the powerful analysis tools.
Write Faster
Insert in-text citations while simultaneously creating a bibliography with the Cite While You Write feature in Microsoft® Word.
Research Better
Use tools that find PDFs for you throughout your search process. Then, easily read, review, annotate and search PDFs in your library.
Stay Organized
Create rules to automatically organize references as you work. And, use the new Tabs feature for easier multitasking.
Collaborate Easier
Easily collaborate across geographic boundaries. Share some or all of your library and set permissions for access.
Get Published
Match your paper with relevant, reputable journals using Manuscript Matcher.
Work From Anywhere
Access your research anytime, anywhere from the cloud. Move seamlessly between online and the desktop and iPad applications.
EndNote Portable Release Note:
EndNote 21 is here!
The best reference management tool is getting even better. The all new EndNote 21 and EndNote Web help you manage and format citations like never before with bold new features.
With EndNote 21 you stay organized using features like tags that enhance productivity. You can enjoy peace of mind with data restoration functions that protect your work and improve your writing workflow with integrated document creation tools for Google Docs.
Protect your work with data restoration function
Take a deep breath. If the unthinkable happens, EndNote 21 can recover your library from the cloud and get you back where you belong.
In EndNote 21, you can restore your library and library structure with our new data restoration function, ensuring your research is not lost. With single reference restoration you can also compare and restore previous versions of individual references.
Stay organized with tags
Tags are customizable labels that let you organize your references however you'd like. You can add tags to references and customize the color and name of the tags.
You can add multiple tags to a reference and anyone who you share your library with can view a tag, making tags a great way to quickly and intuitively organize your references.
Cite While You Write in Google Docs™
Our best-in-class Cite While You Write (CWYW) tool makes it easy to insert your EndNote references into Microsoft Word™ or Apple Pages™. CWYW automatically creates in-text citations and reference lists and easily change the format of your in-text citations and reference lists.
CWYW will soon also be available to EndNote 21 customers in Google Docs™ via Google Workspace Marketplace, making it easier to write your next paper and to collaborate on documents with colleagues.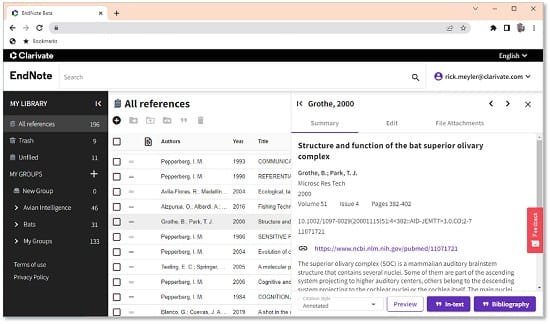 Download EndNote Portable