Portable FastStone Capture 9.9
FastStone Capture Portable is a powerful, lightweight, yet full-featured screen capture tool and screen video recorder. It allows you to easily capture and annotate anything on the screen including windows, objects, menus, full screen, rectangular / freehand / fixed regions as well as scrolling windows / web pages. It also allows you to record all screen activities including onscreen changes, speech from microphone, mouse movements and clicks into highly compressed video files. You can choose to send captures to editor, file, clipboard, printer, email, Word / PowerPoint document or upload them to your website.
Editing tools include annotating (texts, arrowed lines, highlights), resizing, cropping, sharpening, watermarking, applying edge effects and many more. Other features include image scanning, global hotkeys, automatic filename generation, support for external editors, a color picker, a screen magnifier, a screen crosshair and a screen ruler. FastStone Capture saves images in BMP, GIF, JPEG, PCX, PNG, TGA, TIFF and PDF formats. Built-in screen recorder saves videos in WMV (Windows Media Video) format.
FastStone Capture Portable is a super convenient tool, as it allows to get in one single build a screen capture, an annotator, and an editor, plus a screen and a sound recorder, photo editor, with extensive file format support.
Video and audio recording sessions
The program allows you to manually select the recording area, ignore the taskbar, or focus on a specific region. Adding audio recording is optional, and when enabled, you can select the desired source, or select more sources at once (e.g. microphone and speakers).
Of course, there are other elements you can hide/show throughout the video recording session, elements such as the mouse pointer, mouse click(s) highlights, etc. The app allows using custom shortcuts for pausing the video and zooming in and out of the scene, and you can also set up your recording notifications based on visual guidelines or sounds (e.g. when recording, add a green thin/normal-sized, blinking border for the recorded area).
Extras for managing files, customizing your environment, and managing outputs
The app is perfect for users who want to create walkthrough guides/manuals, for teachers and students, for office usage, and even for designing nice personal projects or presentations. Among FastStone Capture's features, you can also find color pickers for color precision, multi-file merging or converting (to PDF) options, watermark manager and editor, or specific color reduction methods, based on the number of bits (e.g. image with 256 colors – 8 bits, 16 colors – 4 bits, and down to 2 colors – 1 bit).
One of the tool's most valuable options is the full hotkey customization (which allows setting up the environment fast), alongside the FTP server connection, for pushing content to a server.
Full-fledged content management and office editing environment
FastStone Capture Portable is a lightweight and easy-to-use application. The tool supports all well-known image formats, has a bunch of useful editing features, allows managing watermarks and page/image merging. Additionally, it lets you send files straight to OneNote, Word, Excel, PowerPoint, or to the web (via FTP), and lets you easily record the screen and annotate your screen captures.
Features:
A small handy Capture Panel that provides quick access to its capture tools and output options
Global hotkeys to activate screen capturing instantly
Capture windows, objects, menus, full screen, rectangular/freehand regions and scrolling windows/web pages
Capture multiple windows and objects including multi-level menus
Record screen activities including onscreen changes, speech from microphone, mouse movements and clicks into highly compressed video files (Windows Media Video format). A built-in video editor allows you to draw annotations, apply zoom effects and cut unwanted sections. It even allows you to convert video files to animated gif files.
Options to specify output destination (internal editor, clipboard, file, printer …)
Draw annotation objects such as texts, arrowed lines, highlights, watermarks, rectangles and circles
Apply effects such as drop-shadow, frame, torn-edge and fade-edge
Add image caption
Resize, crop, rotate, sharpen, brighten, adjust colors …
Undo/Redo
Support tabs that allow you to capture and edit multiple screenshots simultaneously
Support external editors
Save in BMP, GIF, JPEG, PCX, PNG, TGA, TIFF and PDF formats
Acquire images from scanner
Convert images to a multi-page PDF file
Join images side by side to produce a single image file
Send captured images by email
Send captured images to Word and PowerPoint documents
Send captured images to a Web (FTP) server
Screen Color Picker
Screen Magnifier
Screen Crosshair
Screen Ruler
Support multiple monitors
Support touch interface (tap, swipe, pinch)
Run when Windows starts (optional)
Minimize to System Tray area
Small footprint in memory
And many more …
Release Note:
Use MP4 as the default output format for Screen Recorder on Windows 10/11
Added "Convert to MP4" to Screen Recorder. You can use it to convert or resize video files (WMV and MP4) using the new MP4 format
Now Screen Recorder can detect and recover a screen recording from an unexpected Windows shutdown or restart
Enhanced the built-in video editor:

Added a Title Page tool which allows you to insert title pages anywhere in the video clip
Added Emoji to the Draw tool
To trim a video clip, simply click and drag from the beginning or end of the timeline

In Screen Recorder's Options -> Notifications tab, you can customize the color and size of the control bar
Fixed a position error in zoom mode of Draw tool
Other minor improvements and bug fixes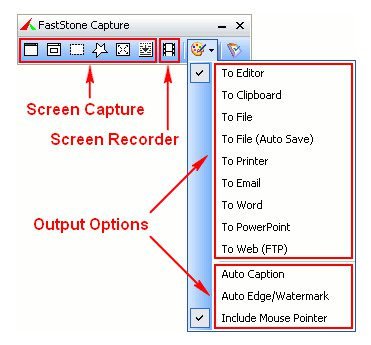 Download Faststone Capture Portable