Portable Abelssoft FileFusion 2023 v6.03.47540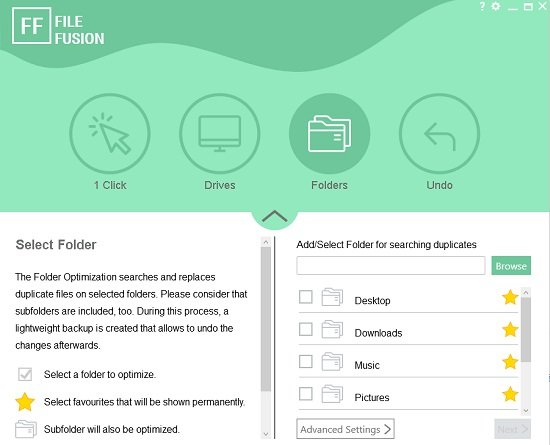 Abelssoft FileFusion Portable is a powerful software that helps users to clean up their computer by eliminating duplicate files and freeing up valuable disk space. This program is designed to scan your computer for duplicate files and merge them into a single file, reducing clutter and improving system performance.
One of the standout features of Abelssoft FileFusion Portable is its ability to identify even the most hidden and difficult-to-find duplicate files. This is achieved through the use of advanced algorithms that scan your entire system, including hidden folders, to ensure that no duplicate files are missed.
Once the scan is complete, Abelssoft FileFusion Portable presents the user with a detailed report of all the duplicate files found on their system. This report includes information such as the file name, size, and location, making it easy for users to identify and select the files they want to merge.
Abelssoft FileFusion also offers users the option to preview the files before merging them. This is particularly useful for users who are unsure about merging certain files, as it allows them to see the contents of the files before making a decision.
Another key feature of Abelssoft FileFusion is its ability to merge files of different formats. This means that users can merge duplicate files regardless of whether they are documents, images, music files, or videos.
Abelssoft FileFusion is also incredibly easy to use, with a simple and intuitive user interface that makes it accessible to users of all skill levels. The program can be installed and set up in just a few minutes, and the scanning process is quick and efficient.
In addition to its duplicate file merging capabilities, Abelssoft FileFusion also offers a range of other useful features. For example, the program includes a file shredder that allows users to securely delete sensitive files, ensuring that they cannot be recovered by others.
Abelssoft FileFusion also includes a file viewer that allows users to view the contents of various file types without having to open them in their associated programs. This is particularly useful for users who need to quickly check the contents of a file without having to wait for the associated program to load.
Overall, Abelssoft FileFusion Portable is an incredibly powerful and versatile program that can help users to clean up their computer and improve system performance. Its advanced scanning algorithms and user-friendly interface make it easy for users to identify and merge duplicate files, while its range of other features – including a file shredder and file viewer – make it a valuable addition to any computer system.
Find duplicate files
FileFusion analyzes files that are on your pc and finds all kind of duplicate files. Using its' fingerprinting technology, the tool even recognizes duplicates that have different file names.
Up to 31% more file space
Cleaning tools promise to find unnecessary data garbage. FileFusion is able to provide up to 31% more storage space on top after such a cleaning.
Innovative Technology
The innovative Fusion-Technology find duplicate files and fusions them. This means that only one file will be physically stored, while it still shows up on all necessary locations on your computer
Download FileFusion Portable