Portable FireAlpaca 2.11.6 Multilingual
FireAlpaca Portable is a simple to use but comfortable editing software to convert images, photos and any other images. There is not any advanced or specific features, but the basic set of tools to quickly and easily edit the images. The annex contains the brush tools, fill, pen, eraser, magic wand, lasso. In addition, you can edit the color, brightness, contrast, rotate and crop the image, change its size, etc. It is worth noting that the program supports the work with layers similar to the popular Photoshop editor, thereby opening wide enough opportunities to change the photos and images.
With regard to the program used graphic formats, it .psd, .jpg, .png, .bmp, .gif and .mdp (FireAlpaca own format). The interface is designed in classic and familiar to other graphical editors as to guarantee rapid development of application functionality and configuration toolbox "for themselves." In general, the editor can be recommended for novice masters and designers, having to do all the necessary basic functionality and intuitive shell.
Organized user interface
When you edit images or draw them from scratch, it is necessary to have all your tools at hand, with the minimal distraction from these, in order to focus on the canvas.
FireAlpaca offers you the option to choose which menus and toolbars you wish to keep visible and which to hide. It even has a fast keybind for hiding everything but your project.
Whenever you move your mouse over an option or feature, a tooltip is displayed in the left corner of the program, which makes the application very user-friendly.
Customizable brushes and tools
FireAlpaca comes with a pack of preset brushes with various effects. And even if these can be customized, you have the option to add your own brushes or pencils to better fit your work style.
The program supports graphic tablet usage, allowing you to take advantage of the pen pressure sensitivity in order to control the size and opacity of your strokes.
Layered artwork
The large variety of tools that comes with FireAlpaca works well with the ability to separate your projects into layers. This way, you can quickly test out ideas without having to change the main image.
Layers can be duplicated, so you can easily revert any made changes. The order of the layers sets their visibility priority, making the first layer to be visible on top of the others. Any layer can be also hidden easily.
Multiple projects in different tabs
Another useful feature is the integration of multiple tabs, so you can work simultaneously on more than one project, without having to run other instances of the program.
Having multiple tabs allows you to copy elements from one draft and add them to another project with ease.
Languages: English, German, Spanish, French, Portuguese, Russian, Chinese (Taiwan), Chinese (Simplified), Japanese, Korean.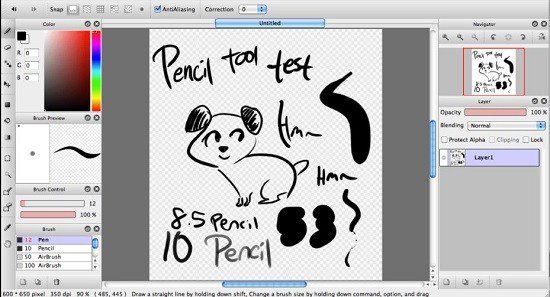 Download FireAlpaca Portable