Portable Franzis NEAT projects 3 professional 3.32.03813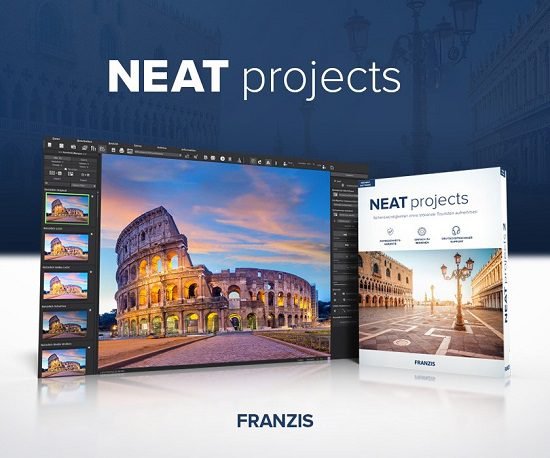 Photograph sights without disturbing tourists in front of the lens: only NEAT projects 3 Portable can do that. The efficient and flexible processing program guarantees ideal results. NEAT projects 3 Portable now calculates the series of images after loading with the appropriate motion algorithms into a single image: Due to the multiple exposure, the moving people are removed from the image without you having to do anything! You get a single perfect frame with no distracting people, passing cars, or other moving objects in the scene.
Never alone at a sight?
How does that work? You are standing on the square in front of the Brandenburg Gate or the Milan Cathedral and there are endless people walking around. Nevertheless, nobody will be seen in your photo? Quite simply: you photograph the empty square: you photograph your sight, but not just once, but take many pictures of the busy scene in a row. With a tripod, the recordings are sharper, but you don't even necessarily need a tripod.
NEAT projects 3 Pro – the most important areas of application
– Holiday photos with an unobstructed view of the sights
– Record cities and landmarks without disturbing people or cars!
– Also perfect for portraits and group shots in crowded places
– Photograph churches inside and simply hide visitors
– Museums with an unobstructed view of all works of art
– Photograph tourist magnets even on weekends
– For professional architecture photos
– Perfect for city trips and travel
Every photographer needs NEAT projects
Who prefers to take photos than spend hours on image processing? And with NEAT 3 professional, you no longer have to drive to the desired location at half past four in the morning because there are only a few people there – this gives you a lot more freedom in your holiday planning!
Including practical Lightroom plug-in
You select your image sequence directly in Adobe Lightroom® Classic, make the necessary corrections and go straight to NEAT projects 3 professional with the images. This is very easy to do with the supplied filter plug-in. Simply select the series of images you want in Lightroom, export to NEAT projects 3 professional, edit and export the resulting image back to Lightroom!
The new functions of NEAT 3 professional at a glance
-User interface for 4K Ultra HD monitors
– Automatic analysis function for image deviations within the image sequence
– Image stepping function for switching off every second or third image directly
– Load motion sequences from videos
– Extension to image sequences with up to 500 images (previously 200)
– New expert mode for creating your own presets with 90 effects
– New color module for selective real-time color editing in layers
– New virtual detail module for motif-dependent creation of virtual micro details
– New focus peaking module to display the areas in focus
– Multiple improvements in the RAW module
– Two new preset categories landscape and architecture
– Presets: Revised and retuned
– Image preparation: New image alignment mode "Ultra"
– Multiple improvements in the area of ​​selective drawing/composing
– Area protection with more than 100 variants in different modules
– Grain Module: Additional color spaces HSV/HSL
– 31 new level calculation methods
– Scaling module when saving images with high-quality scaling process
– Multiple improvements in sensor error correction
NEAT projects 3 professional
NEAT projects 3 professional inspires with unprecedented photo editing options at the click of a mouse! Thanks to even more precise alignment, ideal results are now possible. Regardless of whether you are a professional or a beginner, this program will convince you!
– Focus Peaking Analysis
– Virtual Micro Details
– RAW module
– Color module for selective real-time color editing in layers
– Creation of your own presets with 90 different effects
– User interface for 4K Ultra HD
– Additional HSV/HSL color spaces in the Grain module
– Selective drawing: Smart mode for drawable effects
– Load motion sequences from videos
– Image sequences with up to 500 images
– Add movements
– Motion detection algorithms – 11
– Selective Drawing: Composing with 8 layers
– Intelligent Color Space (SCA)
– Print result image
– Sensor error correction: 500 correction areas
– Plugin for Adobe® Lightroom
Download Franzis NEAT projects Portable