Portable Helium Music Manager 16.2.18226 Premium Multilingual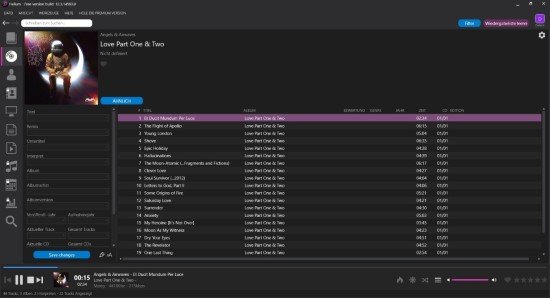 Helium Music Manager Portable is a powerful and user-friendly music management software designed to help users organize, play, and manage their music collection with ease. It is an all-in-one solution that provides a range of advanced features for managing music, including the ability to rip CDs, convert audio files, edit metadata, create playlists, and much more. This software is ideal for anyone who wants to keep their music collection organized and easily accessible.
One of the standout features of Helium Music Manager Portable is its intuitive user interface. The software has been designed to be as simple and easy-to-use as possible, making it accessible for users of all technical abilities. The navigation menu is neatly laid out, and all of the key features are easily accessible from the main screen. The software also offers a range of customization options, allowing users to tailor the interface to suit their individual preferences.
With Helium Music Manager Portable, users can rip CDs and import audio files from a variety of sources. The software automatically retrieves all relevant information about each track, including album artwork, track titles, artist names, and genre tags. This makes it incredibly easy to build up a comprehensive music library in just a few clicks. Users can also convert audio files between different formats, such as MP3, FLAC, and WAV, which is useful for ensuring that music is compatible with a range of devices.
Once imported, users can take advantage of Helium Music Manager's advanced tagging and metadata editing capabilities. The software allows users to edit track information in bulk, making it easy to update multiple tracks at once. This is particularly useful for users who have large music collections and need to make changes quickly and efficiently. Users can also add custom tags to tracks, making it easy to sort and categorize music in unique ways.
Helium Music Manager also offers a range of tools for organizing music into playlists. Users can create playlists manually or use the auto-playlist feature, which generates playlists based on specific criteria, such as genre, artist, or rating. The software also includes a range of smart playlists that update automatically based on user-defined rules. This makes it easy to create dynamic playlists that adapt to the user's changing music tastes over time.
In addition to its music management features, Helium Music Manager also includes a built-in player for listening to music within the software itself. The player is highly customizable, allowing users to adjust the playback speed, equalizer settings, and visualizations to suit their preferences. Users can also stream music directly from the internet using the software's built-in support for online radio stations.
Overall, Helium Music Manager Portable is an incredibly powerful and versatile music management software that has everything users need to keep their music collection organized and easily accessible. Its intuitive user interface, advanced tagging and metadata editing tools, and comprehensive playlist functionality make it an ideal choice for anyone who wants to take control of their music library. Whether you're a casual listener or a serious audiophile, Helium Music Manager is sure to meet your needs.
Helium makes it easy to find your favorite music by searching for criteria such as Artist, Title, Genre, Rating etc. Avoid manual typing by downloading artist and title information from various sources on the Internet (CDDB, Amazon.com, AllMusic, Discogs to mention a few). Helium supports downloading of album pictures, artist pictures, track information, artist relations, biographies, discographies and lyrics.
– Supports your iPod or Zen. Synchronize and play music from your iPod, Creative Zen, mobile phone or other portable device. Helium Music Manager supports a wide variety of players.
– Explore your music your way. Browse and play your music depending on the situation. Be the DJ – take your entire collection on your laptop to your friends party. Impress your family – bring Helium Music Manager to your Full-HD television and redefine music entertainment!
– Download covers for your albums. Easily find your albums by browsing their album art. Helium Music Manager has built-in facilities to quickly find and download album art.
Features
– Import
Supports mp3, mp4, flac, ogg, wma and more as well as audio CDs, vinyl and tapes.
For user with large collections we offer support for Microsoft SQL Server and MySQL for improved performance.
– Tag
Add or correct missing or incorrect meta-data using the many tools available for tagging your files.
Remove, switch, add or copy tag contents between files and fields using batch operations.
– Manage
Download album pictures, analyze quality and repair broken mp3 files.
Automatically rename files and create custom folder structures, convert files to different formats.
– Explore
Many different ways of browsing your music. Album and artist pictures as well as detailed listings.
Easily filter your content, search for your favourites and create playlists.
– Play
Play music, scrobble to Last.fm, stream through Shoutcast. Show your friends what you are playing on Windows Live Messenger.
Display visual effects and enjoy automatic playback with built-in features.
– On-the-go
Synchronize to your iPod, Creative Zen or other portable music device, cell phone or netbook.
Burn Audio or Data CDs, export playlists and create reports for printing.
What's NEW:
Major changes in this version
Updated PostgreSQL drivers
Updated MySQL drivers
Updated SQLite drives
Updated visual components
When using the Discogs plugin, it's possible to find an album release by searching with barcode.
In the search query, enter "bc:" followed by the bardcode in the artist field to search using a specific barcode.
You can also search with catalog number by entering "cat:" followed by the catalog number in the artist field.
Possibility to download tracks using the CD ripper
Possibility to change the color on the playing waveform
Correction to the iTunes plugin so that it properly downloads pictures and artist information again
Corrections to the Remove tags action in the Action manager
Bug fix when stopping a subtrack from playback
Remap path for PostgreSQL works properly
Apart from the above major fixes, many minor things have been stabilized and optimized.
Download Helium Music Manager Portable