Maxprog iCash 7.8.5 (x64) Multilingual
iCash Portable is a software intended to control your personal finances, keeping track of incomes, expenses, credits, debts and Banks transactions for you. As simple as creating the accounts you need and move money between them! You don't even need to know about accounting or even care about it! Your finances depend largely on good organization that lets you know where your money comes from and to where it goes.
Whether you like it or not, money is behind everything going on around the world, including your personal life. Most time is spent somehow gathering funds to be able to live a decent life. However, with the abundance of services requiring periodical monetary attention, it's pretty difficult to keep track of every penny spent. This is where applications like iCash come in handy so you can write down all incomes and expenses to identify flaws related to budget and start fixing them.
Intuitive, well-organized interface
The application comes with an impressive array of features, which are cleverly implemented not to overwhelm you with too many details. As such, most configurations and management areas bring up new windows, just like initially you're faced with a small counterpart responsible for creating and storing databases.
Sooner or later you end up creating a new entry, which recommends to have some default categories automatically created. It's of much help, providing both a head start, as well as insight on what can be accomplished. You can later on remove them with little effort or use to your advantage.
Set up currency, accounts and contacts
Most time is spent in the database window, which poses no accommodation problems whatsoever, especially if you took the initial advice. Different managers are at your disposal to store data in well-organized documents. Major categories, accounts, as well as contacts bring up new windows to easily add entries by providing a decent amount of related details.
If you're connected to the Internet, setting up currencies is done in a jiffy. Different symbols from around the world are tracked by default, with options to add even more from a built-in list. Hitting the "Update Now" button initiates a search over the web and by the time you realize, rate values are retrieved.
Generate reports and export to different formats
The level of customization and areas it covers makes the application practical for both personal and business environments. At the core of each function there are different calculators set up that only display results according to your entries. As such, you can set up transactions, incomes and expenses, with clever color differentiation for positive and negative values.
Different reports can be generated at the press of a button. The layout is neatly displayed, with different criteria related to time and area of interest that determine the content of reports. Exporting benefits from various settings, both for choosing target activity and output format. Categories, accounts, contacts and transactions are amongst your choices, with supported formats like XLS, TXT, HTML, QIF and XML.
A few last words
On an ending note, iCash is a powerful tool you might be tempted to keep around a little longer after you get to know it. Visual design is modern and lets you quickly accommodate, with intuitive icons and color differentiation making the process easier. You can track virtually any income and expense of interest under a custom name and level of detail, with the application only handling the numbers so you don't have to.
iCash Portable is an easy-to-use, full featured and multi-purpose Personal Finance Manager tool for Macintosh and Windows intended to help you control all kinds of money issues. iCash can serve several small accounting needs for either private users, or clubs, associations, self-employed, small businesses or simply to be used at home, making keeping track of incomes, expenses and Banks transactions a snap. With a few clicks you can begin creating accounts and making transactions in minutes.
iCash Portable is versatile and user-friendly. For this reason it doesn't use the principle of double-entry bookkeeping making it much easier to be used by people with very little or no accounting knowledge at all. Simply create accounts for all your expenses, incomes, Banks… and start moving money between them! iCash will then allow you to find out where all your money comes from and where it goes. All accounts are well organized according to user-defined categories and built-in types so reports can be tailored to include all records or only ones meeting specified criteria. iCash also allows you to have as many money manager documents as necessary so you can control almost anything from Clubs, associations, home and so on at the same time.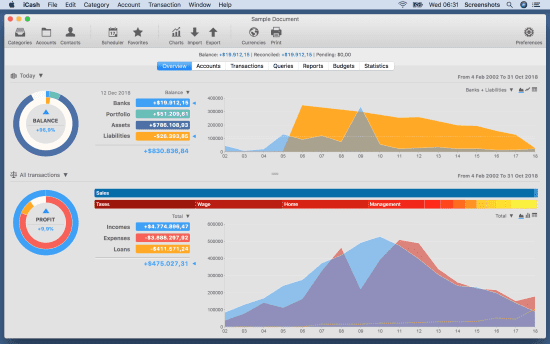 Download iCash Portable