Portable GiliSoft Image Watermark Master 9.6.0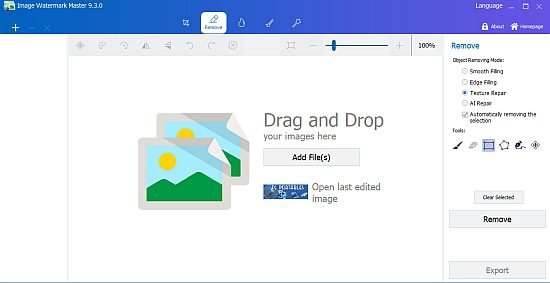 Ever wanted to remove something from a photo? Now you can. Image Watermark Master Portable can make objects disappear as if they were never there. Make fun pictures, remove unwanted people, remove unsightly pimples, clean up the perfect shot.
Image Watermark Master Portable quickly deletes unwanted objects such as logo, text, data stamp, watermark, acnes, people… and instantly fix the images automatically as if they were never there. Get the magical images done in seconds-to-minutes instead of minutes-to-hours. People all over the world use Image Watermark Master every day to beautify their photos. It targets to be a simple yet effective photo healing app for all users.
Effortlessly eliminate unwanted objects from photos
It's a straightforward piece of software that can be used to get rid of unwanted photo objects with minimum effort. Wrapped in a user-friendly interface, the tool includes intuitive options for all types of users, even those without previous experience in such apps.
The GUI is based on a simple and elegant window, where you can drag and drop a photo. Once you decide on what object or objects to eliminate from the image, you can choose the removal mode from smooth filling, edge filling and texture repair. We've noticed that great results can be achieved by first using either smooth or edge filling, then the texture repair to touch up on the affected area and make it blend with the rest of the picture.
Different object removal modes and other options
Further, you can use a brush, eraser, rectangle, polygon, free or moving picture mode, rotate or flip the photo, or zoom in and out. It's also possible to crop the image, insert a text or image watermark, and draw various shapes with any colors and thickness. Multiple graphic files can be opened at once to be able to easily navigate them in the main window.
The software application worked well in our tests, having minimal impact on system resources usage. Even so, it sometimes had trouble picking up on commands, showing delays. Nevertheless,Free Image Watermark Master is incredibly easy to use, ideal for quickly touching up your photo collection by removing unwanted items.
Exclusive Features of Image Watermark Master Portable
Remove Watermark from Photo
Remove undesirable objects from your images, such as logos, watermarks, power lines, people, text or any other undesired artefacts.
Best Watermark Remover
The best photo inpainting software- is the brand new tool to remove any watermark from your photo with a few easy steps, no more hard editing!
Batch Processing Watermaks
In some photo, there are multiple watermarks, which appear in different or same time range. You can use this tool to batch removing each watermark.
Batch Processing Photos
If you have lot of photo (even different image formats) need to remove watermarks, this tool also can help you batch processing the images.
Read Almost All Photo Files
The image watermark removal tool can read almost all the popular image formats include JPG,PNG,BMP and more formats from the Internet,etc.
Export to Original Photo Formats
There is no need to care for a image format with a watermark, and the original image format will be retained after the watermark is removed from image.
Add Text Watermark to Photo
Text Watermark is a pretty effective way to declare the ownership of these images. This tool help you putting text/words (like date, author name, copyright info, copyright symbol, etc) on image.
Add Image Watermark to Photo
It lets you to add custom watermark (image or text) to your images. It is useful when you need to protect your copyrights or if you want to add comments to your photos.
Add Shape Watermark to Photo
Add shape watermark to image to call attention to the person, or object, but one way is to just add an "arrow," pointing to that person/object..
More Editing Funtions
This is a must-have photo editor for you. Crop,Rotate,Flip, Adjust Color,Filters… more functions are included or will be added to this tool.
Download Image Watermark Master Portable