Portable IObit Malware Fighter Pro 10.3.0.1077 Multilingual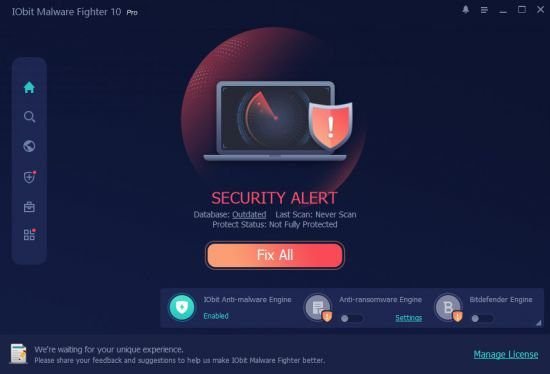 IObit Malware Fighter Portable is an advanced malware & spyware removal utility that detects, removes the deepest infections, and protects your PC from various of potential spyware, adware, trojans, keyloggers, bots, worms, and hijackers. With the improved, unique "Dual-Core" engine and the heuristic malware detection, IObit Malware Fighter detects the most complex and deepest spyware and malware in a very fast and efficient way.
Passwords for all online accounts can be created automatically and are easily managed and administrated, regardless if it is on a computer, smartphone or tablet. With only one click you are able to delete all browser data and histories. And additionally you can now block tracking and advertising before information on you is stored, and increase your privacy with an anonymized browser.
IObit Malware Fighter Portable is a powerful and easy-to-use software that provides comprehensive protection against malware, viruses, spyware, and other online threats. Designed by IObit, a leading software development company, this program is trusted by millions of users worldwide for its effectiveness in detecting and removing malware.
The software features an advanced and intuitive user interface that enables users to easily navigate through the various features and functions. The main dashboard displays the real-time status of your system's security, including antivirus protection, anti-malware protection, anti-ransomware protection, and web security.
One of the standout features of IObit Malware Fighter is its powerful scanning engine, which can quickly detect and remove all types of malware, including adware, Trojans, worms, ransomware, and more. The program uses the latest heuristic detection technology to identify and quarantine suspicious files, ensuring that your computer remains safe and secure at all times.
In addition to its powerful scanning engine, IObit Malware Fighter also includes several useful tools and features designed to optimize your system's performance and enhance your overall online experience. These include a startup manager, which allows you to control which programs run automatically when you start up your computer, and a browser protection module that blocks malicious websites and prevents phishing attacks.
Another notable feature is the program's real-time protection, which runs silently in the background and constantly monitors your system for any signs of malware or other online threats. This ensures that your computer stays protected 24/7, even when you are not actively scanning for malware.
IObit Malware Fighter also comes with a range of customization options, allowing you to tailor the program's settings to meet your specific needs. You can choose to run scheduled scans, set exclusions for certain files or folders, and enable or disable various protection modules as needed.
Overall, IObit Malware Fighter Portable is an excellent choice for anyone looking for a reliable and easy-to-use antivirus and anti-malware solution. Its intuitive interface, powerful scanning engine, and advanced protection features make it a top choice for both novice and experienced users alike. Whether you are looking to protect your personal computer or a network of machines, IObit Malware Fighter is an indispensable tool for keeping your system safe and secure.
Here are some key features of "IObit Malware Fighter"
One-click Solution and Very Easy to Use
· Traditional advantages of IObit products. We love simple and automatic styles.
Complete PC Security Care
· Anti-malware, anti-spyware, anti-adware, anti-trojan, anti-bots, and more. IObit Malware Fighter can assist your antivirus to defend any tricky and complex threats.
Finds the Deepest Infections
· Using DOG (Digital Original Gene), a novel heuristic malware detection method, while IObit Malware Fighter can find the most complex threats.
· Very Fast and Light Thanks to the improved, unique "Dual-Core" anti-malware engine, complicated analysis can be made faster now.
· Work with All Antivirus Products Everyone needs a qualified antivirus software, and IObit Malware Fighter will surely be the best mate for your current antivirus.
· Automated Working in the Background Just install it and forget it. This powerful utility works continuously, automatically and quietly in the background on your PC. You can set it as your schedule or just let it work automatically when your PC is idle.
· Automatic and Frequent Updates By the new-generation malware analysis system and our professional database team, IObit Malware Fighter catches the emerging dangerous malware in the Internet.
Release Note
+ Newly supported Vivaldi and Opera GX in Browser Password Guard
+ Fixed the occasional database update failure in some special environments
+ Expanded database to remove the latest threats including Trojan.Magania, Trojan.PSW, and Trojan.Jumbo
+ Fixed known bugs
Download IObit Malware Fighter Portable