Portable Combit List and Label Enterprise 27.4 Multilingual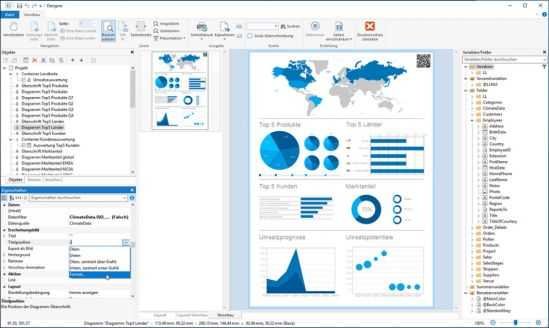 List & Label Portable is the reporting tool of choice for thousands of software developer teams all over the world. The report designer (Windows/Web) gives your users a wide range of capabilities.
Royalty-Free Report Designer
Sophisticated reports with rich Designer objects in the report generator let you present all kinds of information.
The List & Label WYSIWYG Report Designer enables you to quickly integrate powerful functionality into your application for desktop or web. With no extra cost!
Employing charts, crosstabs, tables, forms, labels, barcodes and gauges your users enhance their reports and documents with professional-quality visuals.
Easy Development With the Reporting Tool
Flexible Export Options
Integrate a broad range of export options and enhance your applications with zero additional effort.
Easy Deployment
Thanks to List & Label's xcopy support, integrating the report generator effortlessly into your application is very easy.
Any Data Source
Use more than twenty included data providers or write your own data providers quickly and easily.
Your Environment
From Visual Studio .NET (C#, VB.NET, …), C/C++ and Delphi/VCL to Progress, DataFlex, dBASE PLUS, Xbase++ and many more.
Web Reporting & .NET
Report Server (Included in Enterprise Edition)
The combit report server is a ready-to-use on-premises or cloud-based reporting solution. It requires no programming effort, and can be tightly integrated into your Web application via interfaces. With the Ad-hoc Designer, your users can generate reports based on configurable data on any current browser and any device. And they can choose from a huge variety of export formats in line with their specific needs.
With List & Label 27, the path to the cloud is now easier. Software developers can leverage new cloud environments via Docker and deploy their apps more easily through the Visual Studio Deployment Pipeline. Furthermore, end users can smoothly adjust report templates directly in the browser.
Of course, we also added some great features for desktop applications. Within the Desktop Designer, for example, creating charts has never been easier for end users. A customer request regarding export functions, that was brought up in the community, has also been implemented.
Note: To access the designer simply click on sample.
Download List & Label Portable