Portable Macrorit Partition Expert 7.9.8 Technician Edition (x64)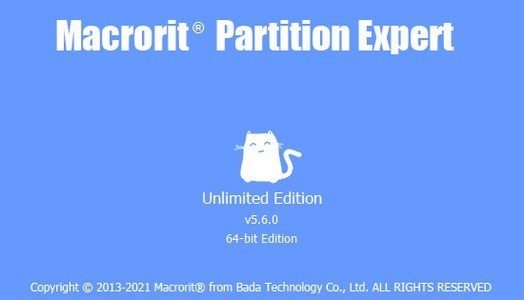 With the enhanced disk partitioning technology, Macrorit Disk Partition Expert Portable came out. As the latest partition magic pro alternative software, it provides powerful features that enable users to extend system partition, resize move partitions, create, format, delete partition, besides these, it also possesses the unique data protection technology and best data moving algorithm, which means it guarantee the 100% data safety and the fastest data partition moving speed.
Managing disk partitions is a critical task for any computer user, whether it's creating, resizing, or merging partitions to optimize storage space. In this realm, Macrorit Partition Editor Portable emerges as a powerful software tool, providing users with a comprehensive suite of features to simplify disk management. With its intuitive interface, advanced functionalities, and exceptional performance, Macrorit Partition Editor Portable has become a go-to solution for both novice and advanced users alike.
At its core, Macrorit Partition Editor offers a wide range of partition management operations, empowering users to efficiently organize their storage devices. The software supports all major file systems, including NTFS, FAT32, exFAT, and more, ensuring compatibility with various operating systems. Whether you need to resize, move, format, or delete partitions, Macrorit Partition Editor provides a seamless experience, allowing users to effortlessly control their disk space.
One of the standout features of Macrorit Partition Editor is its ability to perform operations without data loss. The software employs advanced algorithms that ensure the integrity and safety of users' data during partition management. This means that users can confidently resize or move partitions without the fear of losing their valuable files. Macrorit Partition Editor prioritizes data protection, providing peace of mind to users when performing critical disk operations.
The software's intuitive interface is designed with user-friendliness in mind. Upon launching Macrorit Partition Editor, users are greeted with a clean and organized dashboard, presenting an overview of their disk partitions. The main functions and operations are easily accessible, enabling even novice users to navigate the software with ease. Additionally, Macrorit Partition Editor provides step-by-step wizards for common tasks, guiding users through the process and minimizing the risk of errors.
Macrorit Partition Editor's performance is truly remarkable. The software utilizes advanced disk scanning and optimization algorithms, ensuring swift and efficient operations. Whether it's resizing a partition, converting a file system, or performing a surface test, Macrorit Partition Editor completes tasks in a timely manner, saving users valuable time and effort. The software's ability to handle large volumes of data without compromising performance sets it apart from other partition management tools.
Another noteworthy feature of Macrorit Partition Editor is its support for dynamic disk management. Dynamic disks offer enhanced functionality, allowing for features such as spanning volumes, fault tolerance, and software-based RAID. Macrorit Partition Editor enables users to create, resize, and convert dynamic volumes seamlessly, unlocking the full potential of dynamic storage solutions. This feature is particularly useful for advanced users or those working with complex storage setups.
Data security is a top priority for Macrorit Partition Editor. The software includes a powerful data wiping feature that allows users to securely erase sensitive data from their storage devices. Whether it's permanently deleting files or wiping an entire partition, Macrorit Partition Editor ensures that data cannot be recovered, protecting users' privacy and preventing unauthorized access to sensitive information. This feature is especially valuable when preparing a storage device for disposal or repurposing.
Furthermore, Macrorit Partition Editor offers a range of additional functionalities to further enhance the user experience. The software includes a disk surface test feature, which scans the disk for bad sectors and ensures the integrity of data storage. Additionally, Macrorit Partition Editor provides options for aligning partitions to optimize disk performance and supports the conversion between MBR and GPT partition styles, catering to users' diverse needs.
In conclusion, Macrorit Partition Editor Portable stands as a versatile and powerful software tool for disk partition management. With its user-friendly interface, advanced functionalities, and exceptional performance, Macrorit Partition Editor simplifies the complexities of disk management, allowing users to effectively organize their storage space. Whether it's resizing, moving, formatting, or wiping partitions, Macrorit Partition Editor empowers users to take full control of their storage devices. As a reliable and comprehensive solution, Macrorit Partition Editor is an essential tool for individuals and organizations seeking to optimize their disk usage and streamline their computing experience.
Everybody wants to accomplish the related disk partition operations with zero-risk and wishes all these can be done in a fast speed; luckily, Macrorit® Disk Partition Expert hereby is the right choice for small business who are running Windows 11/10/7/8/XP/Vista/2000 Professional both 32 and 64 bit.
Key Features:
– New! 1 second to extend NTFS partition for Windows Vista and later OSs.
– New! Extend system partition without REBOOT for Windows Vista and later OSs.
– New! Align partition: improve the speed of disk on reading and writing data, especially for SSD.
– New! Upgraded to the famous Windows 8 / Office 2013 user interface.
– New!Added portable edition for windows.
– New! Added Core.api. Bugs fixed in previous version: including 0x00004642 error code; ERR_EXTEND_VOLUME, etc.
– Convert MBR to GPT disk without data losing.
– Wipe free space/unallocated space.
– Shorten the loading time, added splash.
– Convert Primary partition to Logical without data loss and vice versa.
– Support to resize FAT partition and change cluster size.
– Support to resize FAT32 partition up to 2TB.
– Support to format large drive in FAT32 partition up to 2TB.
– Convert NTFS to FAT32 – Easy Approach to Converting NTFS to FAT32 Partition.
– Extend system partition – Solve your OS low disk space problem and keep it running normally.
– Resize & Move partition – Change partition size and location as you wish at a fairly fast speed.
– Super-Fast Disk Defragmentation – Smart defrag works while processing related disk partition operations.
– Create/delete/format partition(s); wipe unallocated space, partition or whole disk.
– Partition surface test & Check hard disk; copy partition, migrate OS to a new hard drive.
– Support disk larger than 2TB, full support 512Byte/1K/2K/4K sector size.
– Works on Windows 11/10/7/8/ both 32 & 64 bit.
Key Benefits:
– Guaranteed data safety: Power-off data protection and data disaster tolerance.
– Maximum hard drive performance & disk stability.
– Experience the unexpected super-fast resizing and moving partition speed.
– All-in-one partition software provides you powerful and completely features.
What's NEW:
Added Bulgarian, Ukrainian, Hungarian, and Croatian languages.
Fixed some Turkish, Swedish, Italian, Slovenian, French text translation issues.
Optimize some UI details.
Fixed storage driver issues.
Fixed disk uuid error.
Improve some error codes.
Fixed Polish translation.
Fixed some installation package issues.
Fixed Ukrainian translation.
Fixed some UI issues.
Download Macrorit Disk Partition Expert Portable