Portable MAGIX Movie Studio Suite 2023 v22.0.3.15 (x64)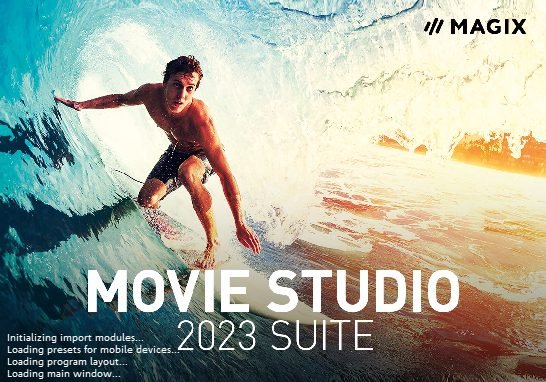 Moviemaking at your fingertips with powerful video editing tools from VEGAS. User-friendly, interative, powerful – your essential toolkit for fast & easy editing. Maximum creative freedom. Intuitive programs.VEGAS Movie Studio Portable offers our most user-friendly approach ever to creating beautiful videos. Work fast with interactive storyboards. Work confidently with automatic saves. Work smoothly with GPU and hardware acceleration. Powerful and intuitive – nothing helps you create like VEGAS Movie Studio!
VEGAS Movie Studio Portable redefines the boundaries of movie editing. Access everything through the fully customizable Power User mode, or let efficient, dedicated editing modes harnesses all of that power and guide you to the perfect edits. With professional-level video stabilization and motion tracking, you can rescue unusable footage and follow objects as they move through the video.
Import
Import video and digital photos from your smartphone, tablet, or video camera.
Edit
Drag your video clips and digital photos right onto the timeline for fast editing.
Enhance
Spice up your story with titles, video effects, music, scrolling credit rolls, and more.
Share
Share your videos with your family and friends on YouTube, Facebook, and Vimeo.
Simply powerful: Movie Studio Suite
Simplicity is key with Movie Studio: From importing your media with simple drag and drop to using the most advanced features. No matter your skills or knowledge, editing your videos should always be intuitive and fun. Use the automatic workflows, or explore infinite creative possibilities. The powerful Infusion Engine speeds up your process: Incredibly fast import and export times allow you to dive straight into the smooth editing workflow: Edit faster, and take full control of your footage.
Intuitive features, impressive videos
Easily import media recorded on any device with simple drag and drop. Explore convenient templates for many use cases, and find all the features you could wish for in an elegant, unified workflow. From producing your own soundtrack and utilizing 2D or even 3D animations to doing the final touches with integrated colour grading, Movie Studio gives you everything to tell your story in the most powerful way – share it with your family, your friends, or the whole world.
Your personal creative toolbox
Your fully customizable workspace adapts to your preferences and gives you everything you need at a glance – making the most of your individual screen setup. Effortlessly explore a large toolbox full of creative features for transitions, effects, titles, sound design, graphics, animations and so much more: Adjust colour, stabilize shaky images or apply layer masks with simple, yet effective options – including an impressive wizard for whenever you need perfect results in a blink of an eye.
A powerhouse for your creativity
The engine that powers Movie Studio builds on native hardware support for graphics cards by Intel, NVIDIA and AMD. The result is instant and seamless previews without the need for proxy files or time-consuming rendering.
Let your videos socialize
Getting your work ready for sharing has never been that easy. Optimize your films for YouTube, Instagram or any other platform. Instantly transform your video to vertical or square formats, and chose from a large selection of templates, filters, and effects. So many options to inspire your most creative posts!
Ultra-fast export with the INFUSION Engine 3 – 5x faster than real time Movie Studio now runs using an engine with unprecedented power: The INFUSION Engine 3. The engine's brand-new version accelerates exports for modern graphics cards from Intel, NVIDIA and AMD and delivers your finished videos ultra-fast*. What's more, thanks to INFUSION Engine 3, you'll always be able to preview even large projects packed full of effects and smoothly without needing to wait for rendering.
Intelligent search feature
The new search feature helps you find the correct effects and templates even faster. It provides relevant suggestions as you type, and even overlooks minor spelling mistakes.
Favorites filter
Mark your favorite effects and tools with a heart and save time searching! Enjoy quick access to everything you need for your next project with the filter feature.
Content overview
Customize the way your content is displayed with just one click. Should all the content be displayed simultaneously? Or would you prefer to have an overview of the categories? It's up to you.
All new features at a glance
Up to 1,500 effects, titles, templates & transitions
Detailed color correction
Accelerated export with support for Intel, NVIDIA and AMD cards
Diverse editing tools including multicam editing for 4 cameras
Travel Maps including brand-new features
Automatic Shot Match NewBlue Stylizers 5 Ultimate NewBlue Essentials 5 Ultimate
Download MAGIX Movie Studio Suite Portable