Portable MiniTool Power Data Recovery 11.5 Business Technician + WinPE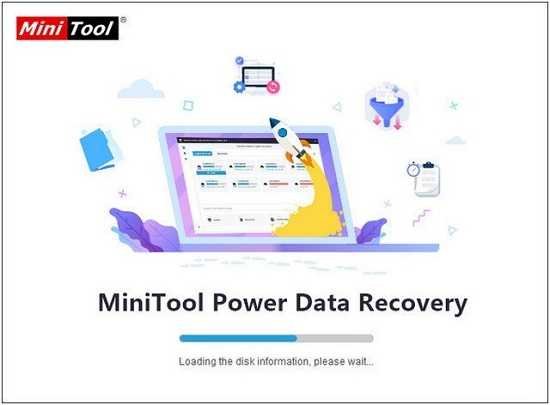 Power Data Recovery portable is a read-only File Recovery Software and Data Recovery Software. Power data recovery software could help you recover all your data no matter the data is lost by accidental deletion, format, re-partition, system crash or virus attack. Power data recovery is able to scan your device sector by sector to recover what ever left on your device. Power Data Recovery provide deep scan module which can scan and analyze raw data format including Microsoft Office files, digital graphics/pictures, audio/video files. Please visit deep scan page for complete raw file format list.
Simple installation and pleasant GUI
Setup takes little time to finish and the only notable aspect about it is that MiniTool advises you to install it on a drive different than the one you want to perform recovery operations on. Worth noting is that the free edition has a 1GB data restoration limit.
The tool's wrapped up in an intuitive and attractive interface that invites you to run a quick scan on the entire PC, lost or damaged partitions, digital media, CDs or DVDs to identify recoverable files.
Quick or full scans and file analysis
The original folder structure is preserved and you can filter files by type as well as explore directories to find out the name, size, resolution and thumbnail (for photos), along with the date and creation and last modification for each file. The icons and highlights indicate whether the files are deleted, lost or raw, as well as NTFS compressed or encrypted.
Advanced searches, scan export, and preview
Plus, you can use a search function to track down specific files and enable case or word matching, apply advanced filters which involve file extensions, dates and sizes, export the scan results to file for closer examination, as well as preview files in text, hexadecimal or image form.
File filters and data recovery
When running full scans on partitions, media devices or CDs/DVDs, the utility lets you define the file types to take into account beforehand, so you can include or exclude documents, archives, graphics and pictures, audio and video, emails, databases, and other files types. Once you specify an output directory, you can ask MiniTool Power Data Recovery to proceed with the file extraction job, provided that the output drive is different than the source.
Feature overview
• Recover data after accidental deletion
• Recover data after an accidental format
• Recover data from an inaccessible volume (logical drive)
• Recover data after FAT corruption
• Recover data after repartition (fdisk)
• Recover data from a crashed physical device
• Recover data after an MBR corruption
• Recover data from a hard disk drive, camera card, USB drive, Zip, floppy disk
• Recover data for any error except physical damage
Key Features
• Supports FAT 12/16/32
• Supports NTFS
• Supports NTFS compressed and encrypted files
• Supports Dynamic Volume including Simple Volume, Spanned Volume, Stripe Volume, Mirror Volume and Raid Volume.
• Supports RAW data recovery
• Built-in preview function
• Built-in resume recovery function
• Built-in Recovery Wizard
New features
• Brand-new Search box to quickly find needed files from numerous scan results.
• Fixed the bug that the status displayed is incorrect when selecting files.
• Continuously improved the disk scanning speed to quickly find lost files.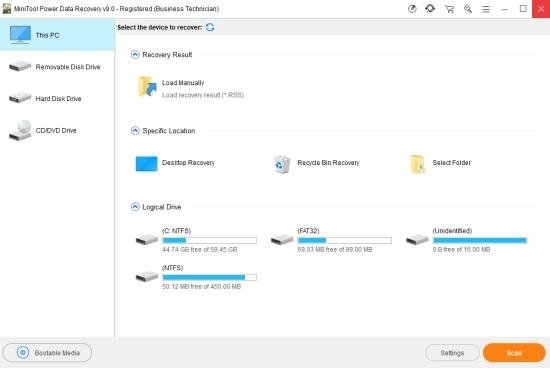 Download MiniTool Power Data Recovery Portable
Download MiniTool Power Data Recovery WinPE