Portable Movavi Video Suite 22.4.1 Multilingual (x64)
Movavi Video Suite Portable is comprehensive video making software that helps you create professional-looking movies and slideshows on your home computer – even if you have no experience. Incorporate music, create text captions, apply visual effects and transitions – you can do whatever you want with your video. In addition to the video making app, Movavi Video Suite contains a number of useful apps to help every video maker: powerful video converter that supports 180+ media formats, convenient utility for burning DVDs, a special tool for digitizing analog video, and more.
With Movavi movie making software you can:
Make a movie from video or audio clips already stored on your computer, mobile device, or camera
Create a slideshow from photos or pictures
Capture video from a screen and make a video tutorial
Record yourself on a webcam to create a unique entry for your blog
Improve Video Quality
Stabilize shaky video, tweak color settings, sharpen blurry video, and much more
Cut and Join
Cut out unnecessary fragments or join individual clips to make one longer movie
Let Your Story Flow Smoothly
Link the different segments of your video with stylish transitions
In Movavi Video Suite Portable you'll find more than 60 different visual effects, including
– Retro Movie
– Slow Motion
– Flying Objects
– … and many more
Work with Audio
– Add background music and sound effects in almost any format
– Choose from the ready-made audio tracks included with the program
– Record your own voice-over using your microphone
– Vary audio volume and playback speed
Add Captions
– Choose from over 100 fonts
– Add excitement with animated text
– Create colorful text backgrounds
– … and much more!
Save Your Movie so You Can Watch it Anywhere!
– Upload your movie to YouTube or Facebook directly from the program or
– Save it in any popular video or audio format and watch it on your computer
– Use our handy mobile presets to watch your movie on your smartphone, tablet, or other mobile device
– Record video on CD, DVD, or Blu-ray
The most powerful video converter ever!
Supports more than 180 video, audio, and image formats, changes the file format as quickly as copying it from one folder to another.
Convenient app for screen capturing
Records all your screen activity at the best quality possible: your use of applications, streaming video and audio, and much more.
Video Digitizer
Will accurately digitize your VHS collection or video stream from your TV tuner, as well as transfer AVCHD-camera recordings to your computer.
What's New :
Overhauled Launcher
A reworked and enhanced interface for the Movavi Video Suite Portable launcher: more stylish and more user-friendly than before.
Customizable Interface
Arrange the program's functions to your liking: pin the functions you use the most to the quick access board to start working right away.
Extra Features
Stock Content to enhance your videos; Applications to find more useful programs; Online-courses to get more experience in photo and video editing.
Movavi Spotlight
Access our latest news, interesting articles, video tutorials, and sales right from the launcher.
Redesigned Tools
Completely reworked graphics for our main tools: editor, converter, and screen recorder.
More Video Effects
New high-quality effects: parallax, chromatic aberration, glitch, and more.
User File Organizer
Organize your files in the video editor into personal collections, so you can use them in different projects.
Frame-by-Frame Preview
View every frame in your video right on the Timeline for more precise editing.
More Features for Subtitles
Online subtitle searching and advanced editing are now available right in the converter.
New Conversion Presets
More convenient presets for different media formats and devices.
Screenshot Sharing
Share your freshly taken screenshots via Skype, Telegram or WhatsApp.
Reworked Screen Recording Panel
New in this release
Minor improvements and bug fixes.
Video editing
A new way to track objects using artificial intelligence. Link titles, stickers, or masks to objects in the video. Take your videos to a new level!
Screen recording
Minor improvements and bug fixes.
Video conversion
AI Upscaling is now faster and even more useful! Now you can improve your videos and images by a factor of 4.
What's NEW:
Video editing
New music. We've expanded our collection of tracks. Now your videos will resonate in a new way.
Transitions, intros, titles, stickers – you get everything! Try your preferred effect before you buy – just like in a physical store!
Updated symbol for applied effects. Now they are marked on the timeline with an FX icon instead of a star.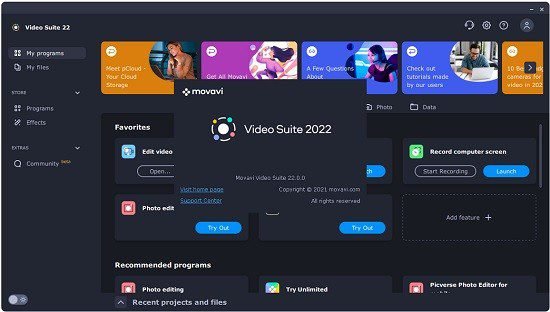 Download Movavi Video Suite Portable